Playing With Water In The Enchanting Gitgit Waterfall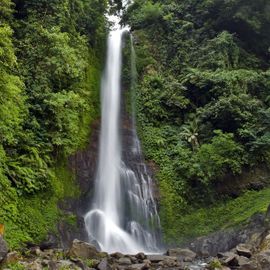 Click to enlarge image
Gitgit Waterfall, Jalan Raya Bedugul - Singaraja, Gitgit, Kabupaten Buleleng, Bali, Indonesia
Playing With Water In The Enchanting Gitgit Waterfall.
What's your favorite waterfall in Bali? If you want to be surrounded by nature, Bali is indeed the right destination. Because there are so many beautiful waterfalls that will make you amazed. Especially in Buleleng, northern Bali that holds so much natural charm. Your admiration will never end when you're walking around Buleleng.
Gitgit Waterfall
Buleleng is famous for its charming but still hidden waterfall. Even the highest waterfall in Bali is located in Buleleng, you know. It's Gitgit Waterfall in Gunung Luwih at Village Gitgit, the highest on the island. The location is in Sukasada District, Singaraja City, Buleleng Regency. The height of this waterfall is around 48 meters. Although the size isn't too large. But with its height, this waterfall managed to amaze anyone who come to visit. The water flow is quite heavy, especially during the rainy season. The water will also turn brown in rainy season. It'd be better if you come in the dry season, so that you can enjoy Gitgit Waterfall optimally.
This is the right location for you to feel the freshness of nature and the cool air of Bali. Certainly right for those of you who want to be away from the crowds of big cities. Forget about the job that demands you. Enjoy a day playing at Gitgit Waterfall. To get there, don't forget to wear comfortable shoes. Because you have to walk several hundred meters to get to the waterfall. Along the way, there are many local traders selling various kinds of souvenirs in their small kiosks. These stalls are located along the entrance to a few meters before the waterfall area.
Gitgit Waterfall is located on a plateau. So you won't feel hot due to sunburn during the trip. Moreover, the trees around the area will supply the oxygen to your lungs. So your body will be fresh and more energetic. Also, don't forget to prepare comfortable clothes that are able to absorb your sweat, mineral water, and snacks or honey. Enjoy your trip. Make your holiday more fun and healthy by visiting Gitgit Waterfall.
Don't forget to bring some cash to pay the entrance fee at the registration counter. Also bring a jacket that can warm your body. So that the fog that sometimes comes along with the trip doesn't make your body cold. To reach Gitgit Waterfall, it is recommended that you rent a vehicle. Because the route taken is not reached by public transportation. There is a parking lot for your motorbike. But unfortunately, there is no adequate parking area for car. So, you have to park your car on the edge of a big road before entering the waterfall area. Remember, don't leave your valuable items on your car. Around Gitgit Waterfall, you will find another hidden beauty of Buleleng. So, don't forget to stop by!