There's A T-Rex On Kelingking Beach!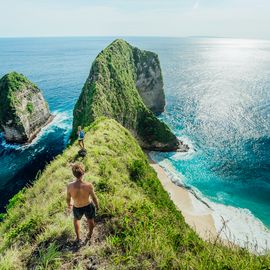 Click to enlarge image
Nusa Penida, Denpasar, Bunga Mekar, Nusapenida, Kabupaten Klungkung, Bali 80771
There's A T-Rex On Kelingking Beach!.
A vacation to Bali but want to find a quiet location without reducing the spirit of exploration? Yes, you can. The answer is in Nusa Penida Island. A small island and a separate part of the island of Bali. Nusa Penida can be an option for tourists who want to experience a comfortable and enjoyable vacation in Bali.
Kelingking Beach in Nusa Penida
The name Kelingking Beach must be familiar to the ear. Because the last two years this beach has become the new belle on the island of Bali. Portrait of Kelingking Beach has never been absent from social media feeds of tourists who have visited Bali, especially Nusa Penida Island. The island is famous in the local community by the name of Tebing Paluang or Karang Dewa Beach. No one knows for sure how this beach was originally called Kelingking Beach.
The main attraction of this beach is the high cliffs that are above the beach. From this point, you can see a cliff jutting into the ocean in a shape that resembles the neck of a Tyrannosaurus Rex. This spot is the most often the background photo of the visitors. Because this cliff is quite steep and only uses a bamboo fence as a barrier, you should be careful if you want to take pictures. Avoid locations on the edge of a cliff to take a selfie.
After enjoying the beautiful view from the summit, you can go down to explore the beach. To reach the beach, you need to walk down the cobbled paths deliberately made by local residents to ease your exploration down. The path you have to take is pretty steep. It is recommended not to bring lots of things. So that your shoulders don't get tired carrying lots of things during the trip. The size of Kelingking Beach The beach is not too long and wide, because this beach is directly adjacent to the cliff. The blue water will offer you a freshness as if calling for a swim. But stay alert, because the waves here are quite large. Make sure you are good at swimming. Besides swimming, walking on the beach while collecting some unique shells can be a fun activity.
In addition, Kelingking Beach is also known as Manta Point, because if you are lucky, you can see Manta rays swimming. It also can be seen clearly from the top of the cliff, because of the clear seawater. Don't forget to prepare your best camera for selfies or capture your precious trips while on Kelingking Beach.
If you have free time, don't rush home after taking a picture and playing with water. Late in the afternoon, there is a sunset view that is ready to make you fascinated. The atmosphere on the beach will be more interesting and also romantic. Certainly, spending time with your partner there can be an unforgettable moment! Well, after being satisfied exploring Kelingking Beach, you can return to the inn to have dinner and take a rest.