Lake Tamblingan, Twin Lake In North Bali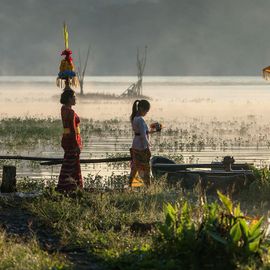 Click to enlarge image
Danau Tamblingan, Jalan Wisata Alam Danau Tamblingan, Munduk, Buleleng Regency, Bali, Indonesia
Lake Tamblingan, Twin Lake In North Bali.
Want to go on vacation to Bali while enjoying a cool atmosphere?. No problem, you can go to Buleleng. Here, there are many choices of tourist attractions that are still natural and beautiful. Plus, you can enjoy the lake from a height in this place. You only need to plan a full day to enjoy Lake Tamblingan.
Lake Tamblingan
Lake Tamblingan is located in a highland area surrounded by green hills. The location is right next to Lake Buyan. Tamblingan Lake is also known as a twin lake by local people. Because, if you see it from a high place, this lake looks like one puddle that split into two.
This lake is divided by a forest that you can also explore. If you want, you can also spend the night and set up a tent in this forest. However, be sure to bring your own equipment. There is no tent rental service around because this place is still rarely visited by tourists.

To be able to enjoy Lake Tamblingan, you must walk to northern Bali. It is located a bit far from the city center, so only a few tourists are seen. But even so, this place is already famous. So you don't need to worry about finding a place to eat, because there are many local restaurants around here.

So, while enjoying the beauty of the lake, you can also eat snacks that you buy on the roadside. If you like fishing, try your luck on Lake Tamblingan. Maybe, you can get big fish. Many local residents are fishing there. In fact, some residents intentionally set up a fish chart in the middle of the lake. Or you can also try to drive around the lake using a traditional boat called jukung, which is rented by residents.

Thanks to the abundant production of oxygen and cold temperatures, your body will always feel fresh. But don't forget to wear warm clothes. Because it is in the highlands, there is often local rain in this area. So when you go around the lake in sunny weather, the sky may suddenly turn cloudy and rainy. It's safer to bring raincoats and umbrellas.

Lake Tamblingan is located on a hill around 1,000 masl. This lake has an area of 1.9 km with a width of about 1.1 km. Meanwhile, the maximum depth is 90 m with a water volume of 0.027 km3. You can imagine, how big Lake Tamblingan is. If you are interested in coming here, it is located in Sukasada Subdistrict, 21 Km south of Singaraja city.

You should book accommodation around the lake, so you can feel the cool air of Bali. In addition, you can rent a vehicle to make your vacation easier, because there is no public transportation around here. Or if you go with friends or family, you can also rent a travel tour offered by the surrounding community. So be prepared to experience a quiet holiday on Lake Tamblingan!.