Admiring The Distinctive Art Works At The Batuan Museum Of Art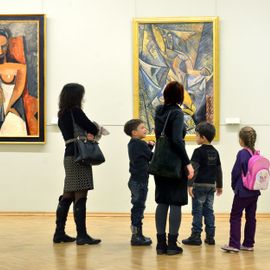 Click to enlarge image
Jl. Prebangsa Gr. Sunaren 9, Banjar Gede Batuan, Kecamatan Sukawati, Kabupaten Gianyar
Admiring The Distinctive Art Works At The Batuan Museum Of Art.
Bali always offers interesting options to visit. Both in the form of natural panorama, art, culture, culinary, historic places. One of them is an art museum in Gianyar. Have you ever heard the name of the Batuan Art Museum? If you haven't, let's look at the review! Who knows, you might be interested in visiting the place.
Batuan Art Museum
Bali does not only have a museum that displays ancient objects. If you are in Gianyar, there is one place that can be a recommendation for you. In there, you can have a fun holiday while increasing your knowledge and interest in Balinese art.
Try stopping by Jl. Prebangsa Gr. Sunaren 9, Banjar Gede Batuan, Sukawati District, Gianyar Regency. There is the Batuan Art Museum. Batuan Village is one of the famous villages as the biggest producer of works of art in Gianyar. This museum was established to preserve the art in Batuan Village, both painting and fine arts.
Batuan village art has its own style that is different from other Balinese paintings. Batuan Village painting depicts certain moments such as the atmosphere of the night which is made in great detail. The proportions and anatomy of the human and animal bodies are depicted naively, simply, and full of decorative elements. In addition, the painting also illustrates an unusual perspective. Like the perspective of a flying bird, so the object seems to be seen from above and is also packed with many compositions. Batuan artists usually take themes such as puppet stories, folklore, and Balinese life. The additional point you get when visiting this museum is that you can see first hand the typical Batuan style paintings.
There are around 400 paintings by Batuan artists that you can find there. Among the works of senior artists such as Alm. I Wayan Taweng, Alm. Ida Bagus Dupem, I Ketut Sadia, and I Wayan Bendi. The works of art created by them depict the beauty of the artistic side. After seeing the paintings, try to walk around to other buildings of the museum. You will also find masks, wayang wong, and barong. Mask, puppet wong, and barong, are well-known fine arts originating from Batuan Village.
There was a time when Batuan Artists stopped working because of declining buyer interest. But with this museum, the artists rose and began to produce works on canvas again. Because the museum manager collaborates with artists and often holds open exhibitions to the public at the Batuan Art Museum. So this has a positive impact on artists and collectors of paintings.
Well, if you are interested in coming to the museum, you can come morning or evening. Because the Batuan Art Museum is open from 08:00 WITA until 15:00 WITA. The museum is open every day except on Saturdays and national holidays. This place is suitable for you to make a relaxing vacation while in Gianyar. You don't need extra energy. You just have to enjoy the contents of the museum.