Blue Lagoon Beach In Karangasem Bali Reflects The Beauty Of Peace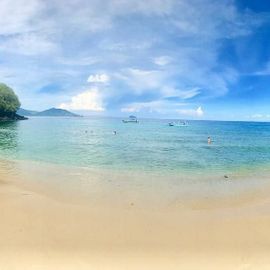 Click to enlarge image
Padangbai, Manggis, Kabupaten Karangasem, Bali 80871

0878-6304-7878

http://www.bluelagoonbeach.com
Blue Lagoon Beach In Karangasem Bali Reflects The Beauty Of Peace.
The universe communicates in a special way. With the speed of the waves, air pressure, also with plants that turn green and yellow and replaced by new shoots. Really, nature has a way to show its beauty. Even with the stretch of Blue Lagoon Beach in Karangasem Regency, Bali.
If you want to enjoy nature with a view like heaven, Blue Lagoon Beach is one to feel a touch of peace. Because it is located next to the Harbor of Padang Bai, Blue Lagoon Beach has white sand and calm waves. The composition of the two elements will be presented beautifully in plain sight.
The beach with the charm of beauty like Blue Lagoon is located in a hidden place. To go to the seashore, the only way is to climb a small hill. Although it'll make you tired, your fatigue will pay off completely when enjoying the charm.
Blue Lagoon Beach is next to Dreamland Beach. What makes Blue Lagoon Beach special is the peace that is created through its natural atmosphere. After arriving on the stretch of beach sand, you can try sunbathe, enjoy the warmth of the sun and the beautiful song of the waves. In addition to the calming scenery, Blue Lagoon Beach also has underwater beauty. By diving and snorkeling, you can catch colorful fish and reef sightings that move around. If you are interested in scuba diving and snorkeling, there are some equipment rentals on this beach. Only by spending around IDR 50,000.00 to IDR 75,000.00, you can use it to absorb various underwater phenomena.
Around the stretch of beach, there are also some inns, from star hotels to simple motels for backpackers. No need to worry about the facilities at Blue Lagoon Beach. You can find many stalls and restaurants with various menus. There is also a suitable café chosen as a place to relax or spend the afternoon. Interesting, right? Even the entrance ticket to this beach is only IDR 5,000,00 for local tourists and IDR 10,000.00 for foreign tourists. In addition to the entrance ticket, if you bring the vehicle, parking fees of IDR 2,000.00 for motorcycles and IDR 5,000.00 for four-wheeled vehicles.
Blue Lagoon Beach is located in Padang Bai Village, Manggis District, Karangasem Regency. The location is not far from Padang Bai Harbor and Tugel Bias. Denpasar is 53 kilometers away and spends 1 hour and 22 minutes traveling if traffic conditions are normal. Do you have planning to visit Blue Lagoon Beach? Enjoy your holiday!