Meeting The Colorful Flying Creatures At Kemenuh Butterfly Park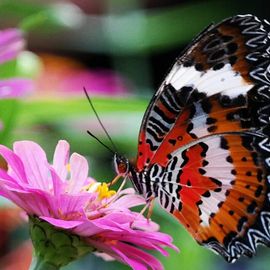 Click to enlarge image
Jalan Raya Kemenuh, Kemenuh, Sukawati, Kemenuh, Sukawati, Kabupaten Gianyar, Bali 80582
Meeting The Colorful Flying Creatures At Kemenuh Butterfly Park.
Ever imagined walking under hundreds of flying butterflies? It is like entering the fairy magical wold right? If you're curious, just visit the Kemenuh Butterfly Park in Gianyar Regency and experience by yourself. This park must be included on your list of trips when you come to Bali. Seeing these beautiful insects up close is sure to be an interesting experience. Come on and get closer look at the butterfly at Kemenuh Butterfly Park.

Kemenuh Butterfly Park
Kemenuh Butterfly Park is a new tourist attraction located on Jalan Raya Kemenuh, Kemenuh Village, Sukawati Sub-district, Gianyar Regency. If you plan to visit Sukawati Market and Tegenungan Waterfall, stop for a while at Kemenuh Butterfly Park. Take your time to see the beautiful little insects flying and doing their daily activities. The park was founded by Ida Bagus Witara, a businessman and lover of nature. It is the second butterfly park in Bali after Bali Butterfly Park located in Tabanan.
To refresh your memory of the life cycle of butterflies, there are diagrams that describe their life cycle. Starting from the egg phase to the adult butterfly. All of the images are displayed in the lobby. This can be an important information for children who come as visitors. After that, prepare to be welcomed by more than 500 colorful butterflies once you set your foot here. While walking in the flower garden, you can see some butterflies that are sucking on the flower nectar. There were also those who flew back and forth looking for flowers for the next stop.
Kemenuh Butterfly Park is home of around 14 types of butterflies. The list of them include Idea Stolli (Common Tree Nymph), Vindula Erota (Common Cruiser), Ideopsis Juventa (Wood Nymph), Cethosia Hypsea (Malay Lacewing), Euploea Phaenarete (Milkweed Butterfly), Euploea Corinna (Common Crow), Agapemum Graphium ( Tailed Jay), Papilio Demoleus (Lime Butterfly), Papilio Polytes (Common Mormon), Papilio Peranthus (Swallowtail), Papilio Helenus (Red Helen), Papilio Memnon (Great Mormon), Troides Helena (Common Birdwing), and Attacus Atlas or Moth Rakasasa or local people call it the Barong Butterfly.
Barong Butterfly is the second prima donna in this park. With 262 millimeters wide wings, it invites each visitor to take a photo together. So put your best pose when taking a photo with him. So that your photos look unique.
This place also provides several facilities such as toilets, parking lots, souvenir shops, and butterfly breeding grounds as well. Therefore, you can also see butterflies when they are metamorphosed. This tourist spot is suitable as an educational tour and absolutely a relaxing walk.
If you want to visit Kemenuh Butterfly Park, please come in the morning around 10:00. This is the right time to see butterflies sucking on the nectar. Certainly, it will give a new experience and a rare moments on your vacation. You can also take pictures to capture this opportunity. Traveling here for one hour can provide information and unforgettable beautiful memories.