The Sensation of Infinity Pool above the Sky
The Sensation of Infinity Pool above the Sky
Posted by: fandihafidz | Tuesday, 26 June 2018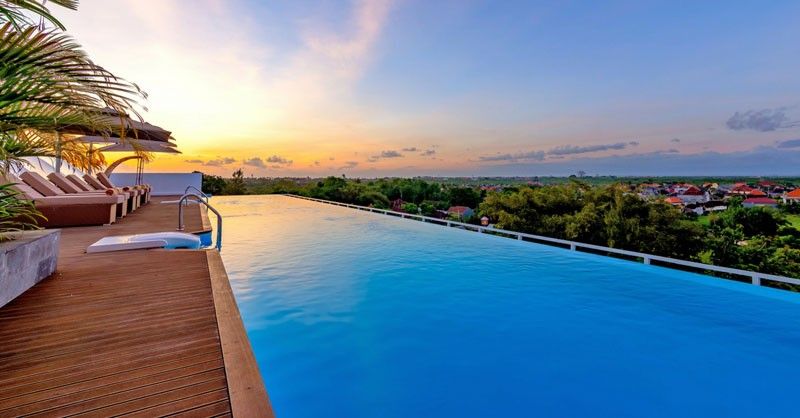 Need new insights for tourism destinations in Bali? This time, we recommend you an extraordinary experience for you. Have you ever imagined how it feels touching the cloud? Your dream comes true here!

From the edge of 18-metre-long Infinity Pool at Munduk Moding Plantation, the clouds feel so easy to reach with your bare hands.
Yes, those cotton-like clouds is outspread widely in front of your eyes with the panorama of coffee plantations underneath. This place offers magical ambience which is not only the overlay of clouds. Designed by notable architect from Bali, Popo Danes, this resort's interior combines the elements of Bali traditional style with modern one which unite beautifully with the nature surrounding it. There are only nine villas and three suites rooms here, so, if you want to take time off, you should reserve in advance.
From inside the room, you can just swipe glassed door to be able to enjoy the exquisite scenery of coffee plantations surrounded by forest. There is no other place as peaceful and as romantic as this, right?
The facilities you can get include:
Hot Water Swimming Pool
Jacuzzi
Gym
Bar
MiMPi Restaurant
The Best Spa throughout North Bali
Unique Bamboo Gazebos
Tennis and Badminton Court
Wide Lounge area
Free Wifi throughout Resort
Various choices of rented DVD from the library to enjoy in your room
Library filled with various books about Balinese cultures and natural wonders
Copies of magazine to enjoy near the swimming pool
Binoculars for rent and field guidance to learn about the life of productive birds at MMP
Afternoon tea and coffee for you varied everyday to accompany traditional food made from various ingredients such as coconut, palm sugar, honey, banana, and rice flour.
Little fire lit every night: the best place to capture pictures of southern hemisphere sky, the view of ocean line, and villages from distance.
The route you can take is:
Bali Unique Tour 2018 Munduk Moding Plantation is located at Jl. Asah Gobleg, Gobleg, Banjar, Buleleng Regency, Bali 81152, 0811-3810-123.
The closest route from Pelabuhan Celukan Bawang
Jl. Pelabuhan Celukan Bawang Port No.36, Celukan Bawang, Gerokgak, Buleleng Regency, Bali 81155 - Follow Jalan Pelabuhan Celukan Bawang to Jalan Singaraja-Gilimanuk at Celukan Bawang (1.4 km) - Keep on Jalan Singaraja-Gilimanuk. Take Jalan Insakan to Jalan Asah Gobleg in Gobleg (approximately 33.2 km) to find Munduk Moding Plantation Nature Resort & Spa. Happy holiday ☺