10 List Of Exciting Water Sports In Tanjung Benoa. Dare To Try?
10 List Of Exciting Water Sports In Tanjung Benoa. Dare To Try?.
White sand and amazing blue ocean. These two are the best things we can find in most of the beaches in Bali, such as Kuta, Pandawa, Nusa Dua, and Sanur. There are many tourists who come to these beaches to relax and watch the beautiful sunset. But, for you who love a challenge, don't worry! You can do exciting water sports in one of the most popular places in Bali: Tanjung Benoa. Located in South Kuta, you can do these 10 exciting water spots below!
1. Banana Boat
Banana Boat is a rubber boat that looks like a banana. To run it, the boat is pulled by speed boat. Riding a banana boat feels the same as riding a horse. At the end of the game, the banana boat will be overturned by a guide to feel a wet sensation. The price of 15 minutes playing Banana Boat is IDR 70,000 per person.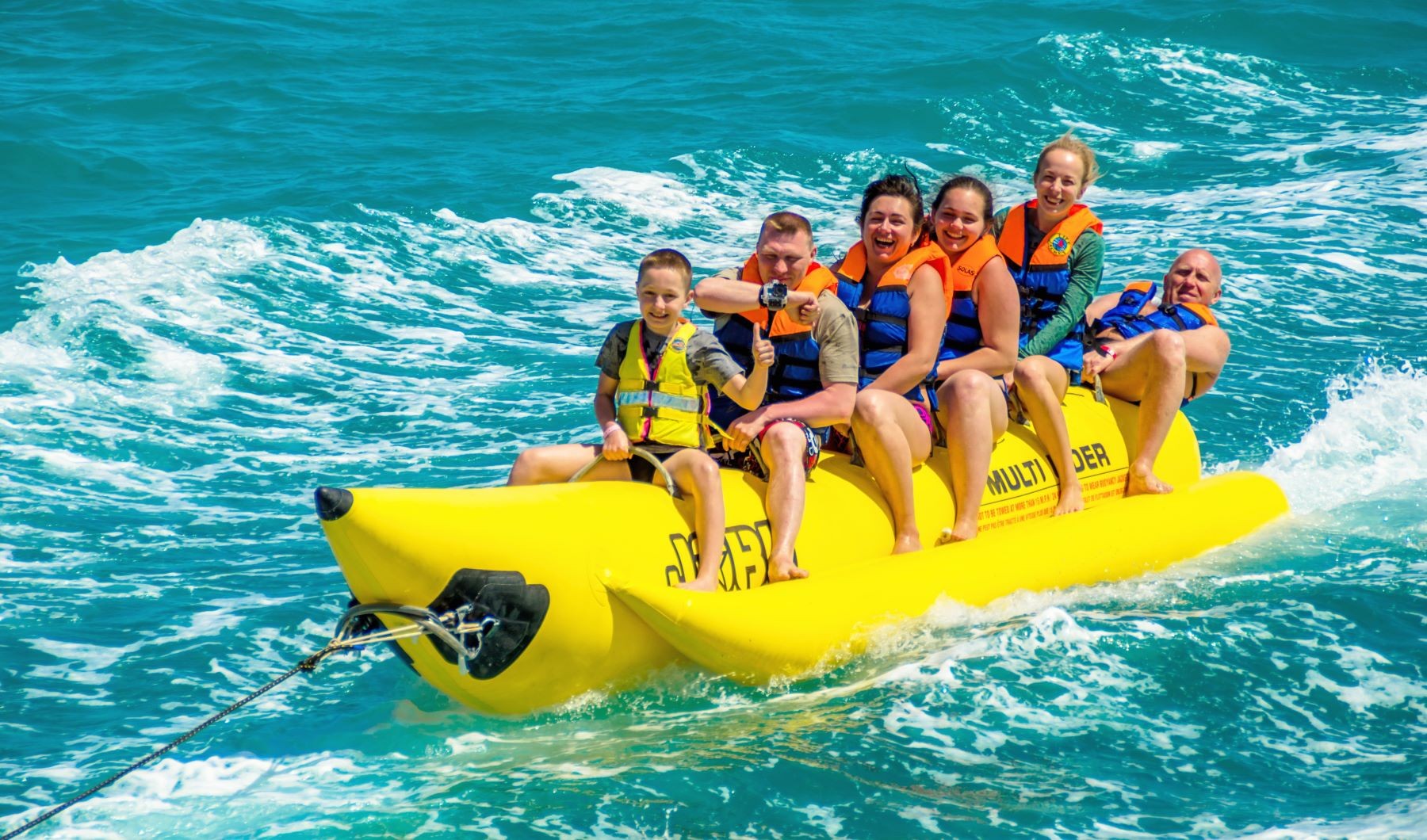 2. Flying Fish
Flying fish is a game using a rubber boat that looks like a flying fish. The boat will be pulled up to the middle of the sea using a speed boat. Due to the thrust of the wind, the boat will be flying above 2 meter-high. Later, you'll lie down on the boat, hold on to the ropes, and feel the sensation of flying. You need to pay IDR 150,000 per person to play flying fish for 10 minutes.
3. Jet Ski
This vehicle is the same as driving a motorcycle but in the water. Before the jet ski riding activity begins, the guide will introduce how to ride it. The introduction of how to drive such as the explanation of the engine and gas, how to brake, the technique of riding on water, and the safety of drivers on the sea. For 15 minutes of jet skiing, you need to spend around IDR 150,000 per person.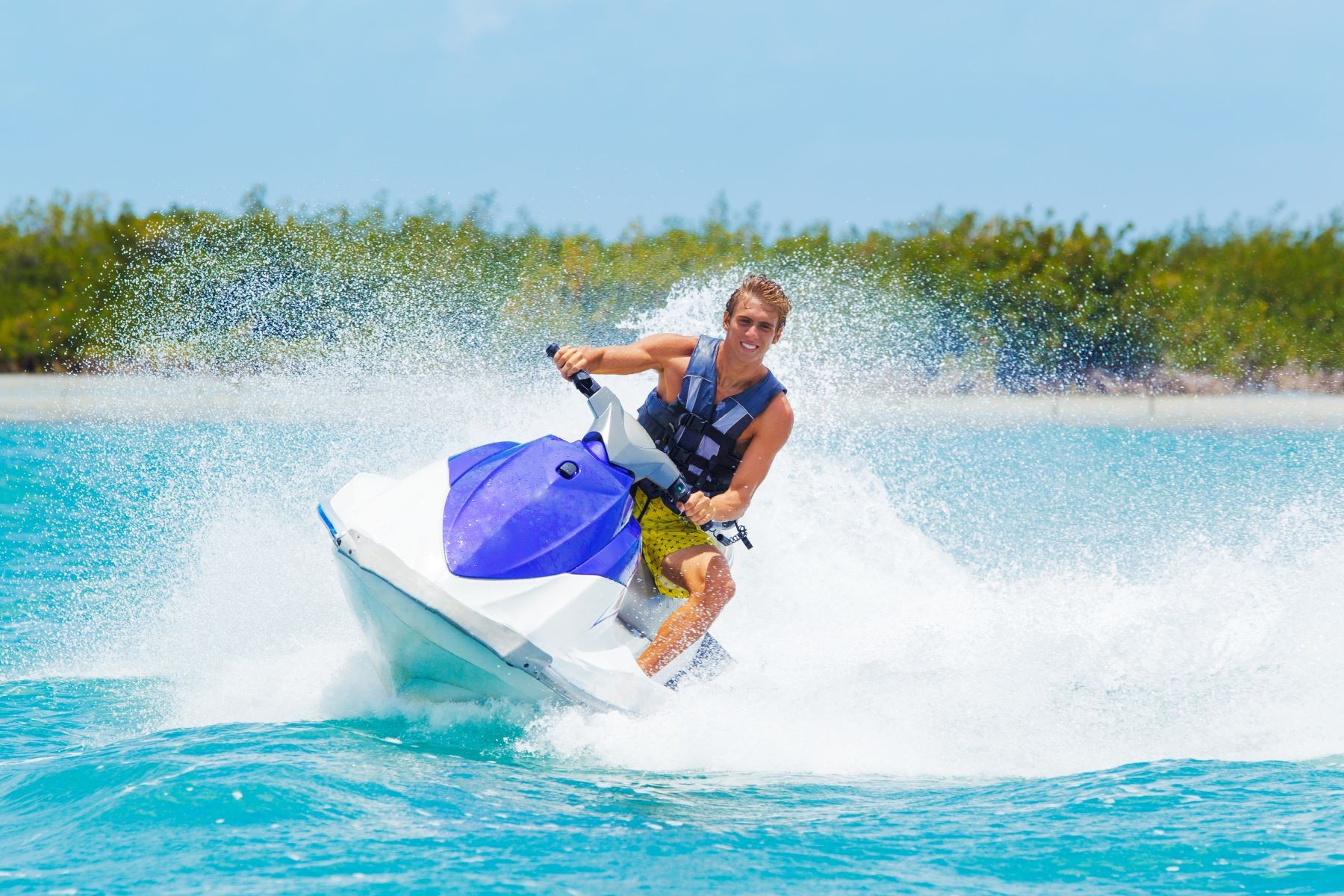 4. Parasailing
You don't need to be a professional parachutist to try parasailing in Tanjung Benoa. Because the parachute umbrella will be pulled by a speed boat. Don't worry, before playing, the guide will explain the tool to this parasailing playing technique. One round around Tanjung Benoa takes around 4 minutes at a price of IDR 80,000 per person for single parasailing, and IDR 350,000 for tandem parasailing.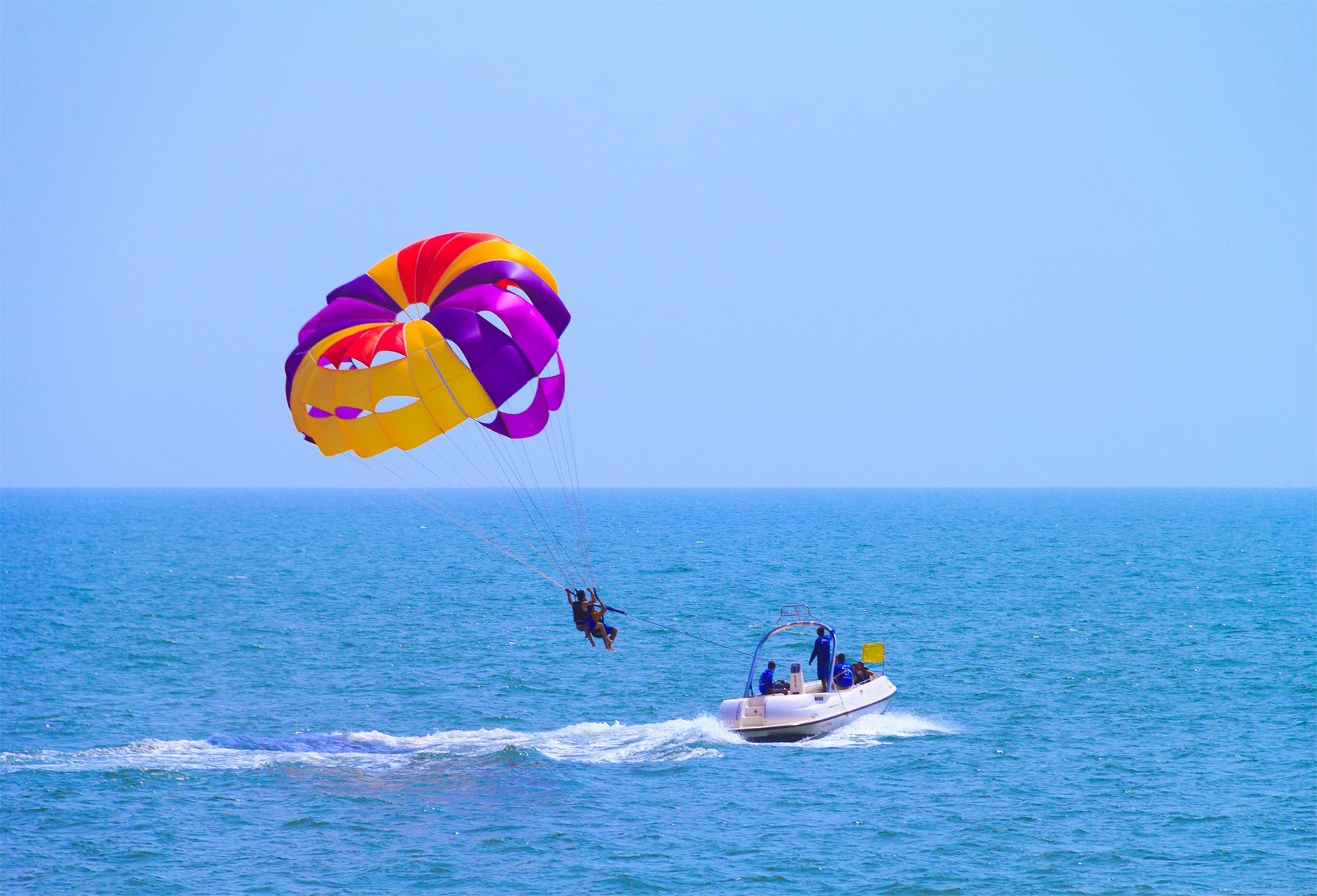 5. Rolling Donut
Rolling Donut is a game riding a rubber boat that looks like a donut. The rubber boat will also be pulled by a speed boat around the beach for 15 minutes. The price of riding a donut rolling vehicle is around IDR 80,000 per person.
6. Snorkeling
Tanjung Benoa also provides equipment for snorkeling. The underwater world of Tanjung Benoa Bay is very beautiful as the one in Tulamben Beach. Remember, to be able to snorkel, you have to be good at swimming. If you want to rent snorkeling equipment, you need to pay IDR 150,000.
7. Turtle Island Glass Bottom Boat
With a guide, you will go to the green turtle conservation on Turtle Island using a glass-bottom boat. The travel time is around 15 minutes. Later in the middle of the waters, the boat will be stopped for a moment so that passengers can see the underwater beauty. You can also feed the fish! After that, you'll be arrived at Turtle Island and can play with turtles for 30 minutes. To feel the excitement, you have to pay IDR 350,000 per boat. Invite your family or friends to take a glass-bottom boat ride to make it cheaper.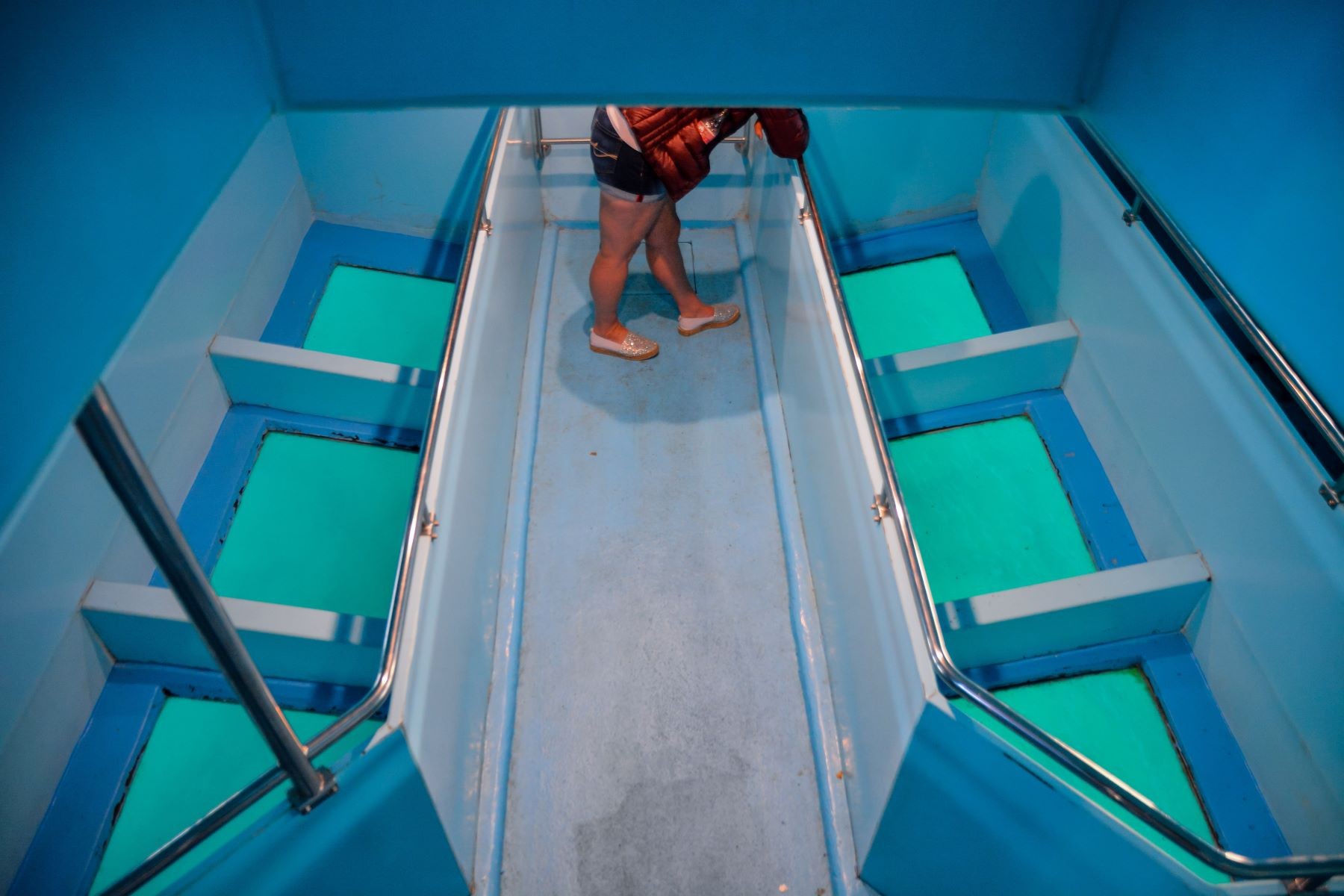 8. Scuba Diving
Beginner divers will always choose Tanjung Benoa for diving locations in Bali. Because in Tanjung Benoa, you can dive during all season throughout the year. It has calm sea water conditions, so it's perfect for beginners. Scuba diving prices range from IDR 300,000 per person.
9. Flyboard
Flyboard is some kind of a water rocket, connected to a device shaped like a jet ski, which provides thrust for the users. You will use water jet shoes that channel the thrust of water from the bottom of the shoe which makes you fly up to 10 meters. To try a flyboard, you must be willing to spend as much as IDR 550,000 per person.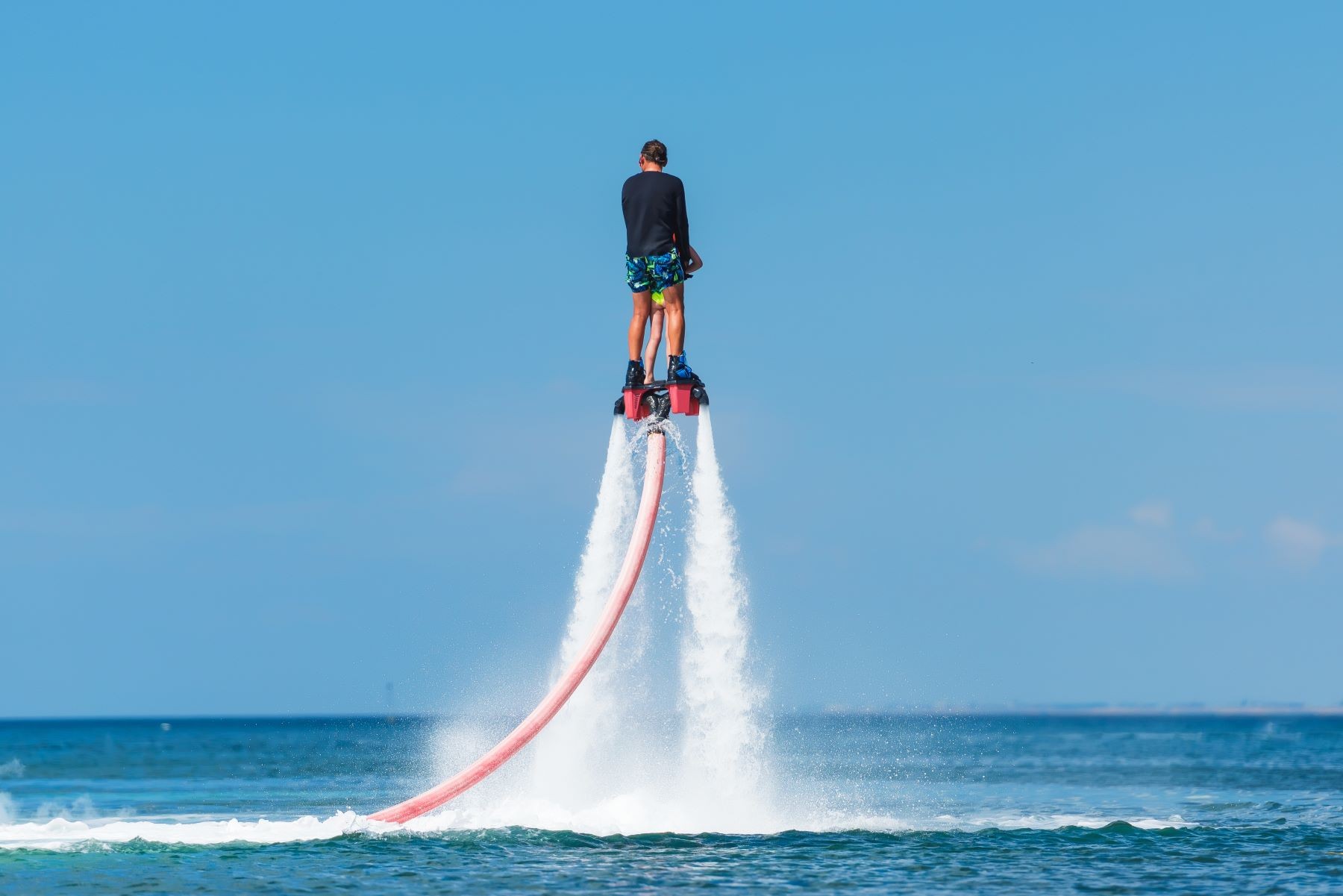 10. Wakeboarding
This is a water activity carried out on the surface of the water using a board, then pulled using a 25 km speed speedboat. Almost the same as playing skateboarding, the difference is you will surf according to the flow of the waves. For 30 minutes of playing the wakeboard, you need to prepare around IDR 250,000 per person.
Don't forget to bring a change of clothes if you want to play water sports in Tanjung Benoa. You'll definitely get wet! If you have a lot of free time and want to get a cheaper ride, you should choose a package that consists of several water sports at once.