5 Ice Cream And Gelato Shops In Southern Bali
5 Ice Cream And Gelato Shops In Southern Bali.
Gelato is indeed very popular in Bali. Its soft taste and funny shape attract many tourists. If you're going to hunt the best gelato in Bali on your next holiday, be sure to read these 5 recommendations!

1. Palates Wey

Let's have a childhood nostalgia by eating ice cream sticks at Palates Wey! This place sells ice cream sticks with various choices of flavors. The basic ingredients for this ice cream are only milk and frozen fruit. The ice cream is very healthy because no preservatives or food coloring are used. So, you'll be free from throat inflammation. If you want a fresh taste of ice cream, you should try the classic strawberry milk, dragon fruit, and durian. If you're a sweet lover, you can try the dulce de leche or chocolate and avocado ice cream. There's also a tequila ice cream that you should try. Interested? It's located on Jalan Mertanadi, Kerobokan Village, North Kuta, Badung.
2. Gusto Gelateria

At Gusto Gelateria, you can choose from different flavors of gelato from fresh to sweet. The ingredients used comes from nature, such as fruits, nuts, milk, refined sugar, butter, and chocolate. The restaurant claims that the gelato is free from the elements of artificial coloring or gelatin. Fruit flavored ice cream is only produced based on the fruit season. If you like mangoes, come to Gusto Gelateria during the mango season. Variant of almond brittle flavor is the favorite. While the taste of vanilla, fraise, choco, stracciatella, milk chocolate and croccante are the children's main choices. Gusto Gelateria is located on Jln Mertanadi No 46B, Seminyak, North Kuta, Badung.

3. Massimo Gelato

If you happen to be in the Sanur area, please stop by Massimo Gelato. This ice cream shop sells gelato with various flavors such as vanilla, dark chocolate, red velvet, cherries, and green tea. The gelato is also made using pure milk, not cream. So that it feels more solid and low fat. You are free from guilty pleasure after enjoying the gelato at Massimo. You can try two scoops with different flavors in one serving of ice cream. Spending the afternoon in Sanur, waiting for the sunset while enjoying ice cream, certainly will be your perfect vacation agenda. Massimo Gelato's address is on Jln. Danau Tambling no 228, Sanur.
4. Gelato Secrets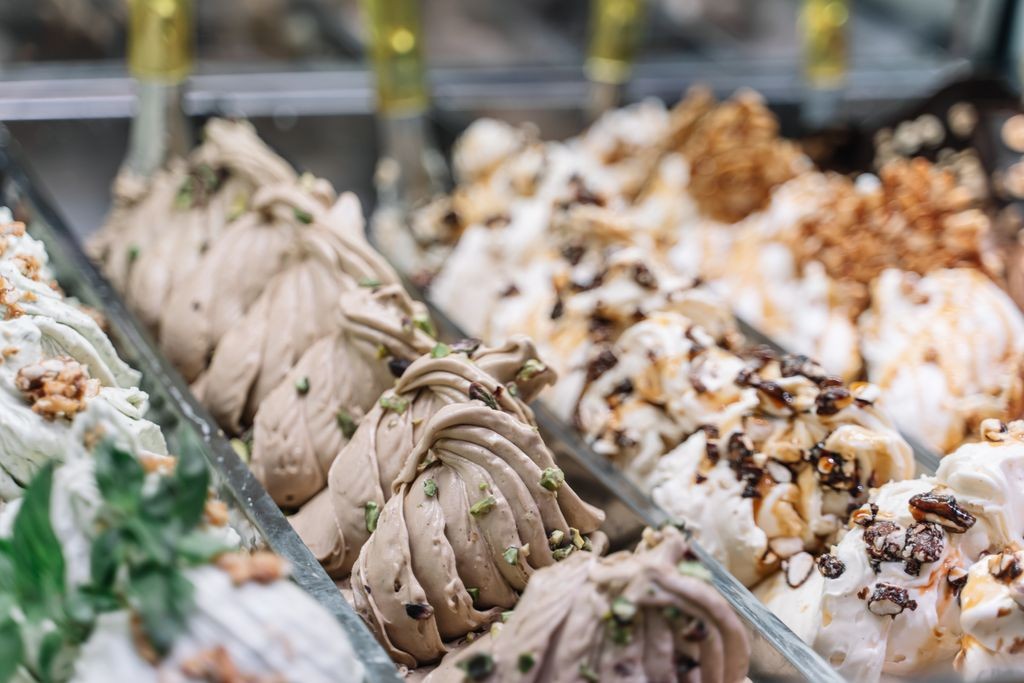 Secret Gelato is famous for its fresh gelato with the freshness taste of fruits, such as avocado, mango, mangosteen and many others. The most unique taste of gelato is the taste of roses. Can you imagine the taste of a rose? Gelato Secrets itself have some outlets in several places in Bali, namely in Ubud, Sanur, Seminyak, Tanah Lot, and Canggu. Besides gelato, there is also a sorbet dish which has a gelato-like appearance but has a lighter texture. Gelato Secret outlets have a classic look with a dominant pink color, so the atmosphere is very comfortable and it could be the best place for selfie lovers!

5. Mad Pops Bali

If you want gelato with funny shapes, Mad Pops Bali is the place. You can order gelato in various shapes there. It's certainly fun if you want to get some cute photos for your Instagram. The taste is also delicious, everything's perfect. Mad Pops Bali is located on Jln. Kayu Aya No.48, Seminyak, Kuta, Badung.