Romantic Nuances In Kayu Putih Beach, Canggu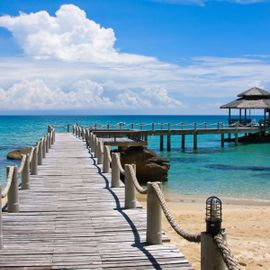 Click to enlarge image
Gang Bintang Laut, Denpasar Selatan, Desa Tibubeneng, Kecamatan Kuta Utara, Badung
Romantic Nuances In Kayu Putih Beach, Canggu.
Some people are interested in traveling to the forest and waterfalls to find some peace. While some others prefer to climb mountains because they want to seek more challenges. There are also people who prefer to travel through the city or come to the lake, and some people who want to relax on the beach.
Kayu Putih Beach
This beach is one of the favorites among tourists. They said that Kayu Putih Beach is a suitable place for selfie hunters! Actually, Kayu Putih Beach is a lagoon or estuary whose real name is Loloan Yeh Poh. Because this lagoon is a meeting between river freshwater and seawater which is located from Berawa Beach. At high tide, Loloan Yeh Poh will look like a lake. Therefore, a wooden bridge was built to connect the Berawa Beach to a restaurant in the Canggu area. Kayu Putih Beach originally had no name. However, its location is very close to the Holy Temple whose name is Pura Kayu Putih, so the native residents gave call the beach Kayu Putih.
If you want to find suitable beaches used as photos on Instagram feeds, it is highly recommended to visit Kayu Putih Beach. This beach offers an interesting spot to capture photos with a wooden bridge background. Once, this place even used as the main background for the opening video of an FTV.
Besides the beautiful wooden bridge, there's also a spot to see the sunset. Can you imagine seeing the orange-colored sunset with a view of the bridge that adds a romantic impression? Your holiday with your spouse, relatives, friends, or alone will still be memorable! You can also enjoy the views of a typical coast, with the stretch of beach sand, waves, and coconut trees that make the atmosphere more beautiful and exotic.
Canggu Kayu Putih Beach itself is located in Gang Bintang Laut, South Denpasar, Tibubeneng Village, North Kuta District, Badung Regency, Bali. Precisely in the row of Double Six Beach, Kuta Beach, and a row of tourist attractions in Seminyak. This Kayu Putih Beach is right next to Canggu Berawa Beach and Batu Belig Beach in Seminyak Bali.