Magical Kecak Dance Wrapped in Astonishing Sunset
Magical Kecak Dance Wrapped in Astonishing Sunset
Posted by: fandihafidz | Wednesday, 27 June 2018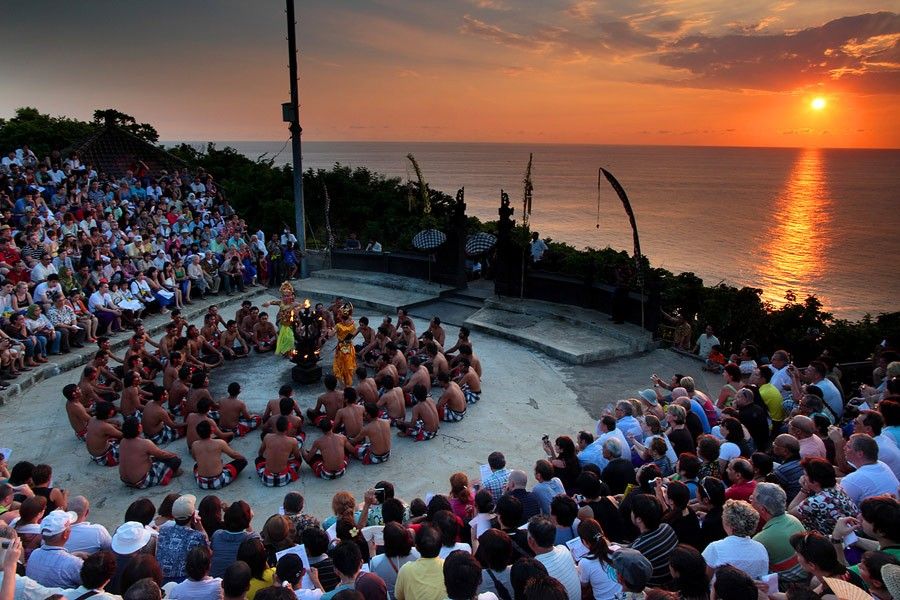 Bali has many cultural uniquenesses, one of them is "Tari Kecak Uluwatu" or widely known as Kecak Dance. Many people come to Bali to find peacefulness of the nature and its culture by witnessing this dance.

The performance of Kecak Dance at Uluwatu, at Ubud, or at anywhere basically has the same form. The legend of Ramayana's life and his love story with Shinta are also delivered wonderfully in every performance.
Kecak Dance has unique music and tone in which the dance is accompanied with humans' voice and rattling sound combined with the voice of more than 50 dancers simultaneously. Kecak Dance is sometimes called "Cak Dance"or "Fire Dance". This dance is derived from Sanghyang ritual which is the dance combined with tradition in which the dancers are in unconscious condition.
Before Kecak Dance colossal performance, a local elder in his white attire commences the opening ceremony ritual while sprinkling the holy water on the Kecak dancers. Not long after, the sound of "cak cak cak" bursts again as the opening of this colossal performance at Pura Luhur Uluwatu. The first scene begins with the emergence of a pair of dancers who became the main character, Rama and Shinta, into the centre of the stage.
On the second scene, the antagonist character Rahwana shows up to the visitors. The evil character in the legend of Ramayana is told to kidnap Shinta. Because he always fails to kidnap his beloved goddess, Rahwana thinks hard and finds a brilliant idea. Rahwana transforms into Bhagawan, a thirsty old man asking for water to the gorgeous Shinta.
Schedule of Kecak Dance Uluwatu
Every Day (Except Nyepi Day & Pengerupukan)
Opening Hours : 18:00 to 19:00 WITA (At sunset)
Duration : 60 Minutes
Place : Open Air Stage Pura Uluwatu, Bali
Ticket Price : IDR 100,000 per person.
Location and Access to the Stage of Kecak Dance Uluwatu
The performance of Kecak Dance Uluwatu is held inside Pura Luhur Uluwatu complex, in the open stage area, directly opposite to the open sea. Administratively, Pura Luhur Uluwatu is located at Pecatu Village, Kuta District, Badung Regency, Bali.
Distance of Uluwatu Temple where the location of Kecak Dance is staged is approximately 30 kilometres to the south of Denpasar, Bali. If you depart from Nusa Dua area, it takes about 45 minutes to reach this temple. It will be easier if you travel from Kuta tourist area because there are many public transportation or rented motorcycles and cars ready to take you to the beautiful temple on the top of cliff or rock platform overlooking the Indian Ocean with Pecatu Beach underneath.