Makepung, Festival Tradition of Buffalo Racing was Lively after Absent for A Decade
Makepung, Festival Tradition of Buffalo Racing was Lively after Absent for A Decade
Posted by: nesia | Tuesday, 16 July 2019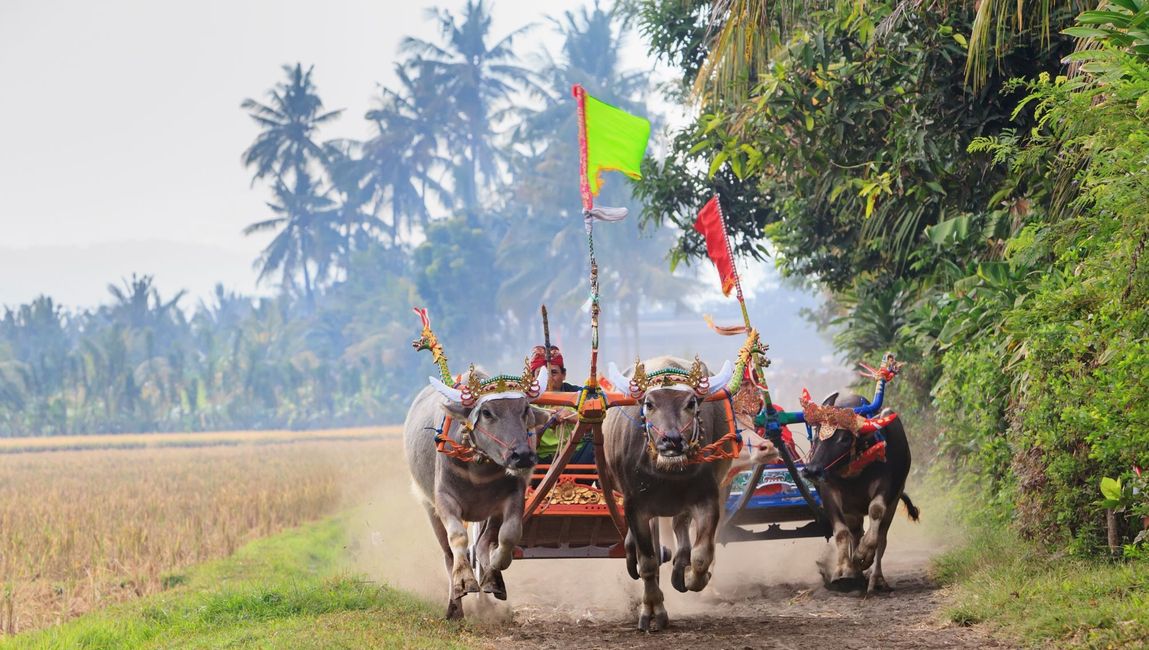 Jembrana Regency has many traditions that could enjoy while holidays come. One other thing of these is Makepung. Makepung is buffalo racing. It's has been absent for a decade, but this year presented with lighthearted. In order to the anniversary of Negara City was held Makepung along with the culinary festival.
Hindu society in Bali believes that cow is Batara Guru's vehicle. Because of it, the cows are holy animals. So, Makepung used buffalo for the race. Makepung Gubernur Cup was carried on July 14. This events positively can get appreciation from Indonesia tourist and foreigner.
At first, Makepung is farmer trade while planting season. Beside functioned for plowing, Makepung becomes attraction tourism in Bali. Warmly, that race events welcomed by the local society of Jembrana who is a farmer.
This year, Makepung Gubernur Cup placed in along 1.200 meters at Samblong Circuit, Kelurahan Sangkaragung, Jembrana Sub-district. Two teams namely Ijogading Barat and Ijogading Timur send down a hundred pairs of buffalo. Ijogading Barat sends 146 pairs buffalo and Ijogading Timur send 116 pairs.
Ijogading Timur carries the championship trophy and got the gift 25 million Rupiahs. More than the gift, the race has been deep meaning. The tradition wasn't presented along a decade has festive Negara City anniversary. Makepung is also one aspect of the booster on the tourism sector. Interesting right? If you couldn't enjoy at this month, Makepung will hold again on August 11, 2019. At those days will hold Makepung Bupati Cup. Let's prepare for your holiday now!