The Unforgettable 6 Days in Badung
Spending six-day vacation in Badung indeed sounds interesting. You can explore a lot of famous tourist attractions in Badung, starting from the most popular to the most hidden tourist spot. Find our itinerary below, so you can plan your vacation well!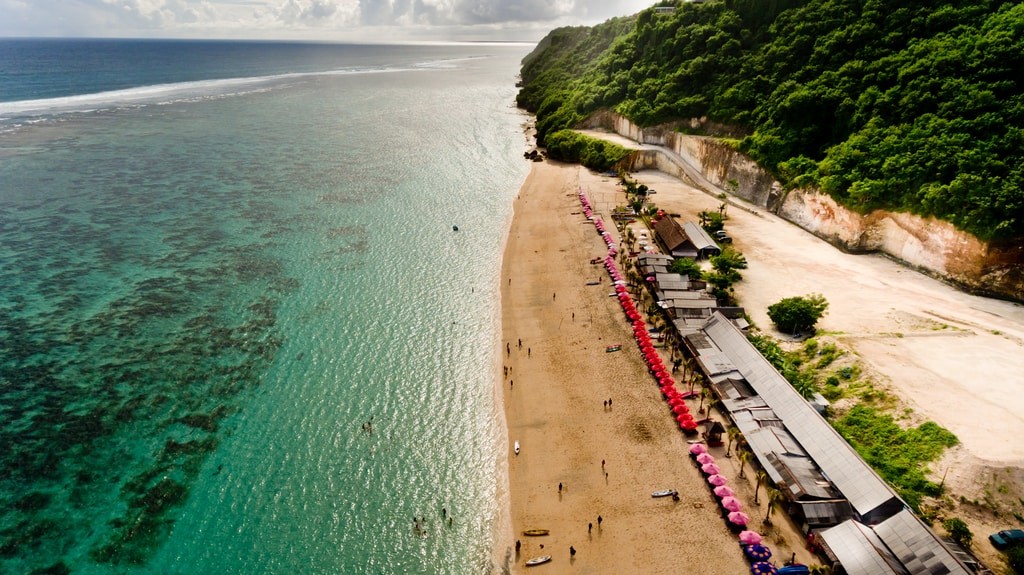 1. Pandawa Beach
Feel the thrill of playing water sports on Pandawa Beach. There are many types of water sports and you can choose ones depending on your budget. After that, you can relax on the beach while enjoying the fresh young coconut ice or swimming in the middle of the wave of Pandawa Beach. But first, don't forget to take a picture in front of the Pandawa Lima statue, which is right before the entrance! This is an iconic photo spot on Pandawa Beach.
2. Pasifika Museum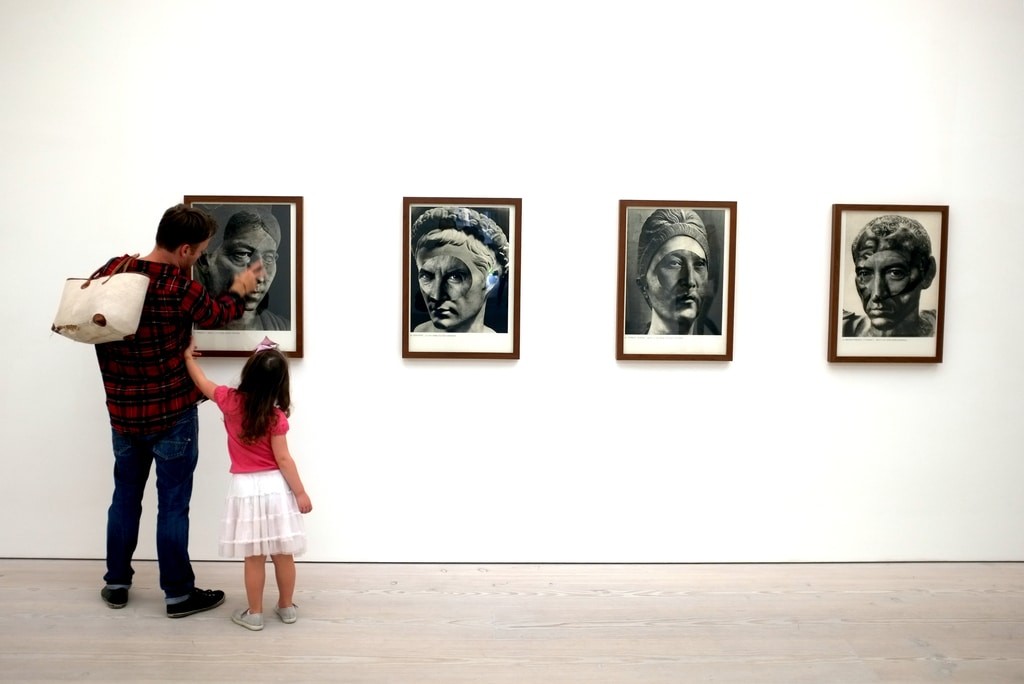 From Pandawa Beach, it's time to see the collaborative works of various local and foreign artists at the Pasifika Museum. For art lovers, the Pasifika Museum is the best tourist spot, because there are around 600 paintings, which are exhibited in 11 platforms. With about two hours, you will be satisfied to tour the entire museum room. It is better not to touch the painting while touring! After looking around at the museum, your stomach must be hungry. Then, it's time to try Badung's special food, Lawar Kuwir Rice.
3. Lawar Kuwir Rice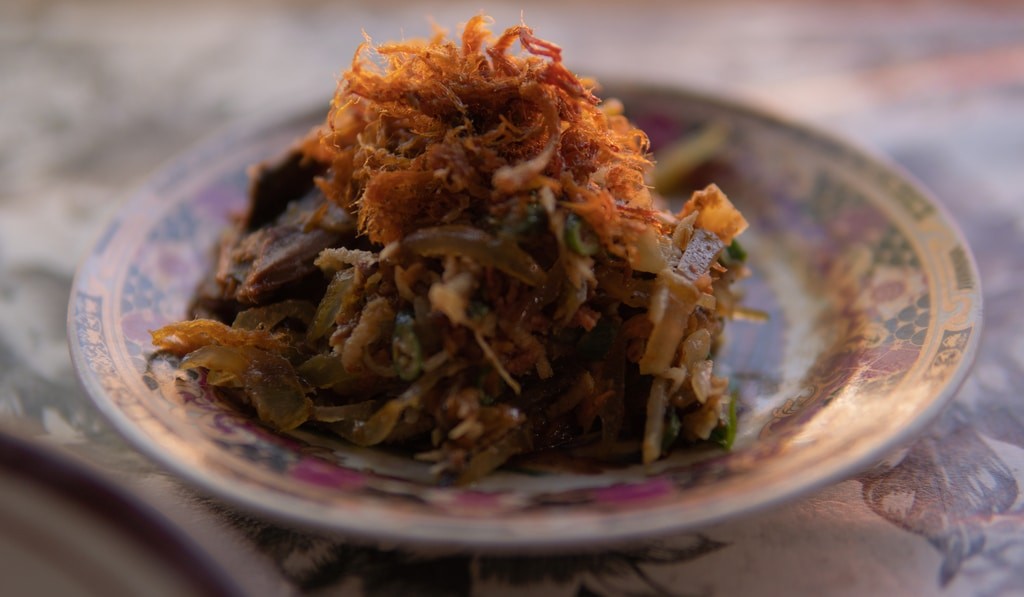 Taking Lawar Kuwir as your lunch menu is certainly appetizing. Lawar Kuwir is a duck meat, sliced ​​long beans mixed with grated coconut meat and Balinese spices. Plus, some complementary dishes like Satay Lilit and Jukut Ares (banana stem soup) will enrich the unique taste on your tongue. After that, let's watch the sunset at Batu Bolong Beach.
4. Batu Bolong Beach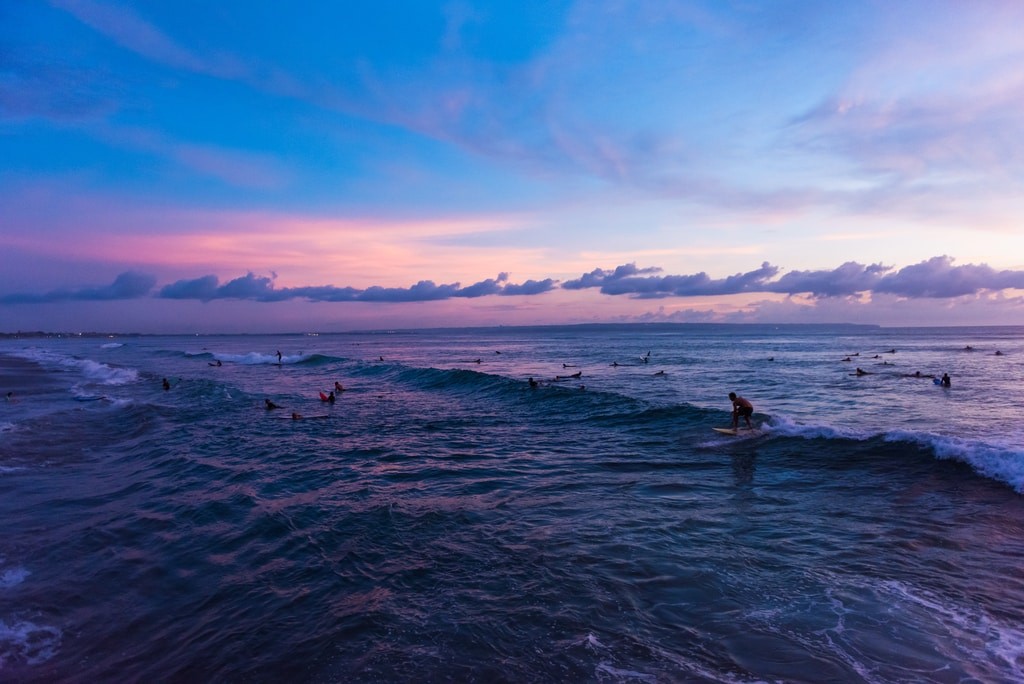 This beach has a shape resembling Tanah Lot with a different uniqueness. In there, you can see a hole in the middle of a rock. Tourists often come here to enjoy exotic sunset from the top of the cliff. While watching the sunset, you can hear the beautiful sound of the waves crashing on the reef. This natural beauty will give you sweet memories of Badung. Enjoying the sunset is the best closing activity for the day.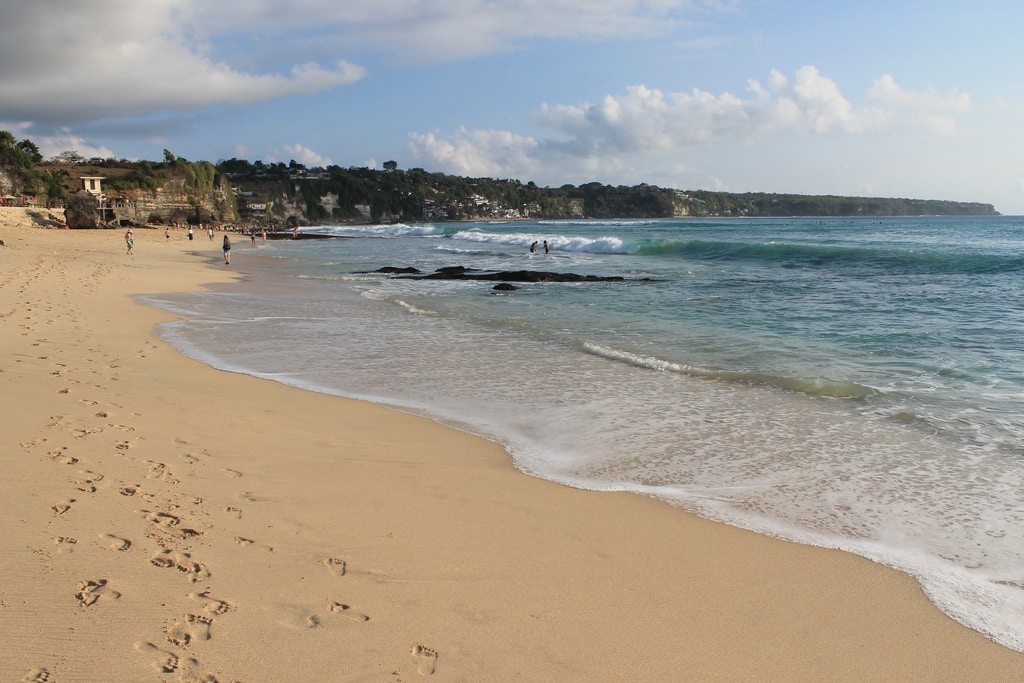 1. Dreamland Beach
The medium waves of Dreamland Beach will make you able to do various activities like swimming or surfing. Also, the fine white sand can also be used as a comfortable place to sit back and relax. Or, you can just rent a beach chair and enjoy a body massage from the local resident.
2. Enjoying a Plate of Chicken Betutu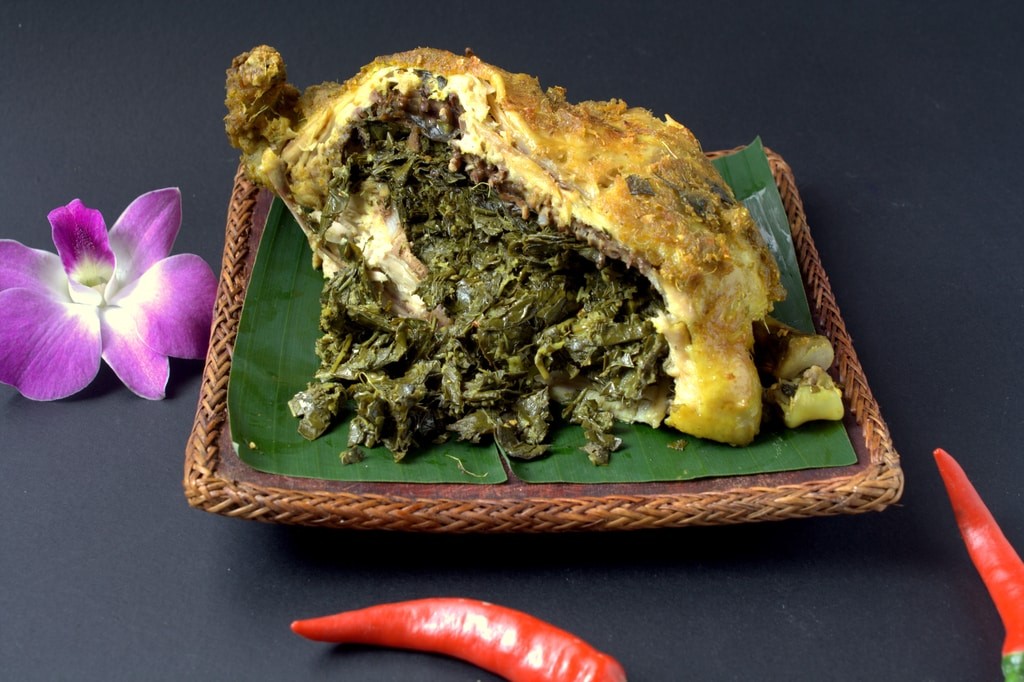 Chicken Betutu is one of the most delicious meal in Bali. The chicken meat is grilled in husk fire and given a special Balinese flavor that will give an authentic taste. The aroma and savory taste of these foods comes from plants, water, and meat fat. The spices are very rich which make this food is very delicious. Chicken betutu is served as whole meat. So you can enjoy it together with friends or family.
3. Suluban Beach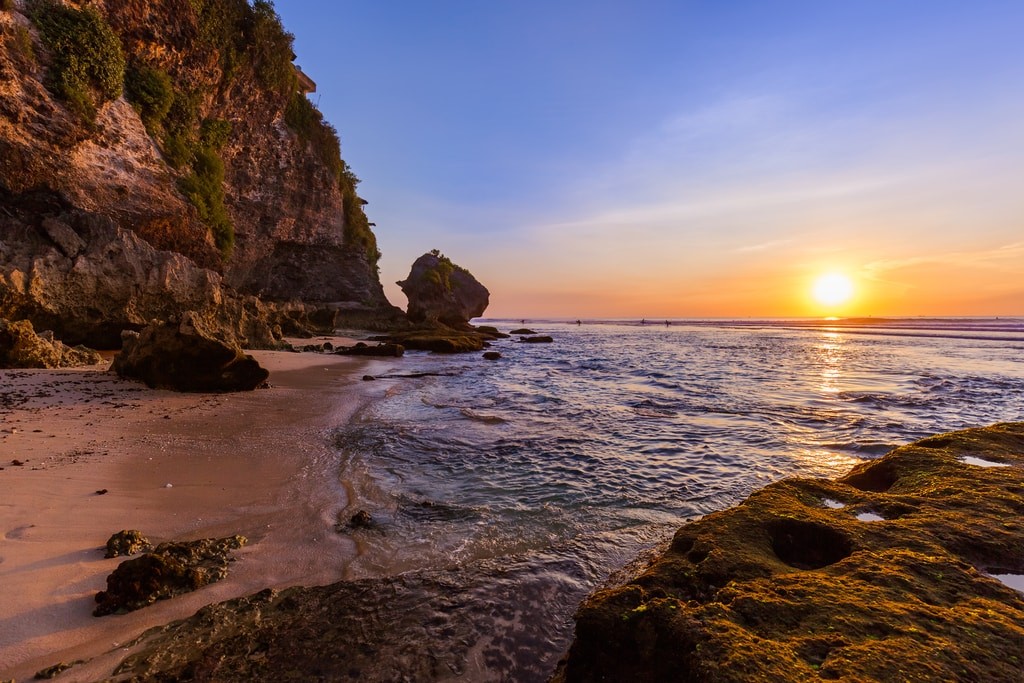 If you love surfing, this beach is perfect for your hobby. The waves are quite large so it's a good challenge for surfers. But if you're a beginner surfer, it's not advisable to surf there because it's too dangerous. Instead, you can sit back and relaxed on the edge of a fine white sandy beach. You can also enjoy the scent of the sea while you sip your favorite cold drink.
4. Uluwatu Temple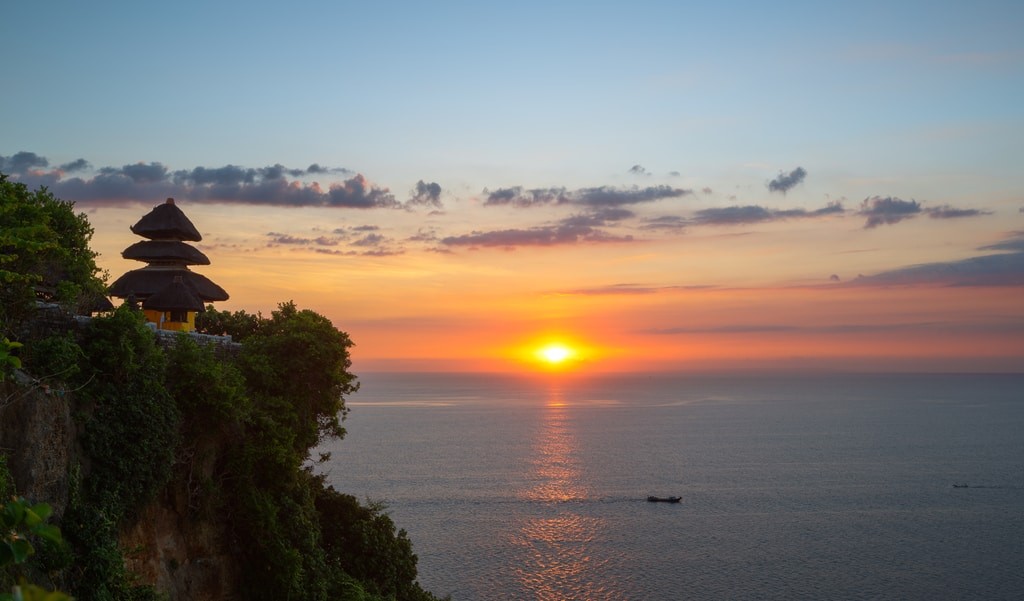 Many tourists come to the Uluwatu Temple to see the beautiful sunset on the horizon. If you are one of them, you should come around four in the afternoon. There will be many visitors who also wants to enjoy the view of sunset, so that the parking lot might be full. Don't forget to prepare your best camera to capture the beautiful evening sun.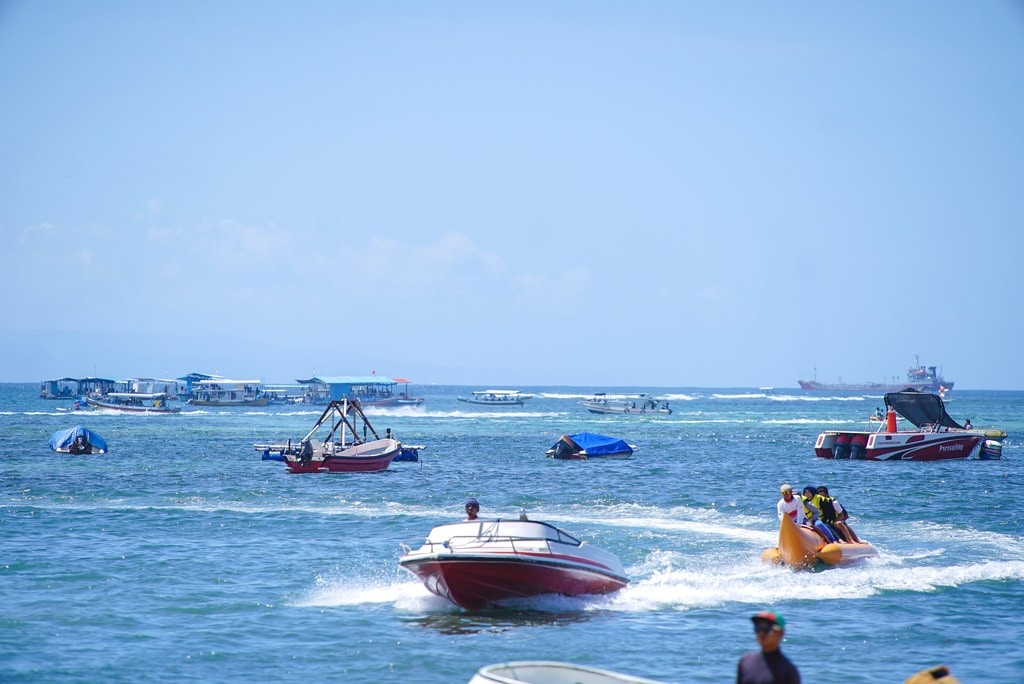 1. Tanjung Benoa Beach
Besides Pandawa Beach, you can also play some water sports on Tanjung Benoa Beach. There are various types of water sports that you can try. Like banana boat, scuba diving, parasailing, rolling donuts, seawalker, flying fish, and snorkeling. If this is your first time trying out water sports, don't worry. There will be officers around the beach. Besides water sports, you can swim or sunbathe on the beach while drinking a glass of fresh coconut water. After spending about 1.5 to 2 hours there, prepare yourself to continue your journey to the Deluang Sari Turtle Conservation.
2. Captive Deluang Sari Turtle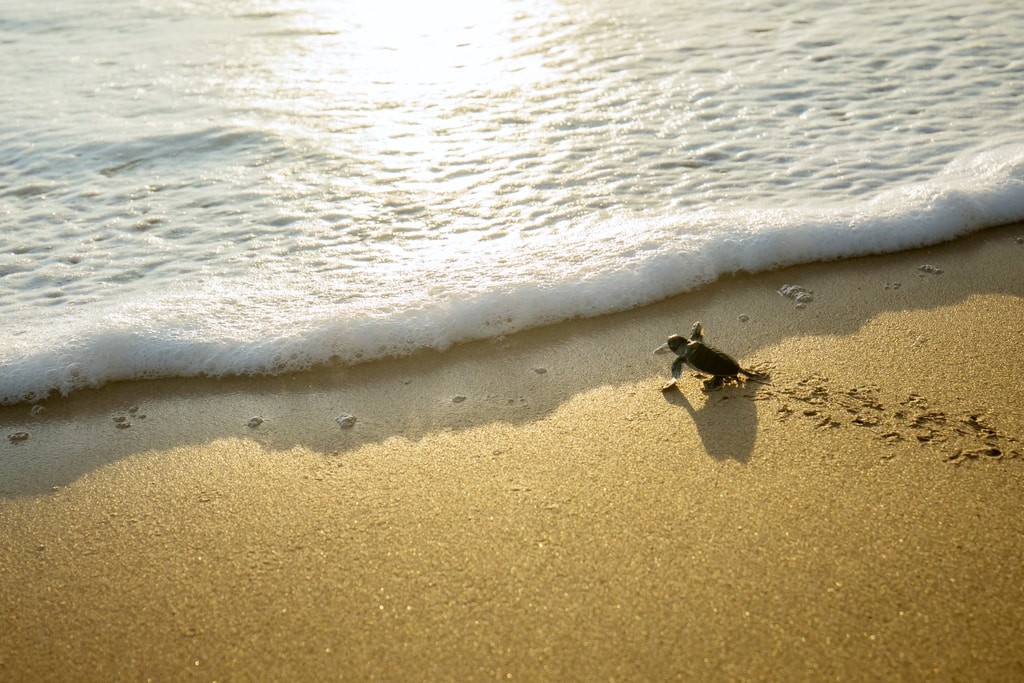 This turtle conservation is located in Tanjung Village. You need to cross by boat to get there. In this place, you can hold, feed, take pictures, or directly enter the conservation pool area and play with the turtles. Remember, hold turtles gently and carefully if you want to interact with them!
3. Garuda Wisnu Kencana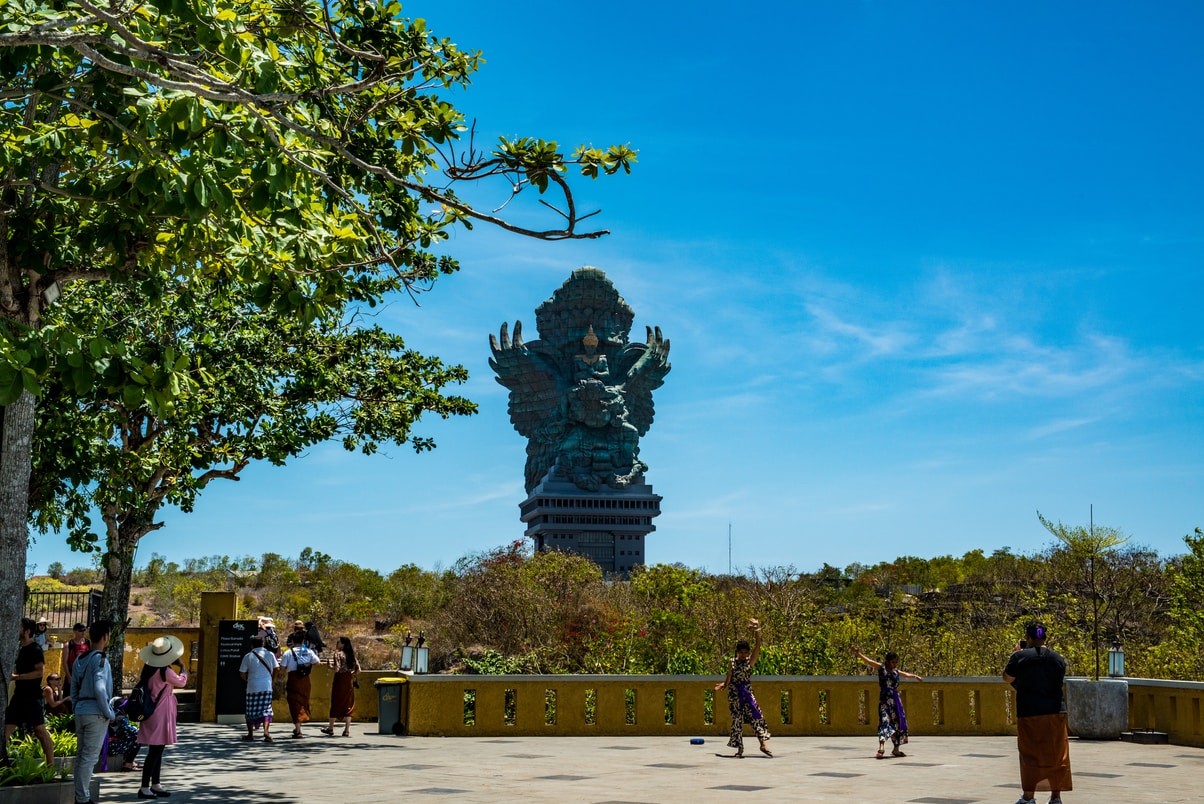 After trying the water sports and playing with turtles, it's time to take a leisurely walk in Garuda Wisnu Kencana or GWK. This is an excellent tourist attraction in Bali. GWK is often used as a visitor's photo spot because there are many interesting backgrounds there. Besides taking pictures, you can also watch art performances held at certain times. You can spend as much time as you want, because GWK will be your last destination for today.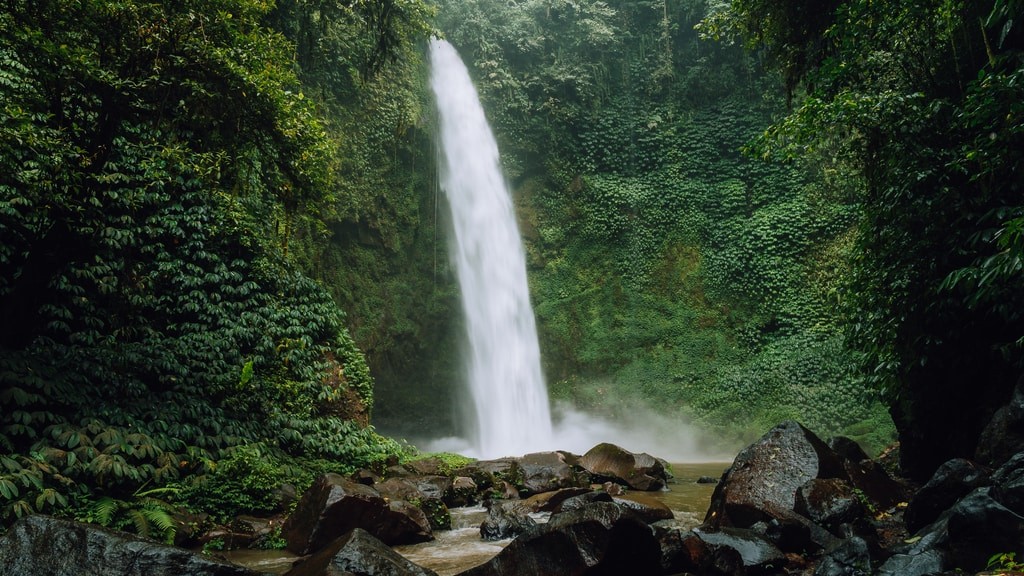 1. Nungnung Waterfall
Start your fourth day adventure at Nungnung Waterfall. To get there, you have to hike with a fairly long distance. Therefore, wear comfortable clothes and footwear to make you free to move. Upon your arrival, you can swim and play with the cold water. It can relax your muscles after a long journey. Surrounded by tropical plantation, the location is also very suitable as a background for taking pictures.
2. Mumbul Sangeh Temple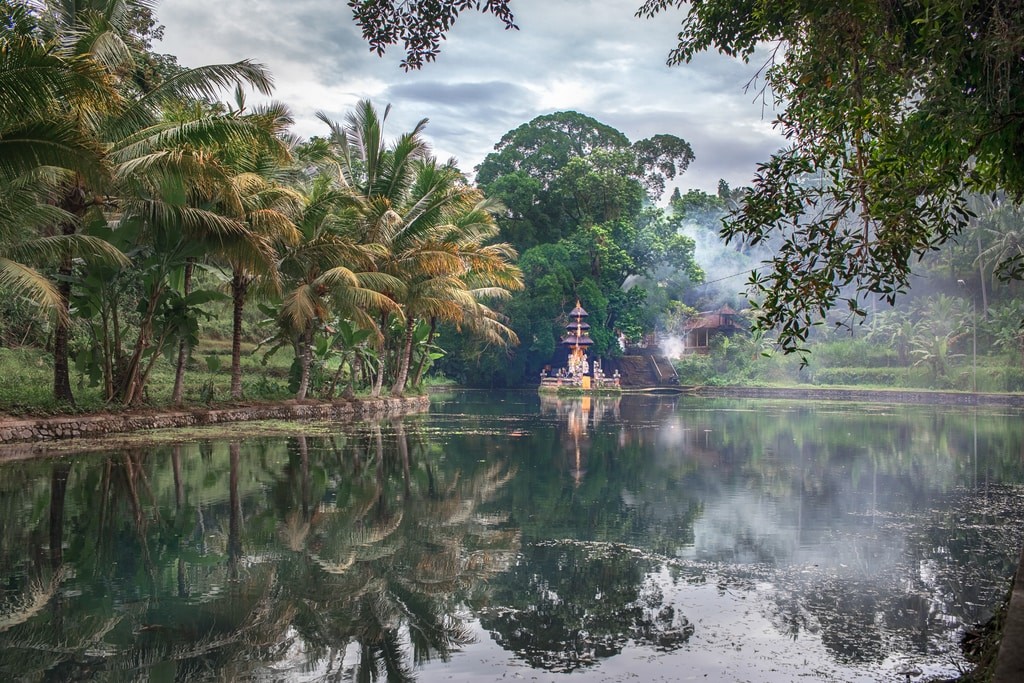 Even though this is a place of worship, you can do a number of interesting activities, such as feeding the fishes in the pond, biking around the temple, or exploring the Tirta Taman Mumbul pond by boat. This place is always crowded with visitors. So the best time to visit is in the morning. After that, you can take a 20 minute-drive to Monkey Forest Sangeh.
3. Monkey Forest Sangeh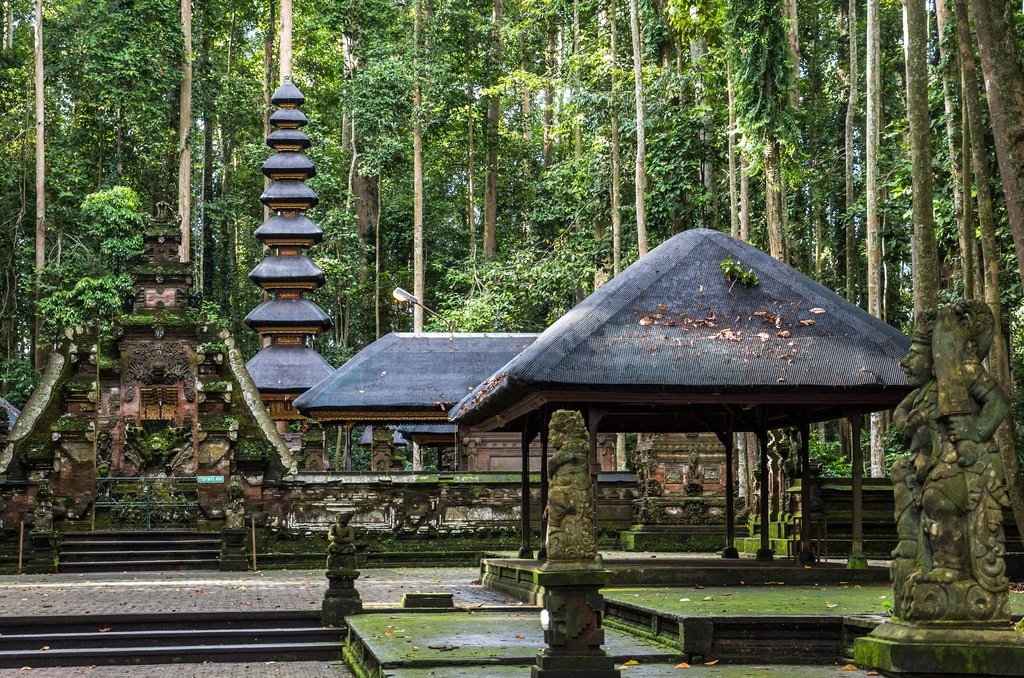 You will be accompanied by the shady nutmeg trees in this forest. You can also see some cute monkeys sitting or playing in the trees. Besides monkeys, there are also two sacred temples, namely Bukit Sari Temple and Melanting Temple. Don't forget to bring bananas and nuts to feed the monkeys.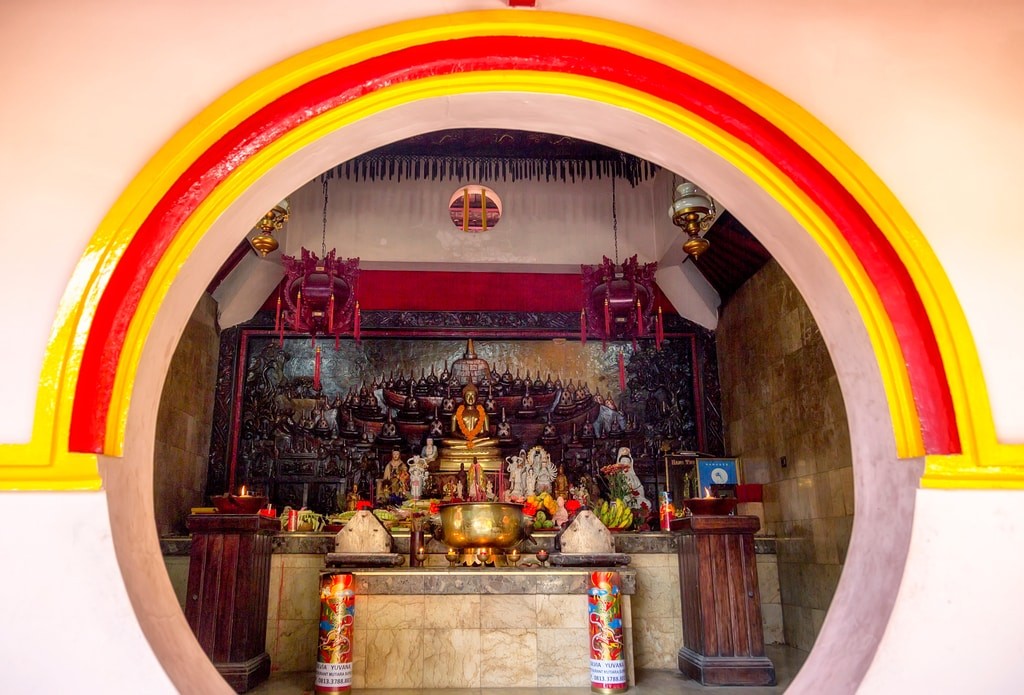 1. Dharmayana Vihara
By visiting the Dharmayana Vihara, you can immediately sense the calm and spiritual atmosphere. In the vihara, you can walk around to see several Tridharma worship rooms equipped with various statues, as well as a small replica of the Borobudur Temple. There are rows of colorful lanterns hanging on the ceiling. But remember, you aren't allowed to take pictures in certain areas. So, before taking a picture, be sure to understand the rules and as the officer to get more information.
2. Ground Zero Museum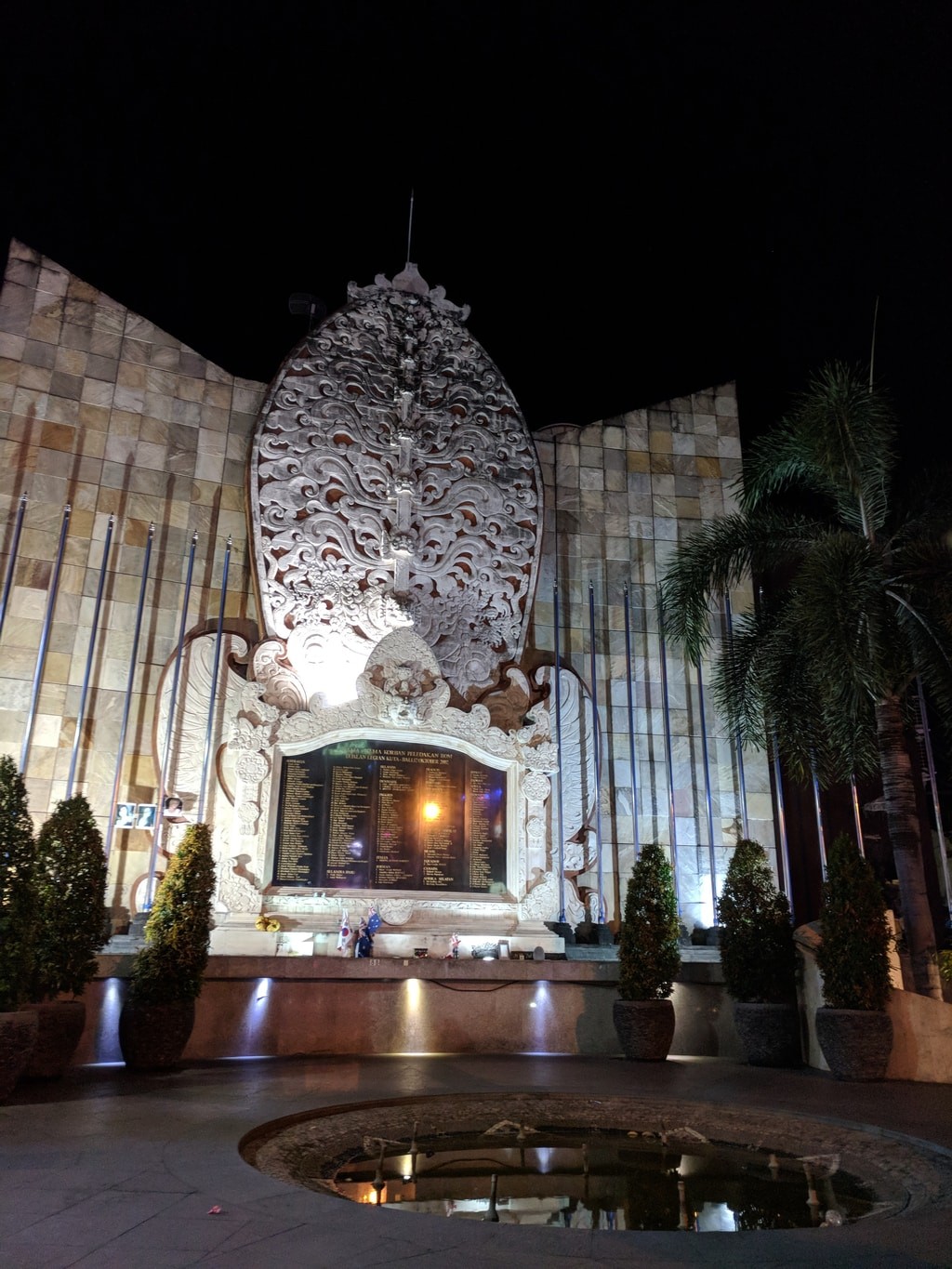 This is a memorial monument to commemorate the Bali Bombing incident in October 2002, which claimed 202 lives. You can see the names of the victims sculpted at the monument, and put put flowers in front of the monument as a sign of condolence. From the Ground Zero Museum, let's relax on Legian Beach.
3. Legian Beach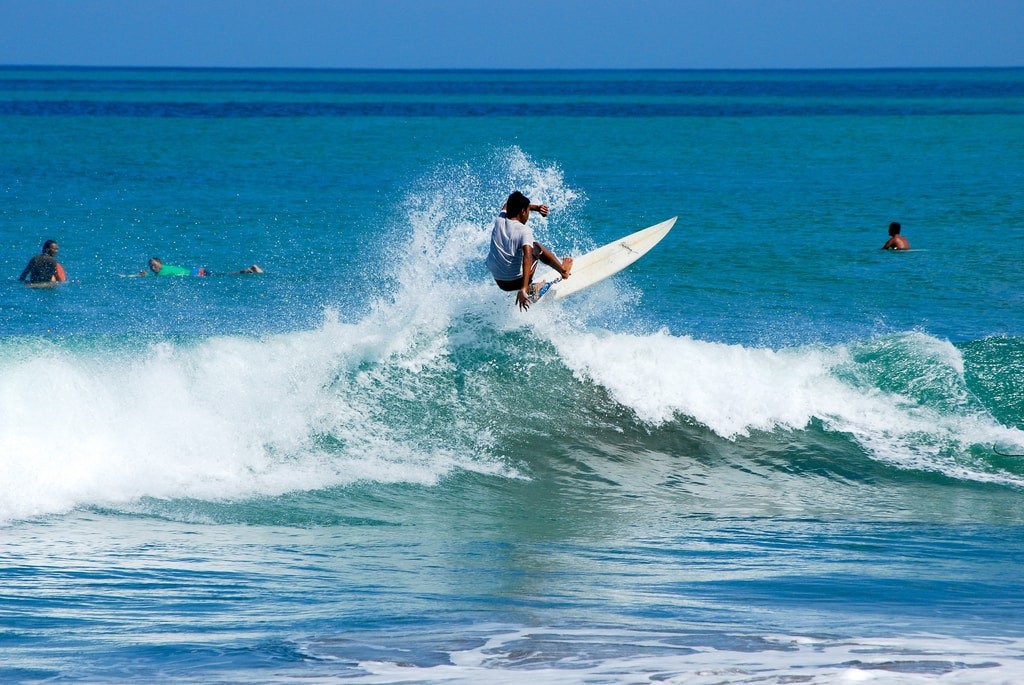 Legian Beach offers a calm beach atmosphere with a stretch of fine white sand. Besides that, you can try to surf and playing with the waves. But if you just want to relax, you can sit in a beanbag while waiting for the sunset in the horizon.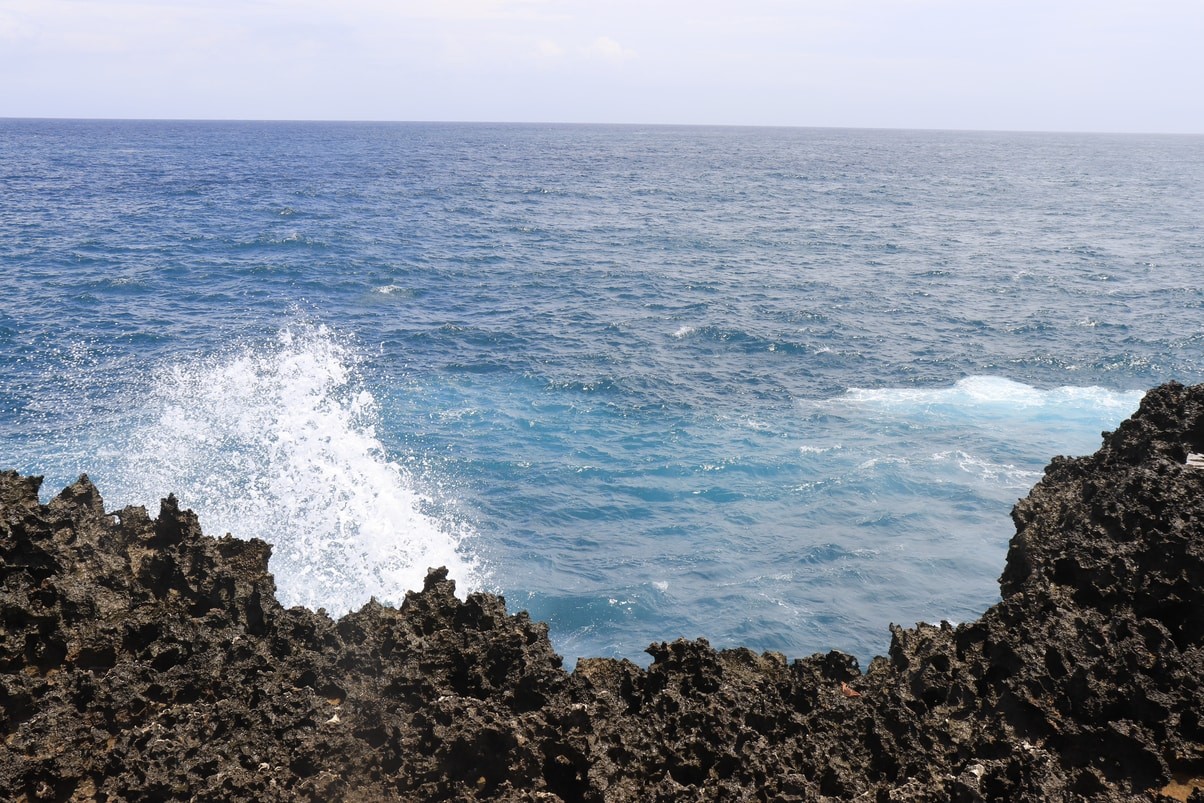 1. Waterblow, Nusa Dua
Before your vacation ends, you should come to the Nusa Dua area. Precisely behind the Grand Hyatt Nusa Dua Hotel in South Kuta to see the Waterblow phenomenon. Well, you can see the fierce waves bursting into the rocks at the edge of the cliff. If you are looking for a photo object, this wave burst will certainly enhance your shots. Before going, remember to prepare some waterproof bag, because the grand splashing waterblow could wet your stuffs.
2. Traditional Spa and Body Treatment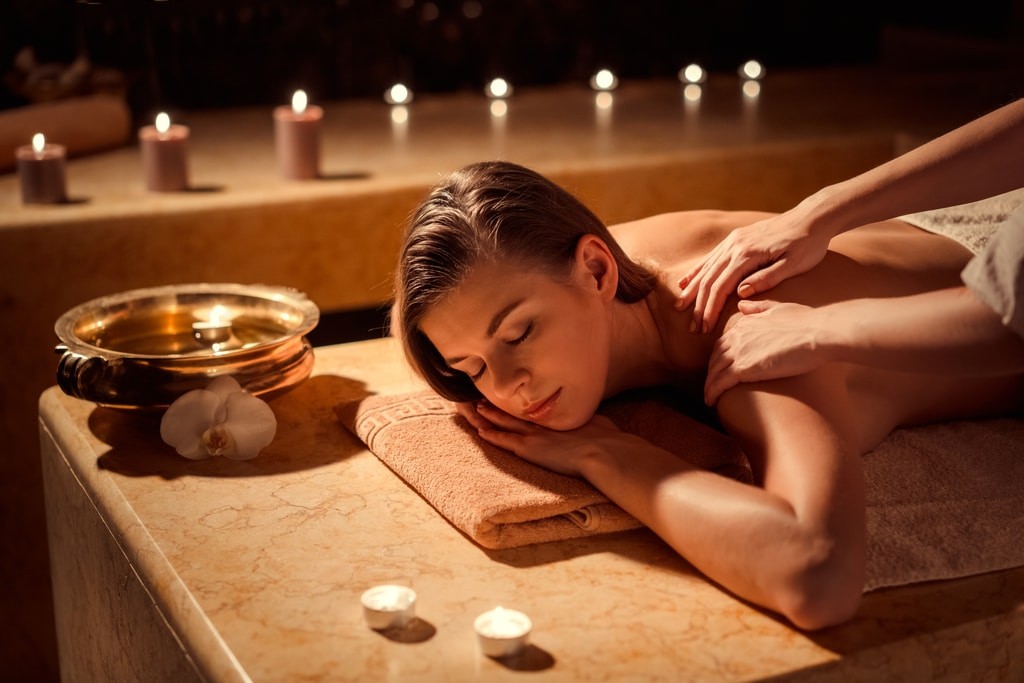 After tired of traveling for 5 days, it's time to relax your muscles at the spa. There are many spa spots in Badung Regency. You can choose what kind of treatment that suits your body needs. Since this is the last day, you'd better choose a spa that provides transport facilities to Ngurah Rai Airport.
Badung Regency is one of the busiest areas on the island of Bali. Almost every tourist who comes to Bali will visit this district. Well, to avoid congestion, you should start your trip in the morning. So you can go back to the inn and take a good rest before it's too late.