7 Day Trip in Gianyar Regency
Having the chance to have a long vacation in Gianyar Regency? Then you come to the right article! Gianyar is a tourist paradise in Bali, where you can go to various type of attractions. Seven days is the right amount of time to explore Gianyar. You'll be surrounded by the cold air and a variety of carvings from Ubud local artists.
Gianyar is indeed suitable as a place of relaxation as well as increasing knowledge about Balinese culture. Curious to know where you can spend your time in Gianyar? Read this itinerary that's specially prepared for you.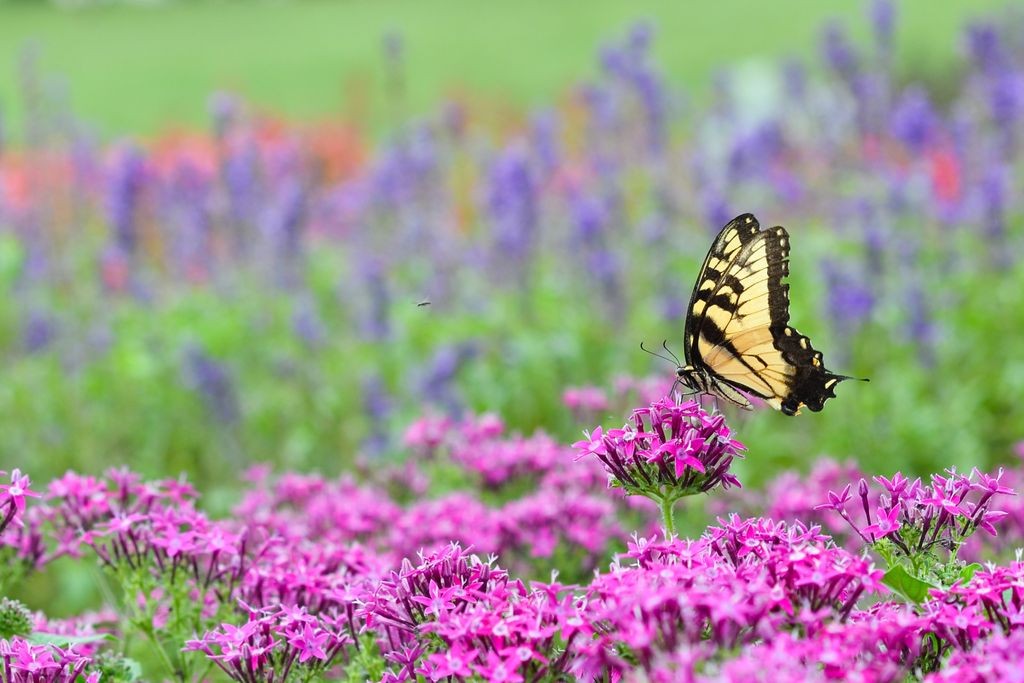 1. Kemenuh Butterfly Park
On your first day in Gianyar, you should visit the Kemenuh Butterfly Garden which is located on Jalan Raya Kemenuh. This could be the best place to start your holiday! Open from 08:30 WITA – 18:00 WITA, this garden is a habitat of around 500 butterflies. You can even meet the famous Elephant Butterflies and snapping pictures with them! Only by spending 30 minutes in the garden, you'll get so many unforgettable moments. After that, let's continue your journey to Tegenungan Waterfall.
2. Tegenungan Waterfall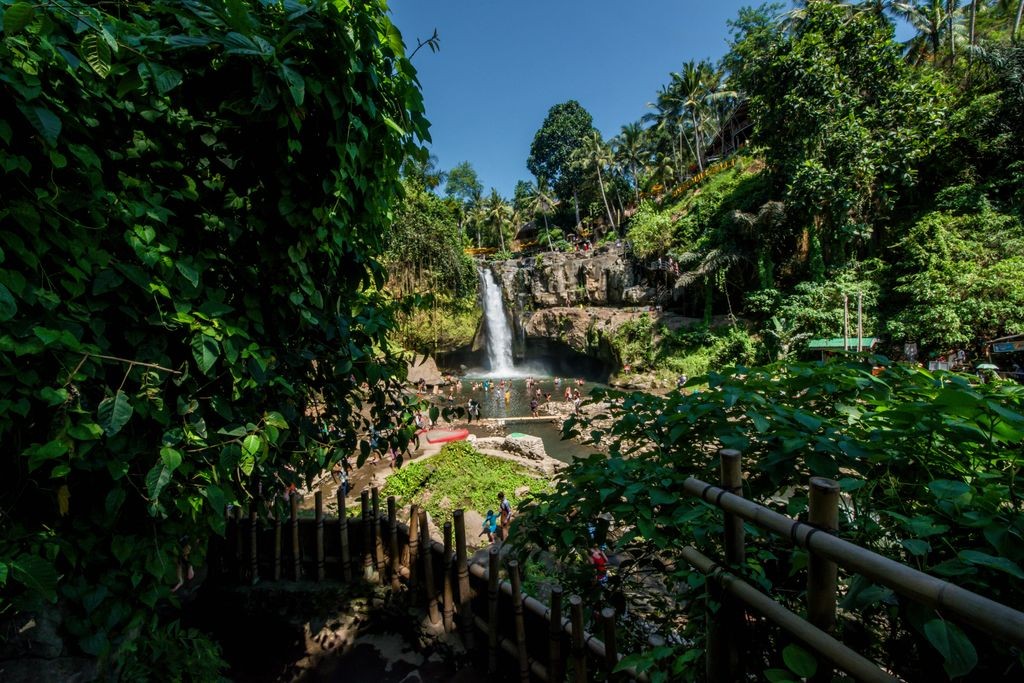 About 5 minute-drive from Kemenuh Butterfly Park, you can find Tegenungan Waterfall. Near the location, there are ponds and showers from the waterfall. This could be your other option if you don't want to bath in the waterfall. Once satisfied, let's continue to the last destination of your first day: watching the flock of Kokokan birds.
3. Kokokan, Heron Bird Colony Watch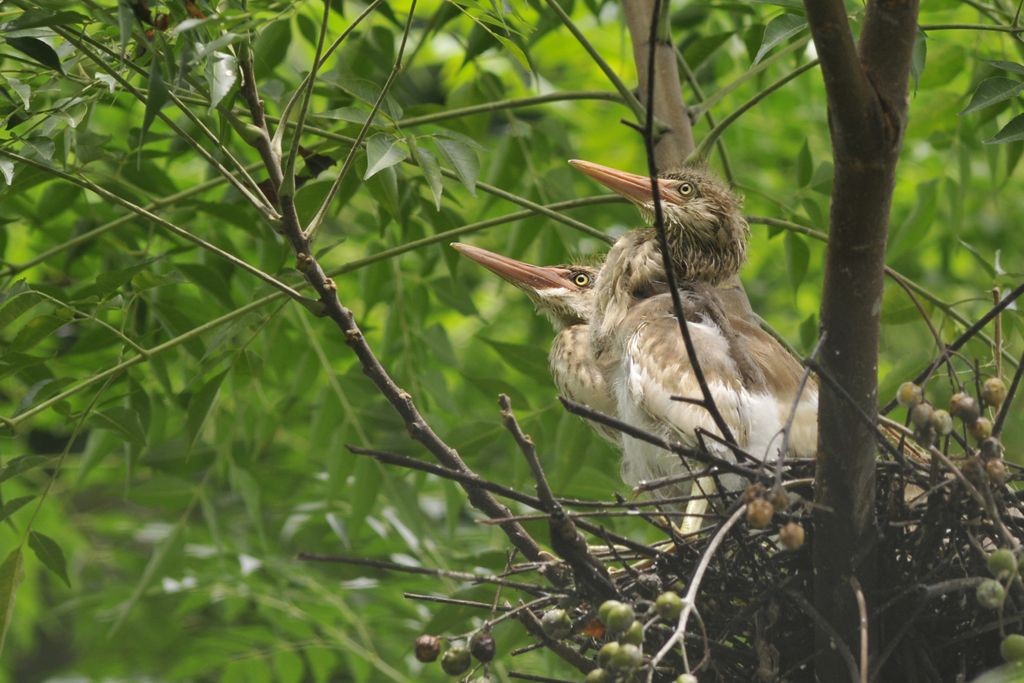 It's unique to see a flock of Kerbul Kerbau or Kokokan flying back to their nests in Petulu Village, Ubud. The best time to see this endangered species is in the afternoon around 17:30 to 18:30. Be an eyewitness to the beauty of this natural phenomenon that you may not find elsewhere.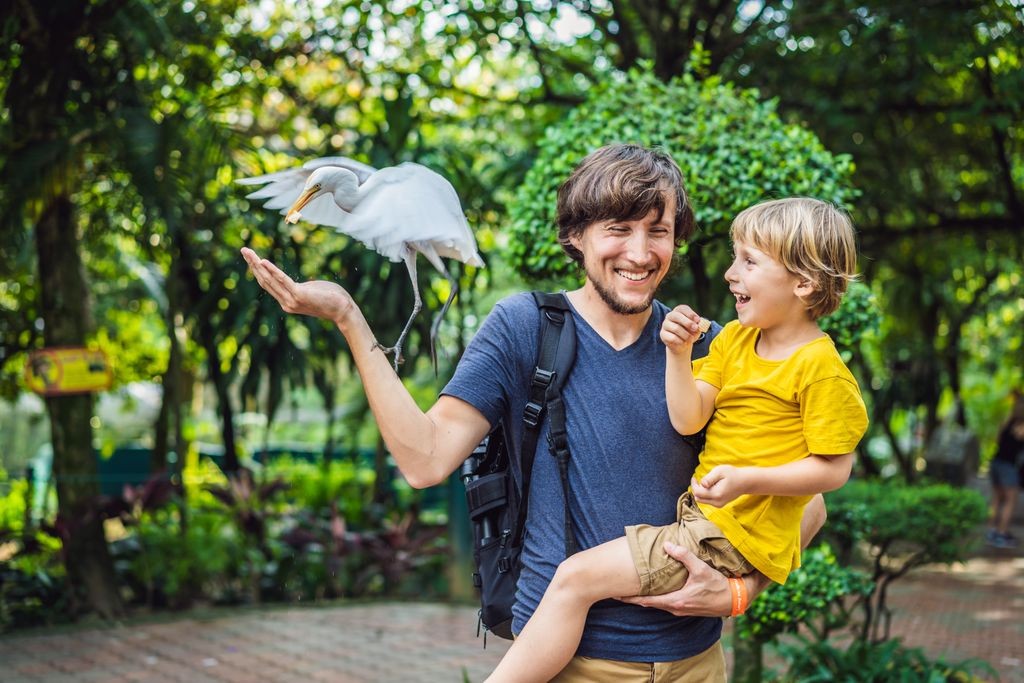 1. Bali Bird Park
Ready to be welcomed by the birds that are happily flying around you? Come to Bali Bird Park. You can see about 1,000 birds from 250 species. You can take pictures with several species of birds in the "Guyu-Guyu Corner" to add to your holiday photo collection in Gianyar. Located on Jalan Sema Cok Ngurah Gambir Singapadu, Batubulan Village, this bird park is open daily from 09:00 Wita to 17:30 Wita. Spend 1.5 hours there and you'll be ready to buy some souvenirs at Guwang Art Market.
2. Guwang Art Market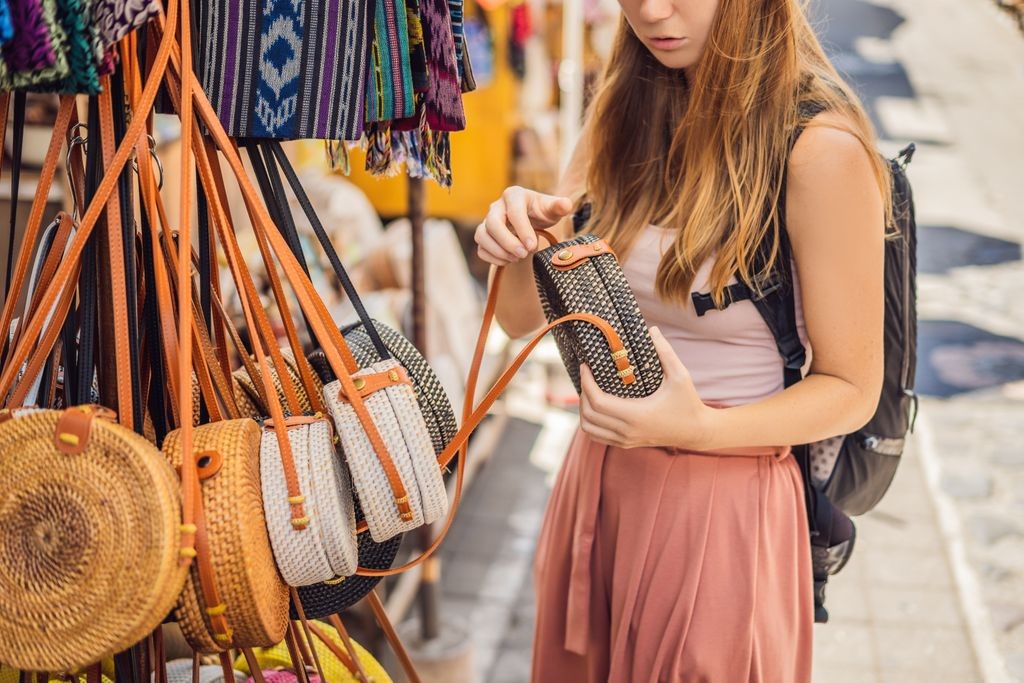 This place could be another option to buy Balinese souvenirs such as paintings, batik, wooden sculptures, antiques, and other traditional handicrafts. The prices of goods sold at Guwang Art Market are relatively cheap and negotiable. You can visit the Guwang Art Market from 10:00 to 17:00 Wita. This market is located on Jln. Raya Guwang No. 5.
3. Rudana Museum and Art Gallery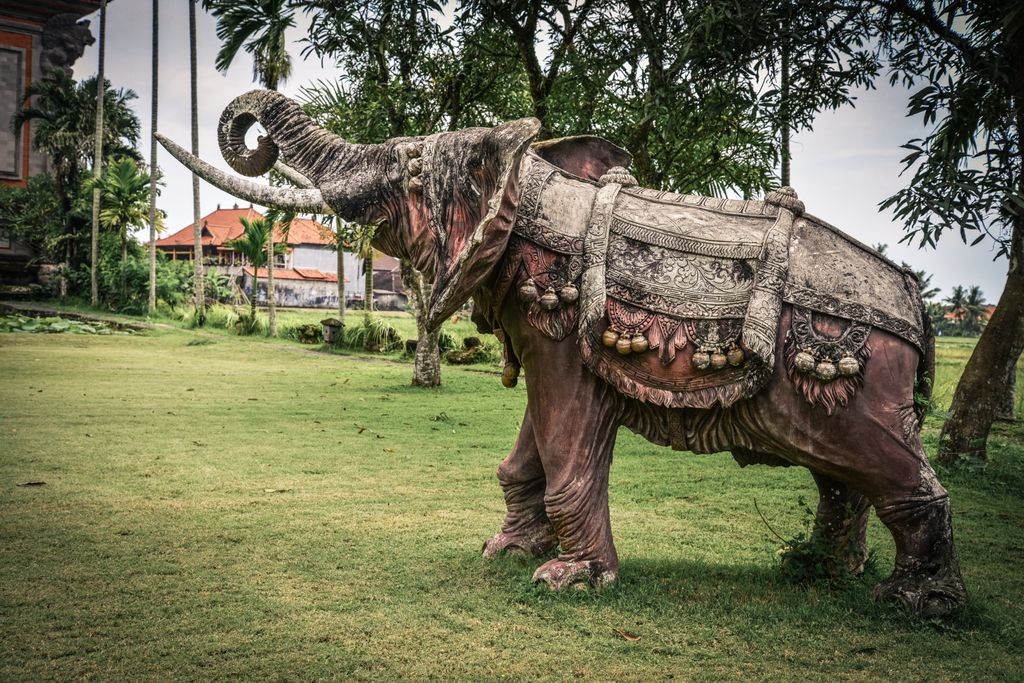 After shopping, let's go to the Rudana Museum and Art Gallery. You can see classic and contemporary paintings by various local and foreign artists. If you're an art lover, this place is definitely suitable for you. The museum is strategically located in the middle of the crossing of the Ubud Museum and Rudana Art Gallery. You can come between 09:00 WITA to 17:00 WITA.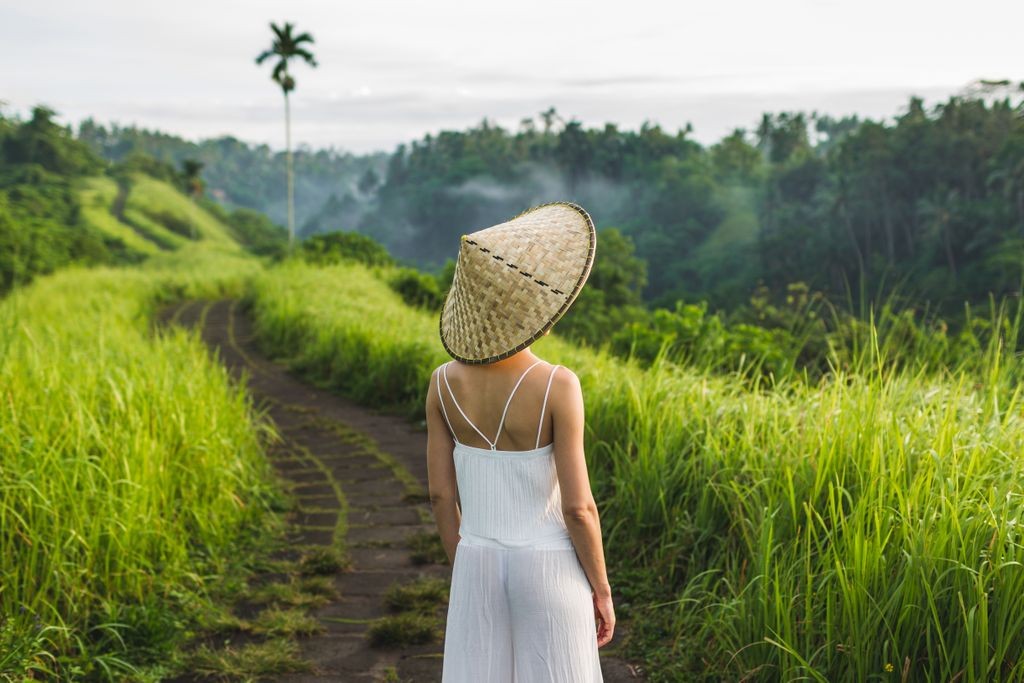 1. Campuhan Hill
9km trekking at Campuhan Hill in the morning can refresh your body and mind. While trekking, you can also take pictures with the background of green grass around the hill. Since there are no stalls on the hill, you should prepare your own mineral water. After that, you can have breakfast at a restaurant around the Pura Saraswati area, which is 1km away from Campuhan Hill.
2. Taman Saraswati Temple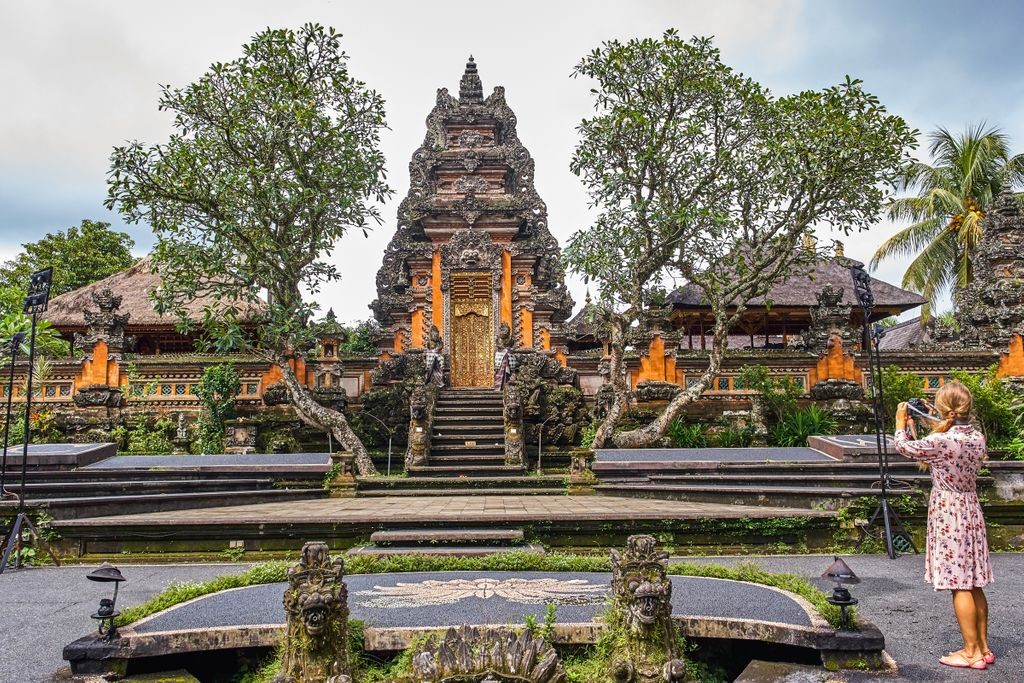 After lunch, you can visit Taman Sarasawati Temple. Feel the high artistic value of the interior and exterior design of the temple which is filled with various beautiful carvings by Ubud artists. The large pond filled with pink lotus plants in the front yard of the temple is a favorite photo spot for visitors. After spending around 30 minutes, you'll be ready to meet the monkeys in Monkey Forest Ubud.
3. Sacred Monkey Forest Sanctuary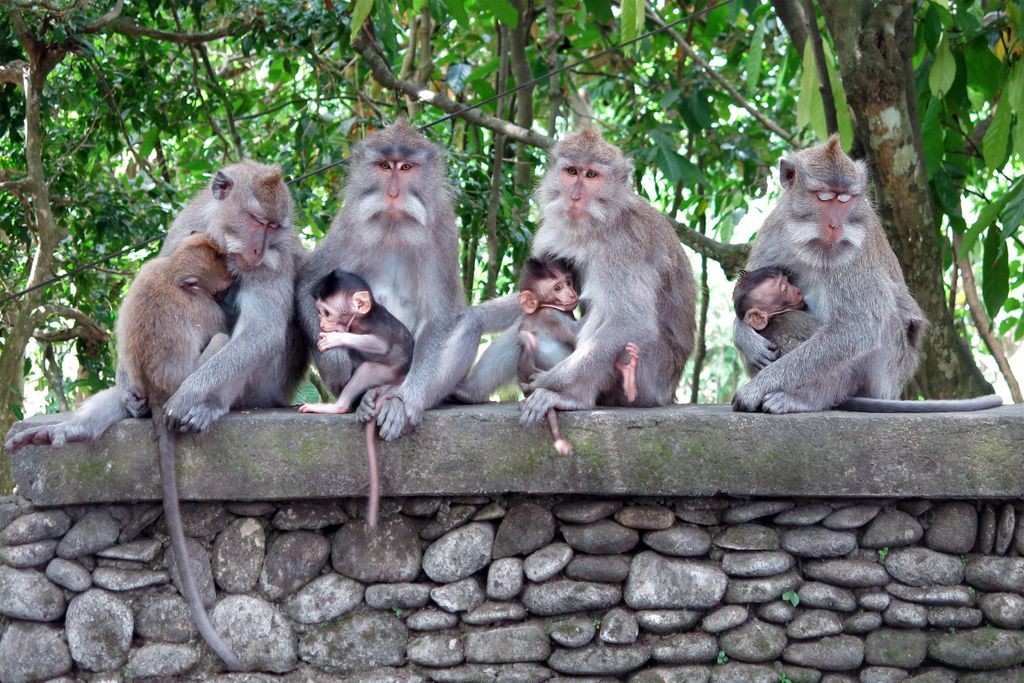 After driving 20 minutes north-west from Pura Saraswati, there is a Sacred Monkey Forest Sanctuary. You can take a leisurely walk around the 12.5 hectare-forest. In addition, you'll be welcomed by 700 long-tailed gray apes and see 186 species of trees. 1.5 hours exploring this forest, then continue your journey by driving 5 minutes to the former residence of the royal family of Ubud.
4. Puri Saren Agung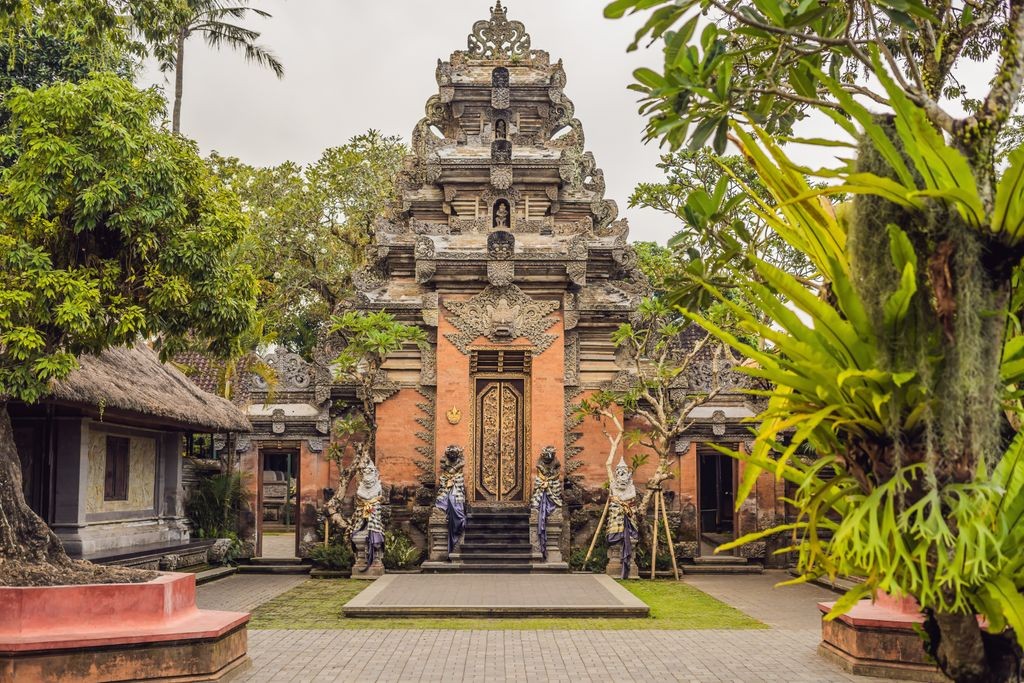 End your 3rd day trip at Puri Saren Agung. This place was the residence of the royal family in Ubud. If you want to watch Balinese dance performances, come at 19:30 WITA. The dance performance will be different each day. You can visit Puri Saren Agung on Jalan Raya Ubud No 8.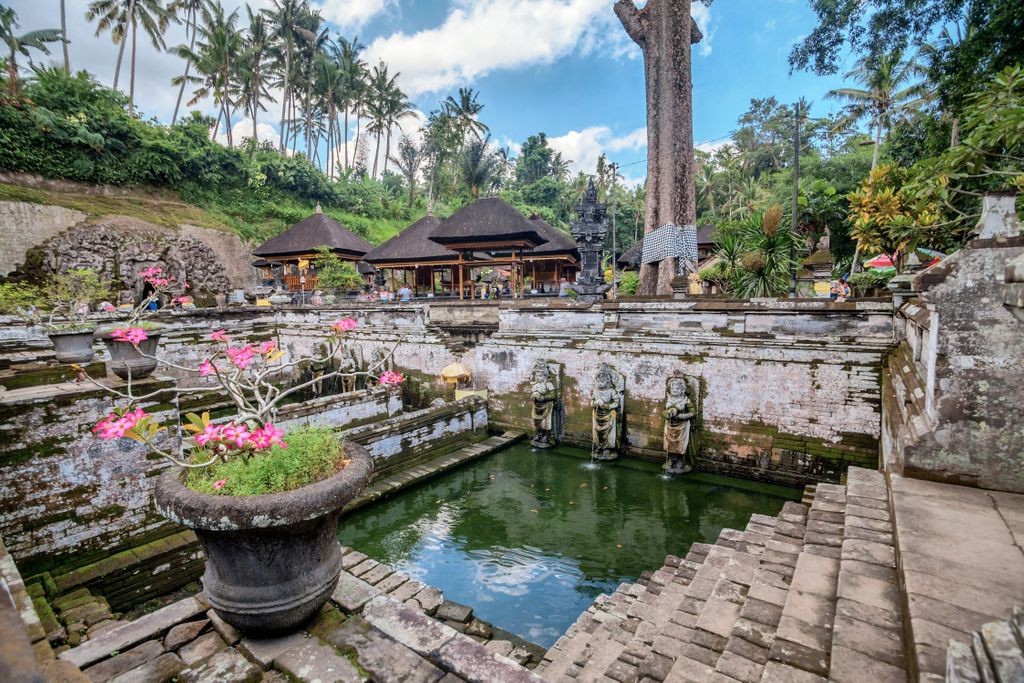 1. Goa Gajah
Goa Gajah was used as a hermitage. This place is surrounded by shady green trees, so the atmosphere is very cool and beautiful. You can enter the cave in the form of the letter T and see the statue of the gods that is believed to have existed since ancient times. Goa Gajah is located on Jalan Raya Goa Gajah No. 99, Kemenuh Village, Sukawati District.
2. Kanto Lampo Waterfall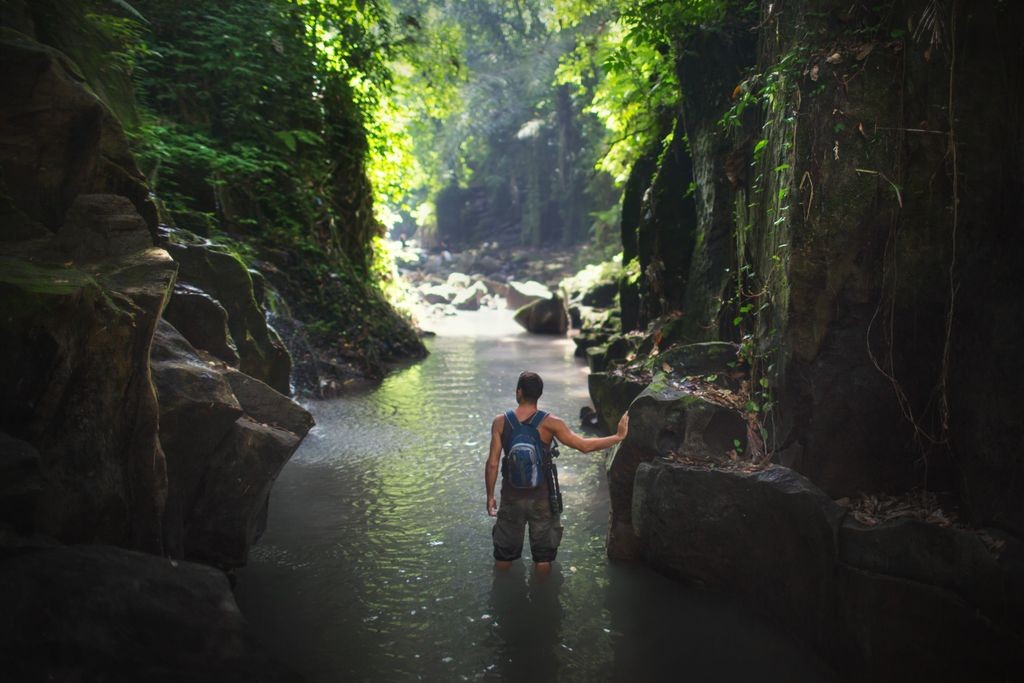 About 7 km from Goa Gajah there is the Kanto Lampo Waterfall. You will feel a fresh and relaxed sensation when you 'touch' the water. With a height of 15 m and a terraced waterfall shape, this place is suitable to challenge your adrenaline. The location of Kanto Lampo Waterfall is in Beng Village, Gianyar District. It is near the residents, so Kanto Lampo Waterfall is easy to reach.
3. Goa Rang Reng Waterfall
Walking about 25 minutes from Kanto Lampo, you can find the unique Goa Rang Reng Waterfall. The water is not pouring down like an ordinary waterfall, but instead, it spreads through the steps of the rocks. So that it looks more gentle and not steep. The uniqueness of this water flow is often used as a background photo. To close your 4th day, you can take a bath in the waterfall and feel the fresh mountain water. Goa Rang Reng Waterfall is located in Banjar Gitgit, Bakbakan Village, Gianyar District.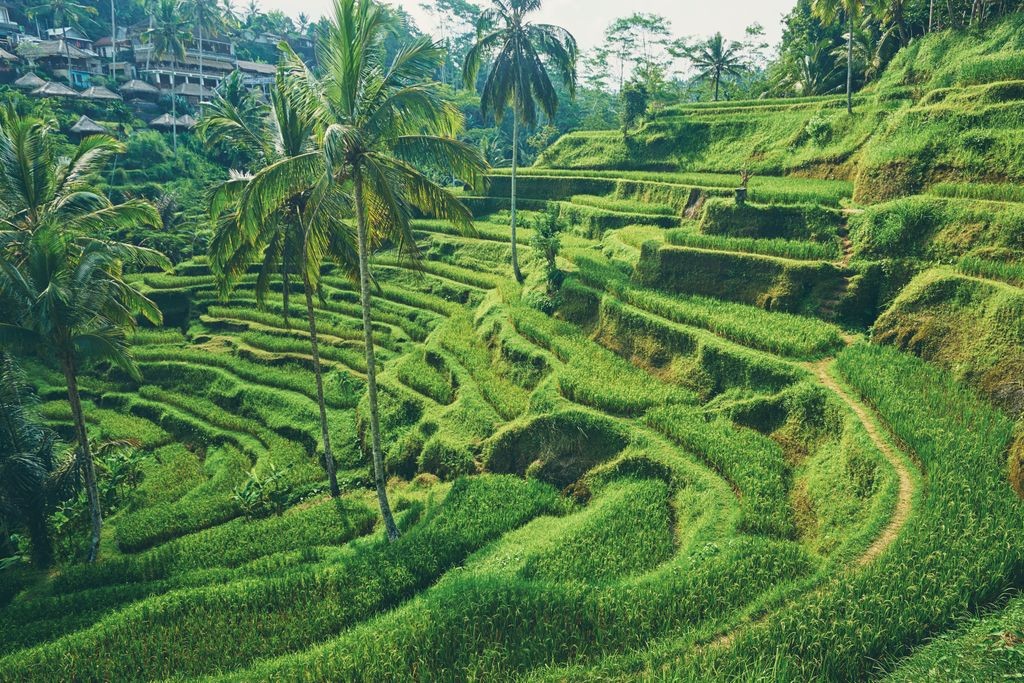 1. Tegallalang rice field
As an opening place for your 5th day in Gianyar, Tegallalang Rice Field is a perfect location to take a walk around the rice fields while breathing in the fresh rural air. This can relieve stress and also provide new enthusiasm in life. There is a small gazebo that you can use to relax. You can visit Tegallalang Rice Field in Ceking Village, Tegallalang District, 10 km from downtown Ubud.
2. Neka Art Museum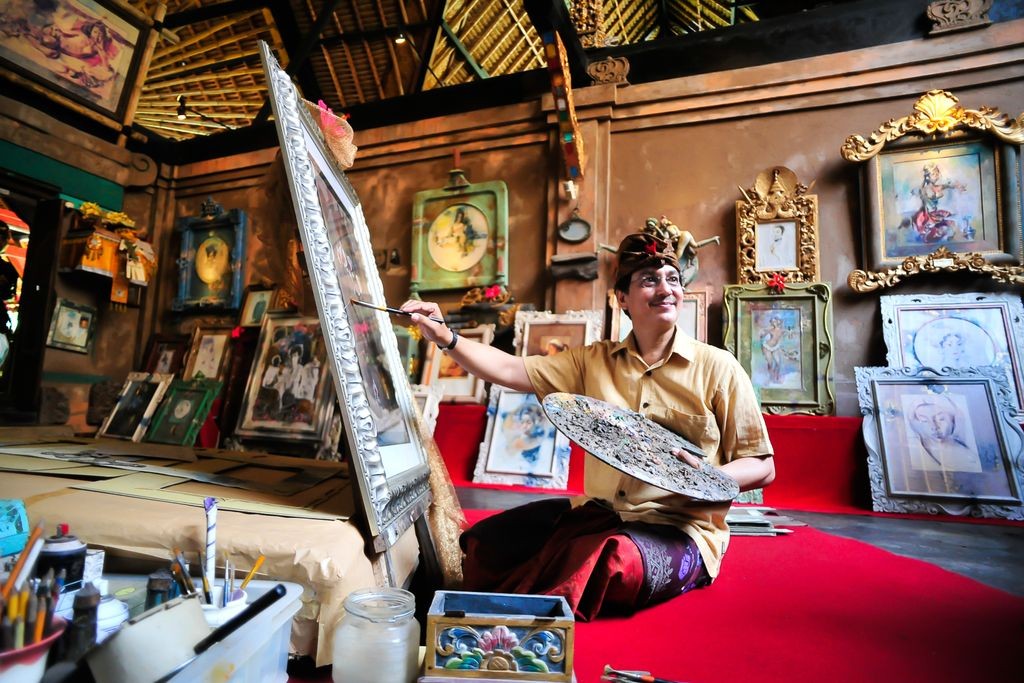 In this museum, you can see paintings that tell stories about the life of the people of Ubud. These paintings were made by Pande Wayan Sutedja Neka, the founder of this museum. You don't need to spend hours in here, because you will stop by the Blanco Renaissance Museum to see more art collections.
3. Blanco Renaissance Museum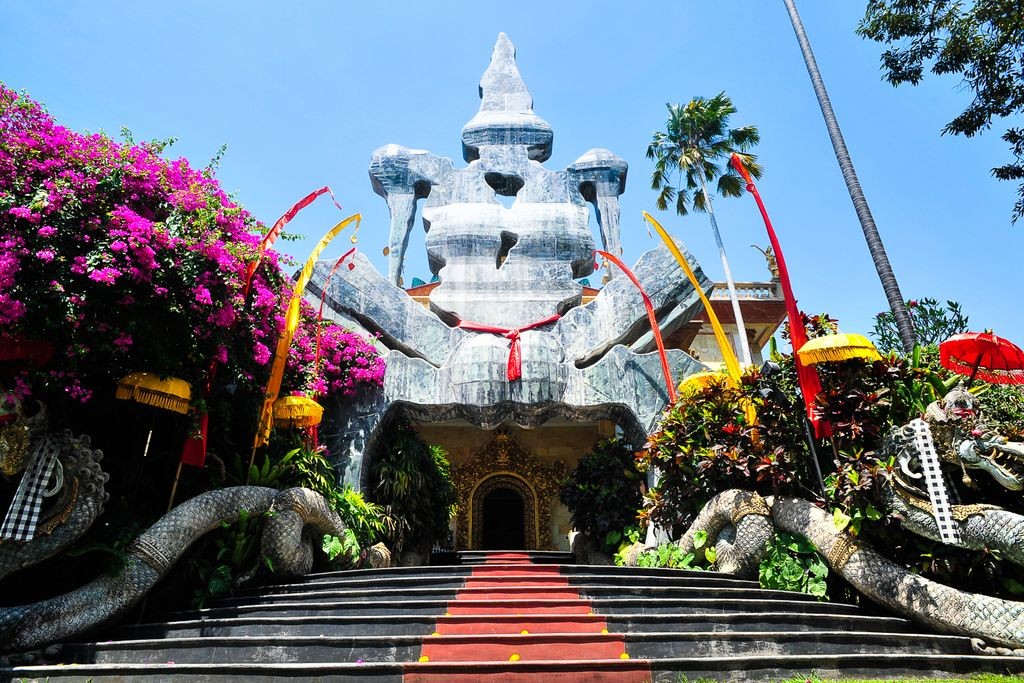 In this museum you can see Don Antonio Blanco's works of art in the form of paintings, collages, poetry illustrations, and lithographic artworks. His favorite theme is naked Balinese women. His eccentric style is reflected clearly in the artwork he creates. The museum is open daily from 09:00 WITA until 17:00 WITA. Walk around until late afternoon, then get dinner at the Senggol Market in Gianyar.
4. Gianyar City Senggol Market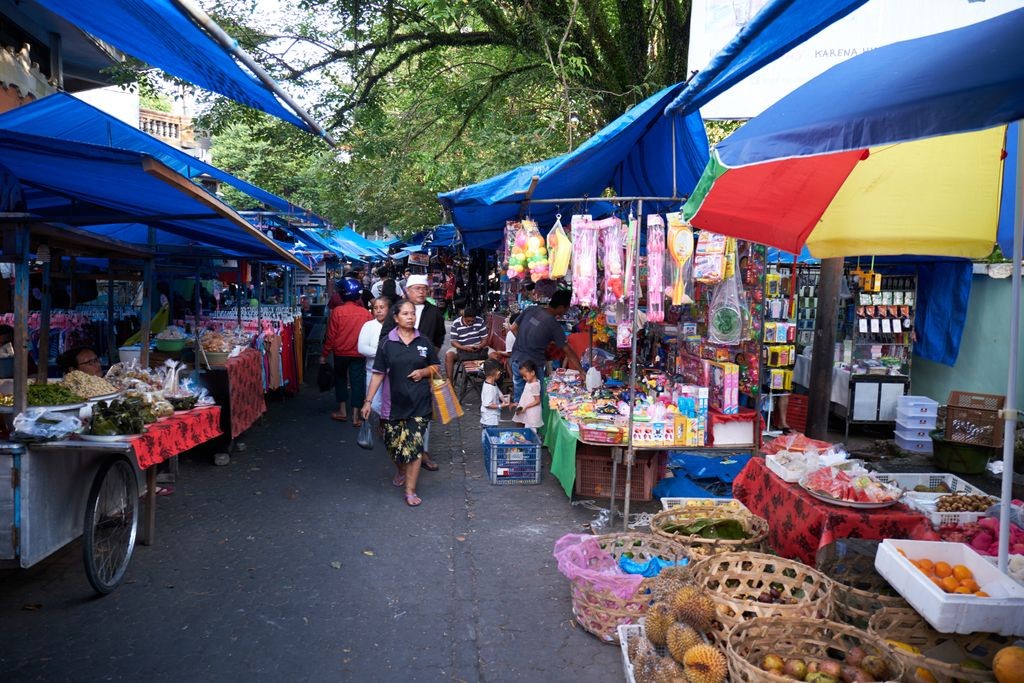 When you come to the Senggol Market in the City of Gianyar in the late evening, you'll see a different atmosphere. Because this market has turned into a night market that sells a variety of typical Balinese cuisine! You can taste some foods such as sate lilit, fried bananas, pork roll, cake, and kangkung plecing. This market is suitable as a place for a leisurely stroll at night. Gianyar City Senggol Market is located on Jl Ngurah Rai, Gianyar.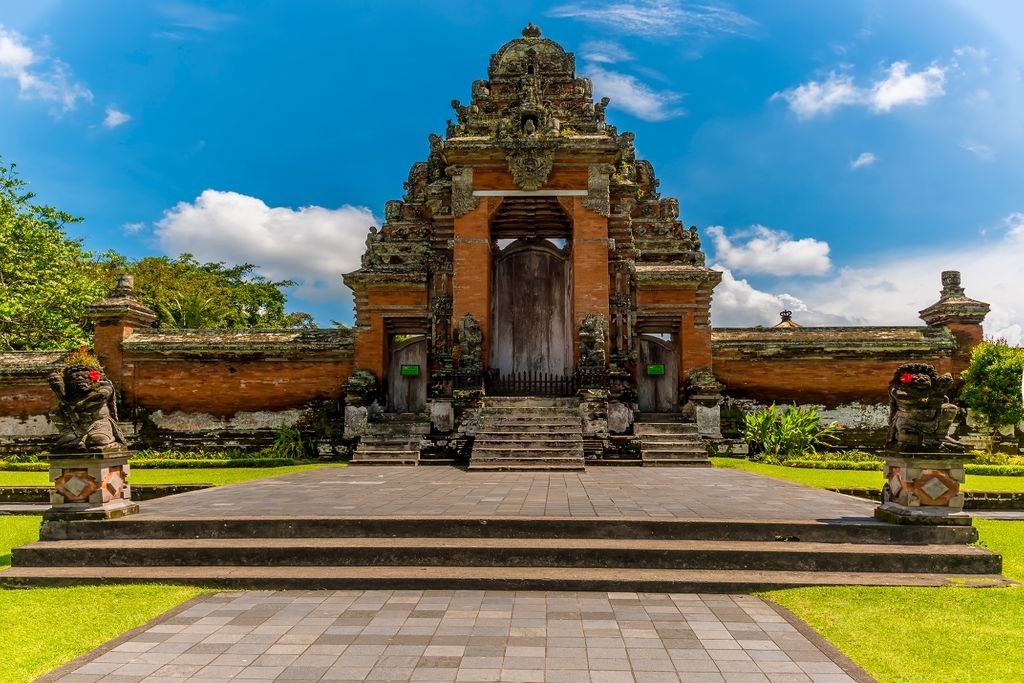 1. Taman Nusa
If you want to know the entire culture of the country, you don't need to go far around Indonesia. You can visit Taman Nusa and all information about Indonesia is in your grasp. There are 60 traditional house buildings representing tribes in Indonesia that you can see. It takes 1.5 hours to walk around Taman Nusa, then you can continue to Tirta Empul Temple. Because the journey taken is quite remote, don't forget to bring your own drink and snacks!
2. Tirtha Empul Tampak Siring Temple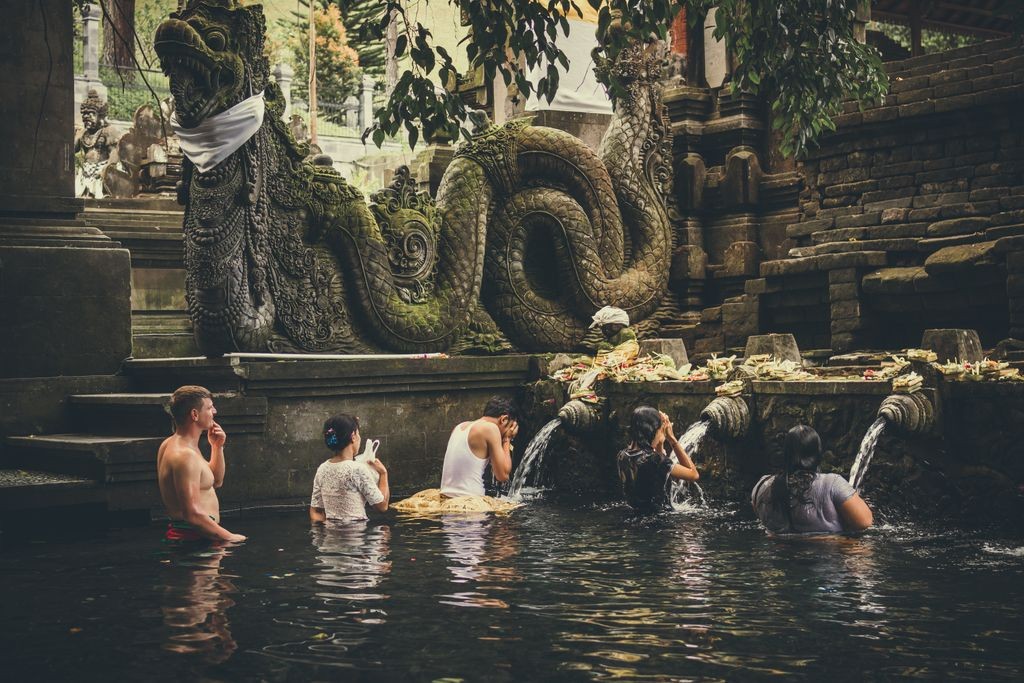 At Tirtha Empul Tampak Siring Temple, you can see some people preparing for a process of self-purification or melukat. The process of self-purification is done by bathing in a pool of holy water in the temple. You can walk around the temple area while taking pictures, but be sure not to disturb the ceremony.
3. Gunung Kawi Temple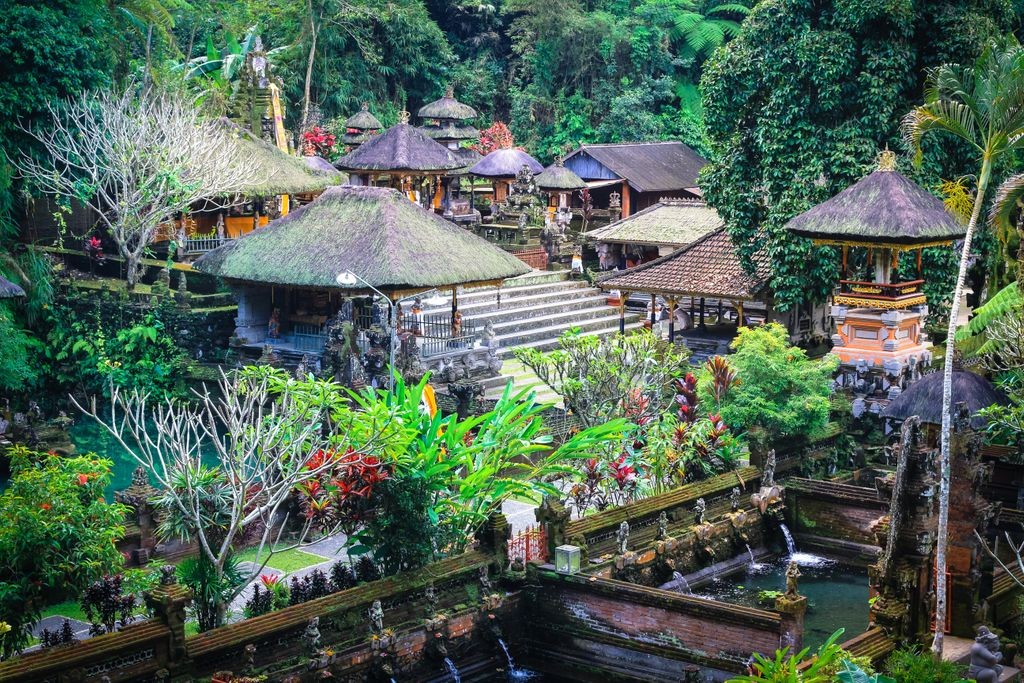 Gunung Kawi Temple is a carved temple located on Gunung Kawi. Besides walking around the temple, you can take a bath in a pond located in the temple area. The water flow in the pond is believed to be a blessing from the Gods. Gunung Kawi Temple is open every day from 08:00 to 17:00 Wita. Gunung Kawi Temple is located in Banjar Penaka, Tampaksiring Village.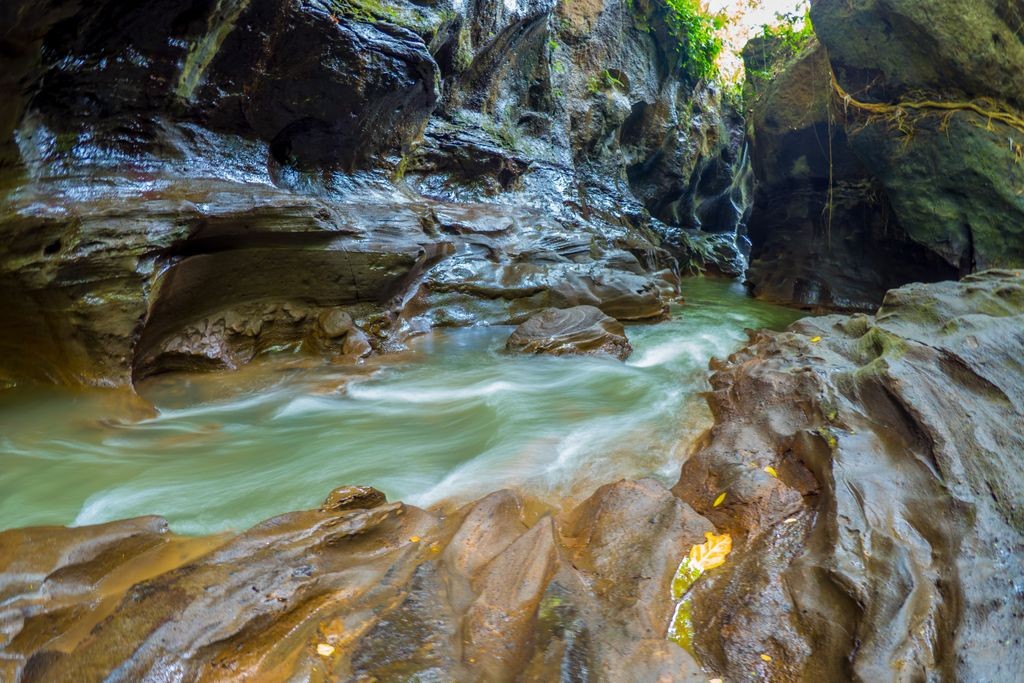 1. Beji Guwang
You can spend the last day of vacation in Gianyar by visiting Beji Guwang. The road to the canyon can be quite challenging. When you arrive, you can take pictures with an awesome canyon background. We suggest that you should have breakfast first before going to the canyon, because there are no stalls in the Ngarai area. It is not recommended to leave before dark, because the lighting condition is also very limited.
2. Agung Rai Museum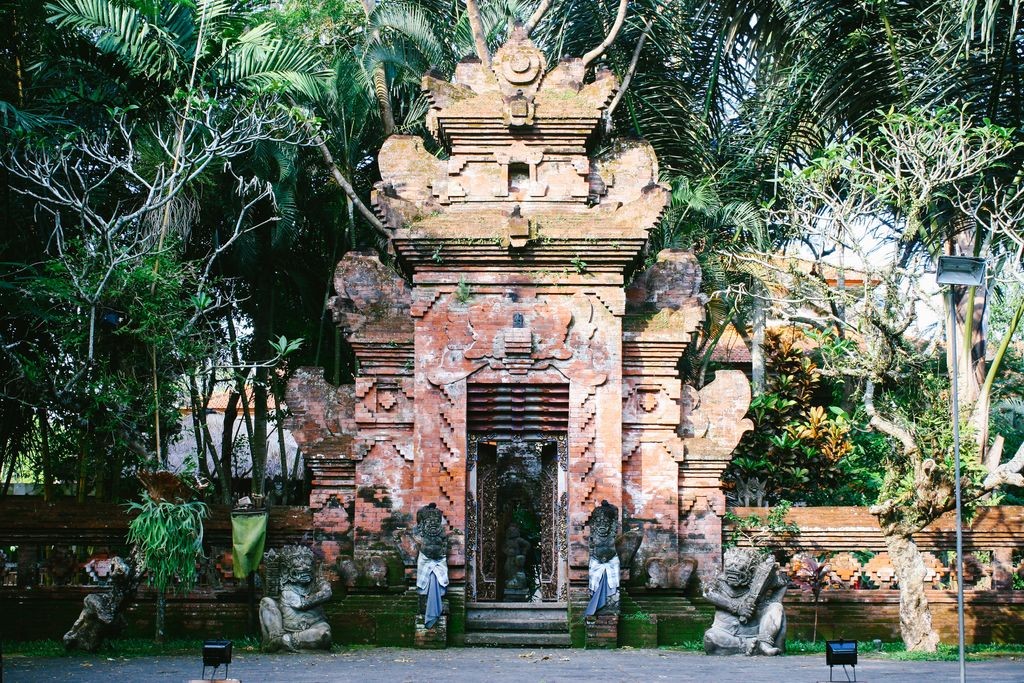 Close your vacation in Gianyar by visiting the Agung Rai Museum. You can take a leisurely walk while looking at the paintings in this museum. With the theme of an outdoor museum, you can see sculptures of art and Balinese carvings placed in a garden with nuances of Balinese culture. Of course, this becomes an interesting photo spot to visit.
There are so many natural attractions that you will visit during your holiday week in Gianyar. To be able to enjoy all of these places to the fullest, it's best to pay attention to the weather conditions before going. And since this trip takes 7 days, it is advisable to choose budget hotels or pocket-friendly lodgings, that is located not far from the tourist attractions above. Happy holiday!