6 Exciting Days in Gianyar Regency
A six-day vacation in Gianyar Regency will absolutely be fun. This place has dozens of interesting tourist attractions. We guarantee, your vacation will be full of joyness.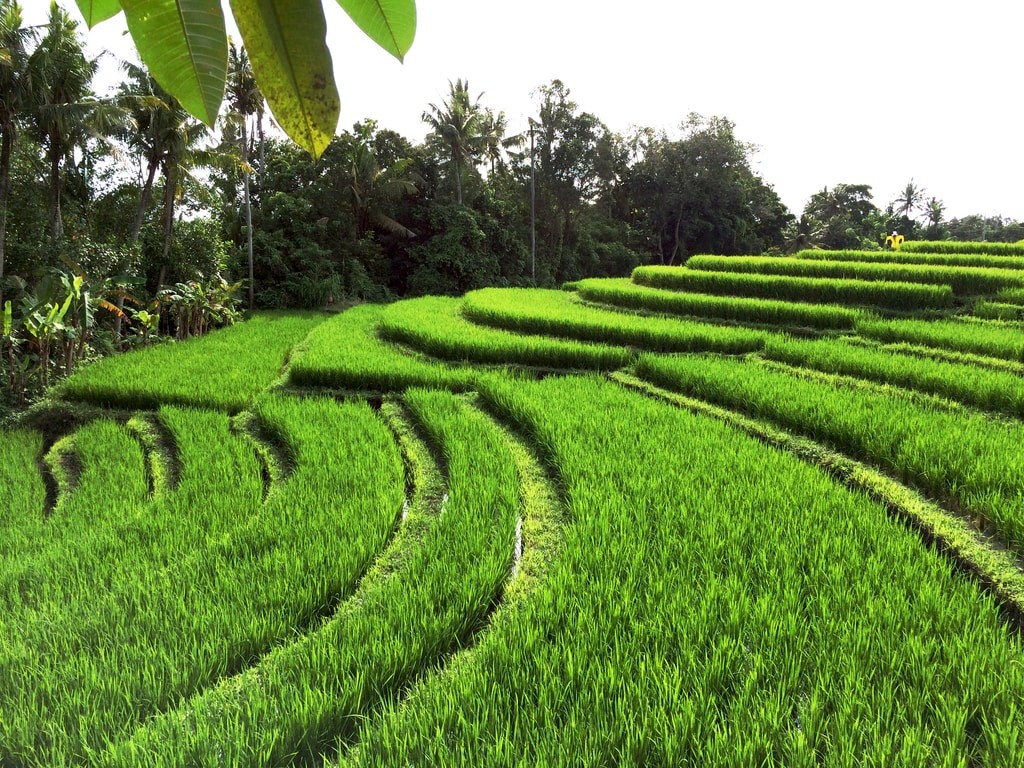 1. Tegallalang Rice Terrace
You will be amazed when you see Tegallalang rice fields, complete with views of a vast stretch of green. There, you will find small gazebos just to sit, relax, and enjoy your meal while your eyes will be entertained by the greeny the rice fields. Or if you are interested, you can also have look at the process of seeding, planting, and harvesting rice by the farmers. A small walk around the rice fields while breathing in the fresh countryside air can relieve stress and also give new enthusiasm in life. Tegallalang Rice Terrace is located in Ceking Village, Tegallalang District, 10 km from the center of Ubud.
2. Neka Art Museum
The museum was founded by Pande Wayan Sutedja Neka, a former teacher, creator and collector of paintings in Bali. The Neka Art Museum exhibits the beauty of Balinese art through paintings created by Neka himself. Mostly, the paintings have a story of the life of the Ubud society. Every angle and pulse of a society's life can never be separated from art and culture. If you are wondering how the picture of Ubud people's life is reflected through paintings, please visit the museum on Jalan Raya Sanggingan Campuhan, Ubud.
3. Taman Saraswati Temple
Beside being as a place of worship, Taman Saraswati Temple hides a beautiful interior and exterior design. This temple amazes the visitors with its beautiful gardens along with large pond in the front yard of the temple which is full of pink lotus. This lotus pond blends harmoniously with the beauty of the temple building which is full of carving art ornaments by Ubud artists. So wonderful, artistic, and very beautiful filled with spiritual aura. This lotus pond is the most attractive part of Taman Saraswati Temple. The location of Pura Taman Saraswati is on Jalan Kajeng, Ubud.
4. Ubud Traditional Art Market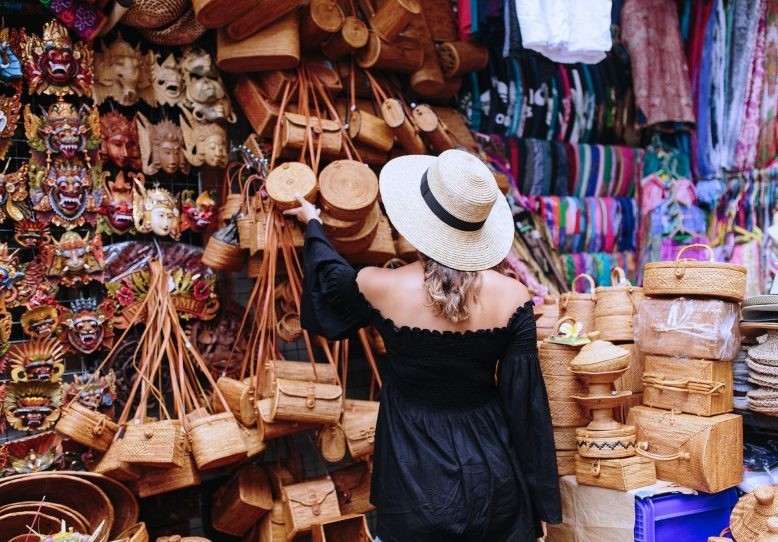 Ubud Traditional Art Market sells various kinds of Balinese art items such as woven bags, t-shirts, beach fabrics, Balinese snacks, sculptures, paintings and much more in affordable price. This place is increasingly famous after being one of the sets of the Holywood movie "Eat Pray Love". You can do shopping at Ubud Traditional Art Market located on Jalan Raya Ubud, No 35. This art market is open at 04:00 until 18:00.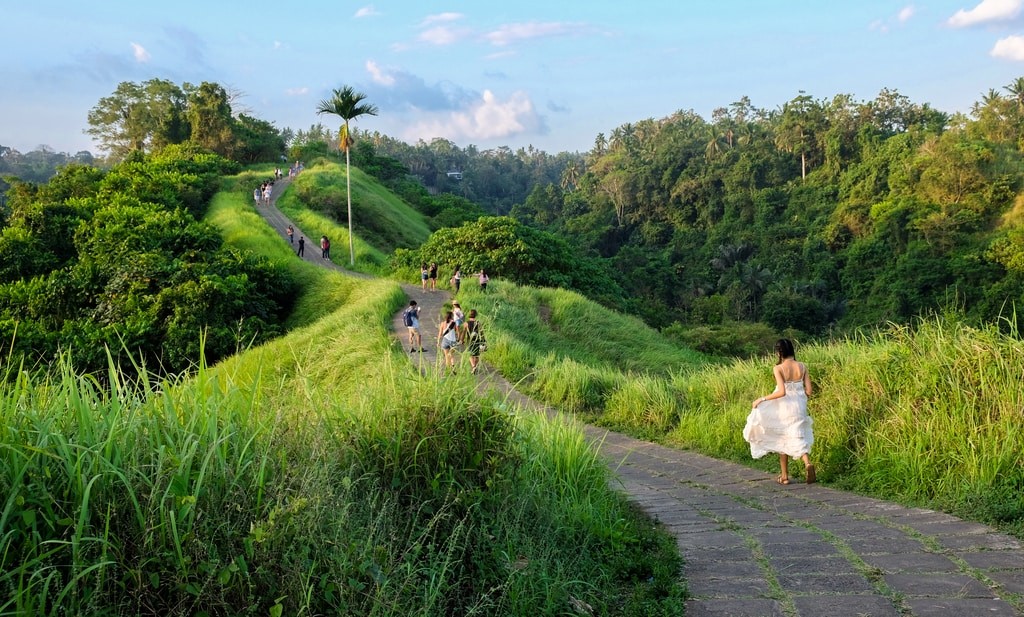 1. Campuhan Ridge Walk
Getting up early and trekking at Campuhan Ridge Walk can be a fun holiday activity in Gianyar. At Campuhan Ridge Walk, you can do trekking about 9 km in Campuhan Hill. Easy trekking while breathing in the fresh air of the hills and admire the natural beauty of the Island of the Gods. In addition, to refresh the body, the sight of the green grass along the hill can refresh your eyes too. Start your journey immediately at Campuhan Ridge Walk, located on Bangkiang Sidem street, Kelusa Village, Payangan District.
2. Monkey Forest Ubud
Monkey Forest Ubud or Sacred Mandala Wenara Wana is a protected forest inhabited by hundreds of long-tailed gray apes. You can walk around the forest which covers an area of about 12.5 hectares, meet 700 monkeys and have a look at 186 types of distinctive trees in the Monkey Forest Ubud. It is open every day from 8:30 until 18:00 and is located in Padangtegal Village, Ubud.
3. Blanco Renaissance Museum
The Blanco Renaissance Museum is a home as well as an art studio of a famous artist Don Antonio Blanco. Here, you can see the artwork created by Mr. Blanco in the form of paintings, collages, poetry illustrations, and lithographic artworks raised their favorite themes namely, naked Balinese women. His eccentric style of painting is directly reflected in his artwork. The museum is open every day from 9:00 until 17:00.
4. Puri Saren Agung
Puri Saren Agung or the Ubud Royal Palace used to be the residence of the royal family of Ubud. This castle is a landmark of Ubud City. Puri Saren Agung building has typical old Balinese architectural design as well as carvings that still well maintained. At night, at around 7:30 p.m., there are different dance performances every day here starting from Legong dance, Ramayana Ballet dance, Barong dance, to Keris dance. Puri Saren Agung is located on Jalan Raya Ubud No 8, Ubud City.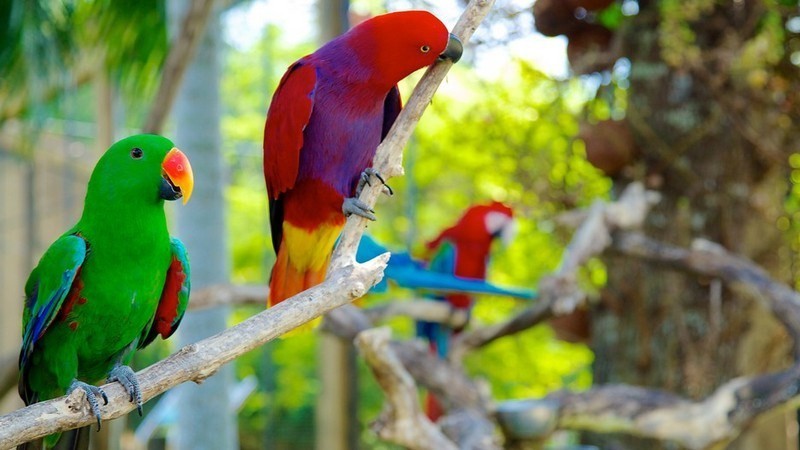 1. Bali Bird Park
At Bali Bird Park, you will be greeted with birds flying around your head. However, there are still some birds that can only be seen from outside the cage. This park has collections of around 1,000 birds from 250 species. Besides enjoying these beautiful creatures, you can also take photos directly with several types of birds on "Guyu-Guyu Corner" in order to add to your holiday's photo collection in Gianyar. Located on the Semadu Cok Ngurah Gambir Singapadu Street, Batubulan Village, this bird park is open every day from 9:00 to 17:30.
2. Sukawati Art Market
This place can be another alternative to buy Balinese souvenirs such as paintings, batik, wooden sculptures, antiques, and other traditional handicrafts. In this market, you can also buy necessities for daily living such as vegetables, fruits, fish, meat and so on. The price is relatively cheap and negotiable. Sukawati Art Market is open from 10:00 to 17:00. This market is located on Jalan Raya Sukawati.
3. Rudana Museum and Art Gallery
This museum and art gallery was built by Nyoman Rudana. It showcases classic and contemporary paintings by several artists. Not only from Bali, but also from foreign countries. For you are an art lover, spare your time to visit this museum. Rudana Museum and Art Gallery is located on Jalan Peliatan, Ubud and is open every day from 9:00 a.m. until 17:00 a.m.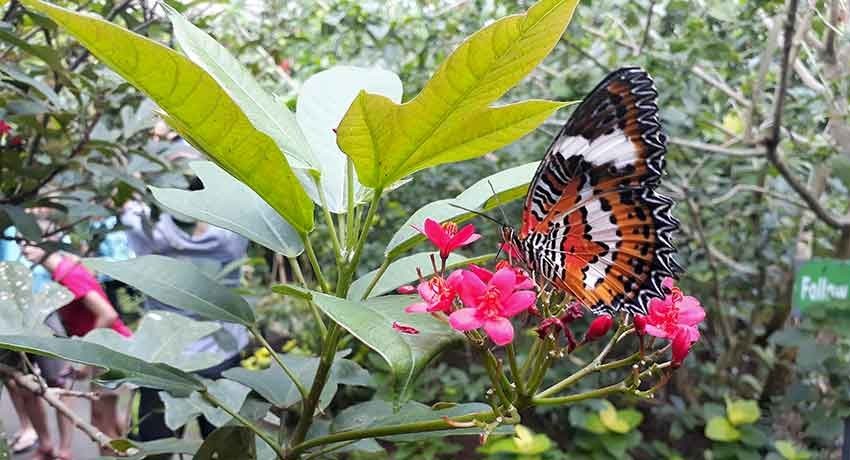 1. Kemenuh Butterfly Park
Beside being an object of recreation, Kemenuh Butterfly Park also is an educational park. There are more than 500 butterflies from 14 species that will welcome you when you reach this butterfly park. Here, you can see them flying beautifully and sucking honey from flowers. In addition, there are also Elephant Butterflies or Attacus Atlas, the most popular species in this park. You can hold this giant butterfly directly and take a photo together. Kemenuh Butterfly Park is open every day from 8:30 to 18:00.
2. Kanto Lampo Waterfall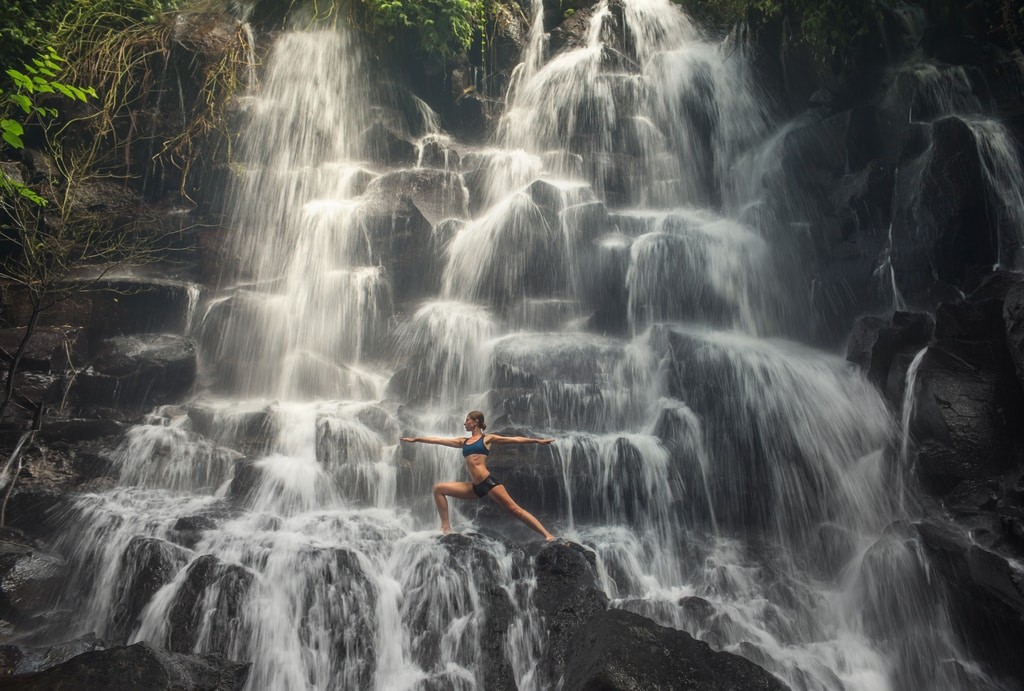 Kanto Lampo Waterfall will give you a fresh and relaxing sensation once you throw yourself into the water. With a height of 15 m and the shape of a stepped waterfall, it is suitable for pumping your adrenaline. The location of Kanto Lampo Waterfall is in Beng Village, Gianyar District. It is near to the homes of residents so Kanto Lampo Waterfall is very easy to reach.
3. Goa Rang Reng Waterfall
Close to Kanto Lampo Waterfall, another waterfall can be found. Goa Rang Reng Waterfall in which has its own uniqueness. This waterfall does not flow downward like a waterfall in general. The water flow here spreads through the steps of the rock so that it is sloping and not steep. You can also bath here and feel the fresh mountain water. Plus, the combination of black from stone, green moss and water flow makes the panorama even more unique and natural so it is perfect to be your backdrop for taking photos in this waterfall. Goa Rang Reng Waterfall is located in Gitgit Banjar, Bakbakan Village, Gianyar District.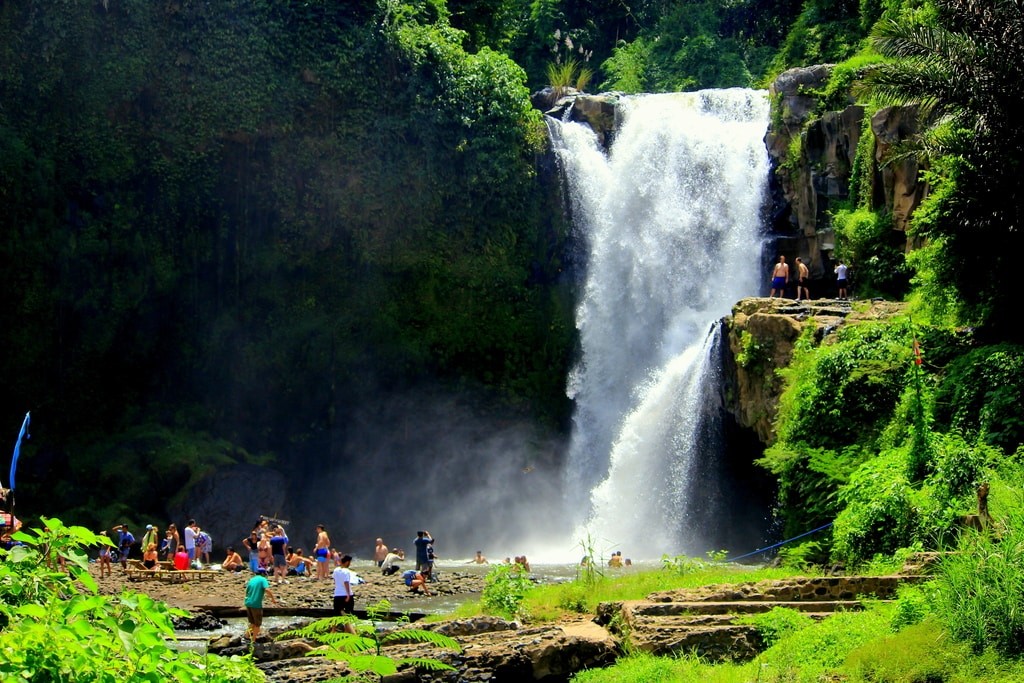 1. Tegenungan Waterfall
Another alternative waterfall tour that you can visit in Gianyar is Tegenungan Waterfall. It has a height of 15 meters with a fairly heavy, clean and clear water. In addition, there are also naturally beautiful showers of the waterfall if you want to rinse your body after playing in the water. Tegenungan Waterfall is located on Jalan Ir. Sutami, Kemenuh Village, Sukawati District.
2. Goa Gajah (Elephant Cave)
Goa Gajah was once used as a place of retreat for Shiva Priest and Buddhist monks. This place is surrounded by shady green trees, so you will feel the atmosphere is very cool and peaceful. There is also a natural shower around Goa Gajah. The cave entrance is very small so that some people cannot enter at once. It is carved with two guard statues placed in front of it. The inside of the cave is structured in T-shaped, with a height and width of about 2 meters. There are several statues that are believed to have existed since ancient times that embellished the space in the cave. In addition, in the left and right parts of the aisle, there are niches that may have been using as a retreat place in ancient times. Goa Gajah is located on Goa Gajah No 99 Highway, Kemenuh Village, Sukawati District.
3. Kokokan, Heron Bird Colony Watch
Do you want to see the rare Kokokan Bird flying around and filling the twilight sky of Gianyar? Come and see by yourself the group of Buffalo Herons Bird flies back to their nest in Petulu Village, Ubud. This Kokokan is protected so that every 6 months the villagers make offerings and pray for the birds. The best time to see this rare animal is in the evening around 17:30 to 18:30. Be an eyewitness to the beauty of this natural phenomenon that you might not find anywhere else.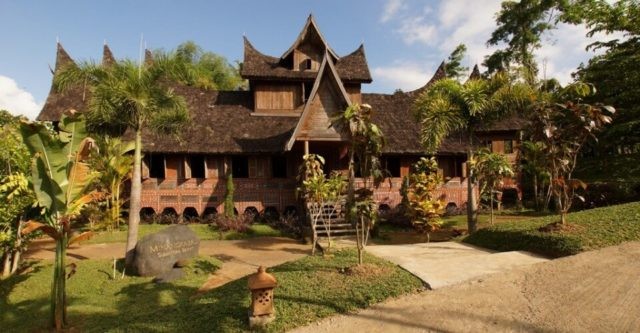 1. Taman Nusa
Taman Nusa is an interesting educational tourist spot because in this park there are buildings that provide you the information about the culture of various tribes in Indonesia. The building has a Pre-Historical concept, a Bronze Age, a Royal Age, and there is also a Cultural Village which consists of 60 houses with traditional designs that represent each tribe in Indonesia. If you want to know about all Indonesian culture, you don't need to go all the way around Indonesia. Just visit Taman Nusa and all information about Indonesia is in your grasp. You can visit Taman Nusa on Jalan Taman Bali-Banjarangkan Banjar Blahpane Kelod, Sidan and at 9:00 - 17:00 local time.
2. Tirtha Empul Temple Tampak Siring
Tirta Empul is a temple complete with sacred spring which is usually used as a place of purification for Hindus. The extensive temple area makes you able to freely walk around the temple area while taking pictures. Besides, you can also see some people who are getting ready to do a self-cleansing procession by bathing in this holy spring. You can visit Tirtha Empul Temple Tampak Siring on Jalan Tirta, Manukaya, Tampaksiring Village.
3. Gunung Kawi Temple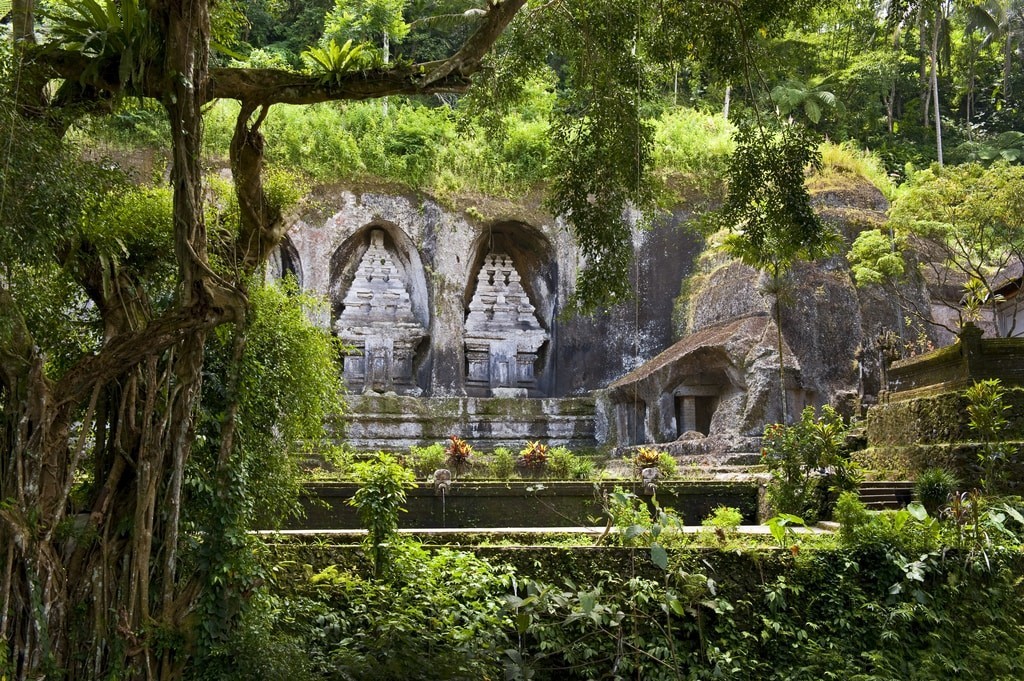 Gunung Kawi Temple is a carved temple and located on Gunung Kawi. Based on the structure of the building, it is estimated that this temple was built around the 11th century. There are several temple buildings. The main temple is used to worship Gods with a natural shower located outside the temple. While inside the temple on the left is a spring that can only be taken by the local community for holy rituals. But if you want to take a bath, there is also a special pool for bathing. The water flowing here is believed to be a blessing from the Gods. Gunung Kawi Temple is open every day from 08:00 to 17:00. Gunung Kawi Temple is located in Banjar Penaka, Tampaksiring Village.
4. Senggol Market, Gianyar City
Visit the Senggol Market of Gianyar City by night because this market will turn into a night market that sells various Balinese culinary specialties. Some of these cuisines are satay lilit, fried banana, suckling pig, any kind of traditional cake and plecing. Many tourists and Balinese people come to taste those tasty foods. This market is suitable as a place to take a leisurely night strolling while doing a culinary tour. Senggol Market Gianyar City is located on Ngurah Rai street, Gianyar.