3 Pleasant Days in Karangasem
Only have 3 days to enjoy Karangasem? Relax, even though it's a short period of time, you can still visit some of the most popular places in this regency. Before starting the trip, it's a good idea to prepare your physical health first because you are recommended to visit various tourist objects with a considerable distance. Besides, the weather changes from the mountain to the beach are quite extreme, it can affect your health directly. Don't forget to prepare your traveling equipment so your holiday in Karangasem could be special and enjoyable. Here are some advices for the best places to go: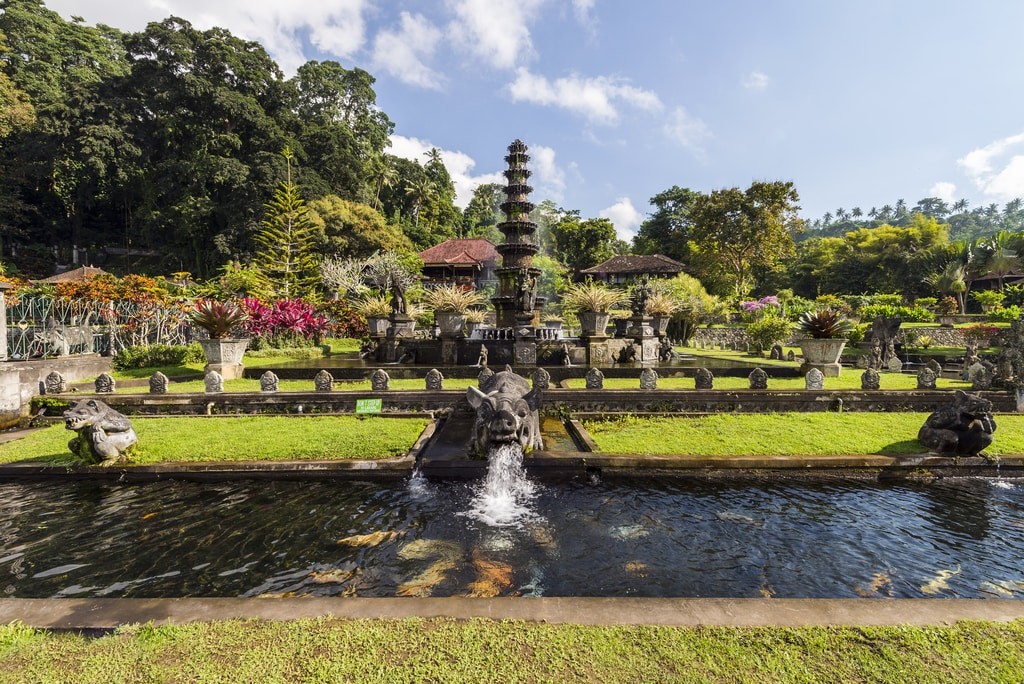 1. Tirta Gangga Water Palace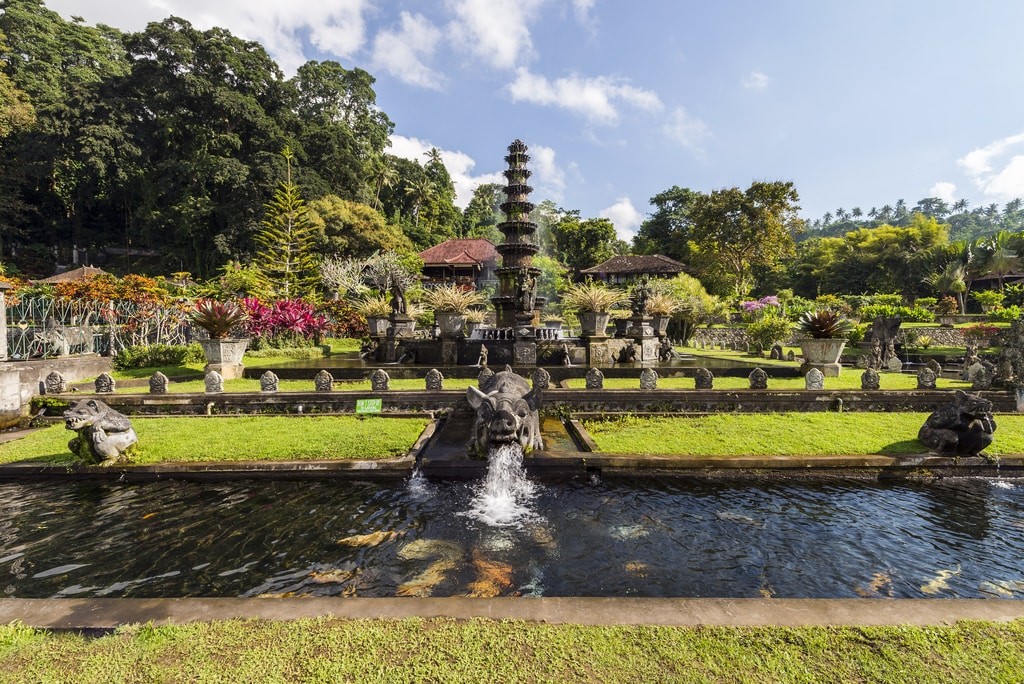 You can start your first day in Karangasem by visiting Tirta Gangga Water Palace. There is stood a large water pool with the majestic Ramayana and Mahabrata statues. The beautiful mixture of Balinese-Chinese style building architecture is suitable to capture your moment here. Please bring extra clothes if you are intended to play the water in the pool. If you don't want to swim, you can walk around the Water Palace or just taking pictures and enjoy your time here for 1.5 hours. Next, let's continue the trip to Karangasem Agung Castle, which is close to Tirta Gangga Water Palace.
2. Agung Karangasem Castle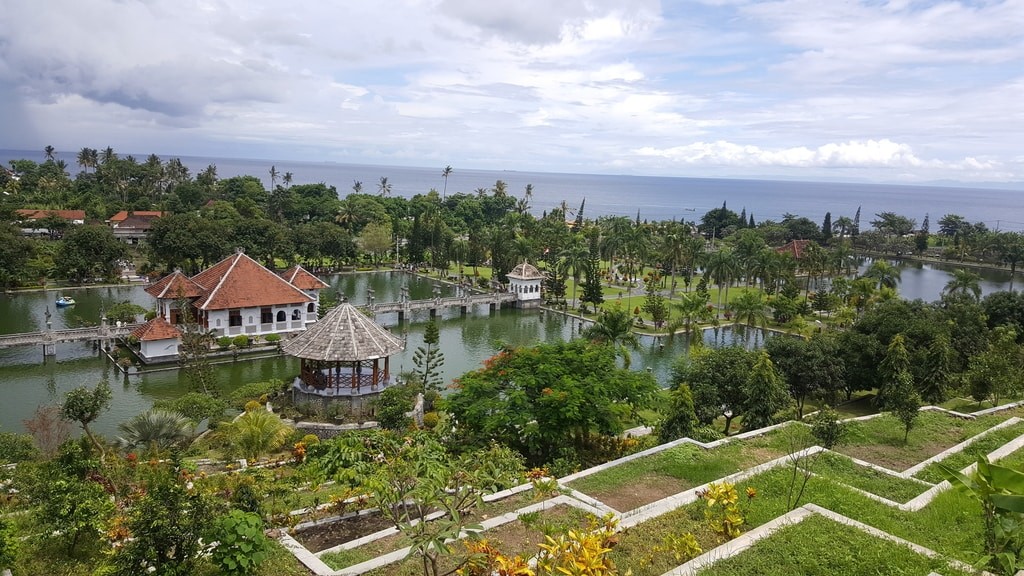 Driving about 15 minutes from Tirta Water Palace, you will be arrived at Agung Karangasem Castle. There are many unique relics from the ancient Karangasem kingdom that are displayed to be enjoyed. Taking pictures here is also an interesting thing to do. The location is quite big to get around so drink water oftenly. If you feel a little bit tired, you can stretch your legs in the small hall for a moment. The best time to get around Puri Agung Karangasem is around 1.5 hours before you have your lunch.
3. Sela Rice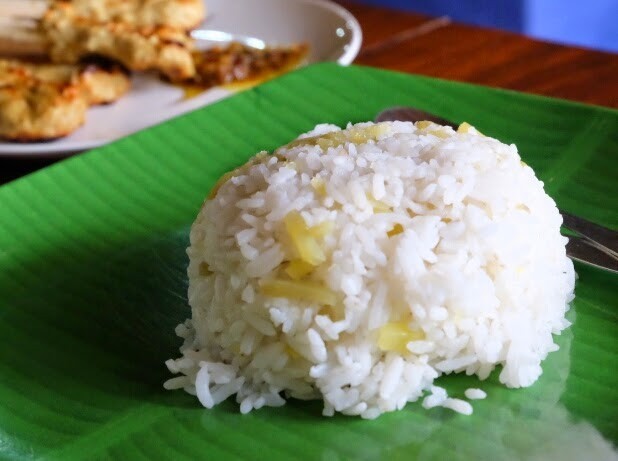 After finished going around the Water Palace and Agung Karangasem Castle, it's time to fill your stomach with the typical food of Karangasem, Nasi Sela. It is an ordinary rice but mixed with small pieces of sweet potatoes with shredded betutu chicken and urap (traditional balinese salad) as the side dishes that will certainly increase your appetite. Many food stalls in the Karangasem area sell this Sela Rice, so you can find it easily.
4. Candidasa Beach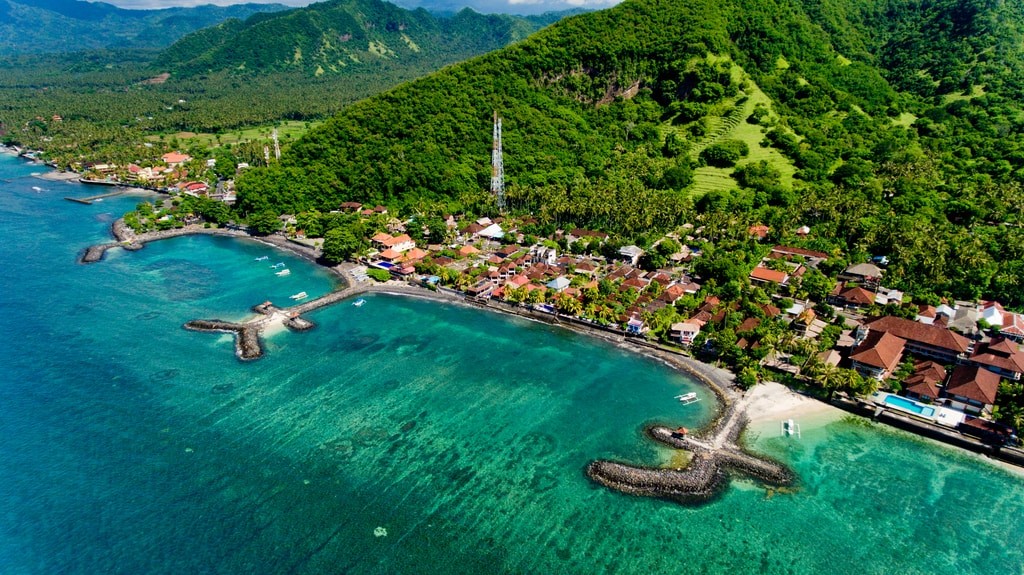 Let's end your first day in Karangasem by chilling on Candidasa Beach. If you feel it is too hot to play on the beach, you can visit some of the cafes in the area near the beach that sell many delicious dessert or refreshing cold drinks. In other words, if the weather is nice, just go to the beach and sit there, or take a walk while looking for unique shells. Take your time until sunset because the magnificent view of Nusa Penida Island is seen in the distance. The combination of its natural beauty and the bright orange of the sunset can be a relaxing sight for your eyes.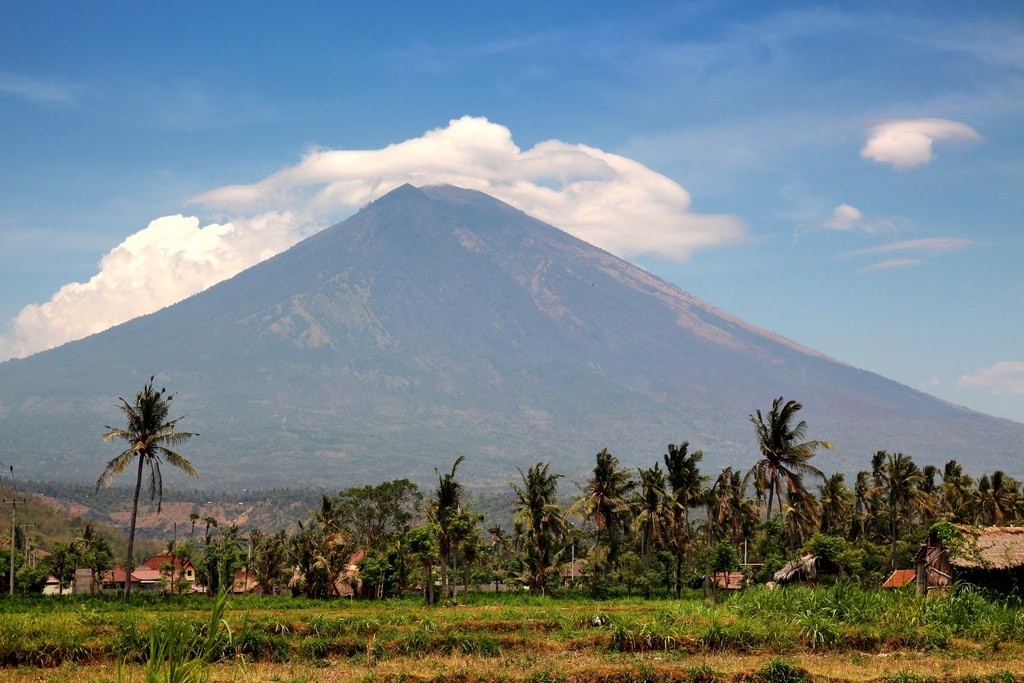 1. Mount Agung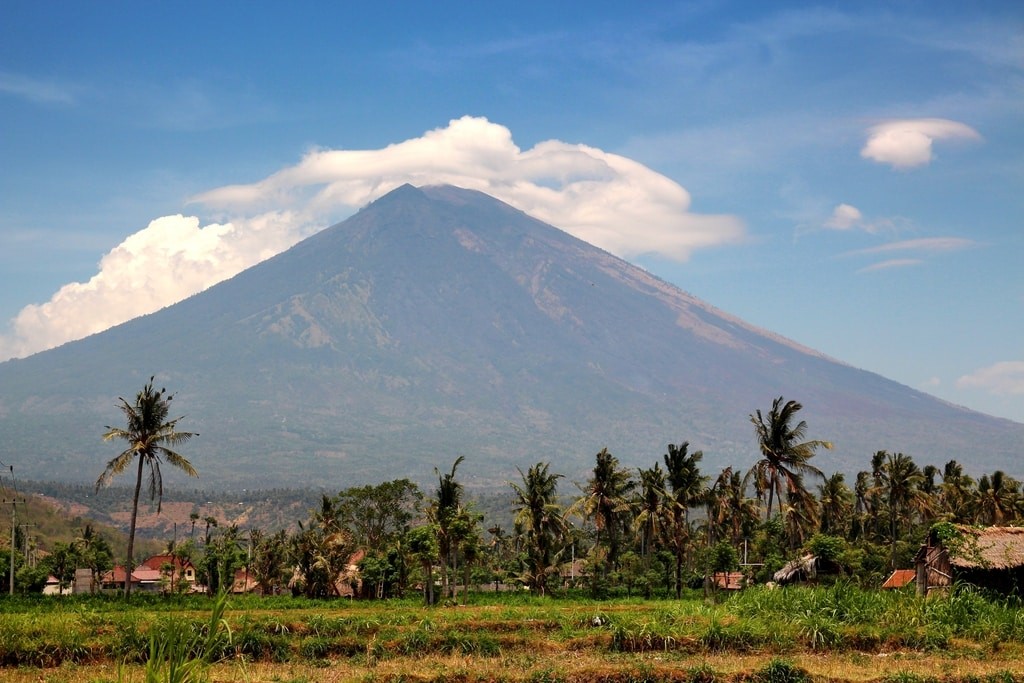 Seeing sunrise on the beach is quite common. So why not experience enjoying the sunrise from the top of Mount Agung. However, you have to be prepared for long trekking in Mount Agung that takes around 4 to 5 hours. You should get ready around 24:00 WITA in order to arrive on time at the sunrise spot. Bring enough meal but keep it your mind the meal can not contain beef. Mount Agung is considered as a sacred mountain so speak and act respectfully while you are there. Don't forget to bring warm clothes because the temperature is cooler up there.
2. Besakih Temple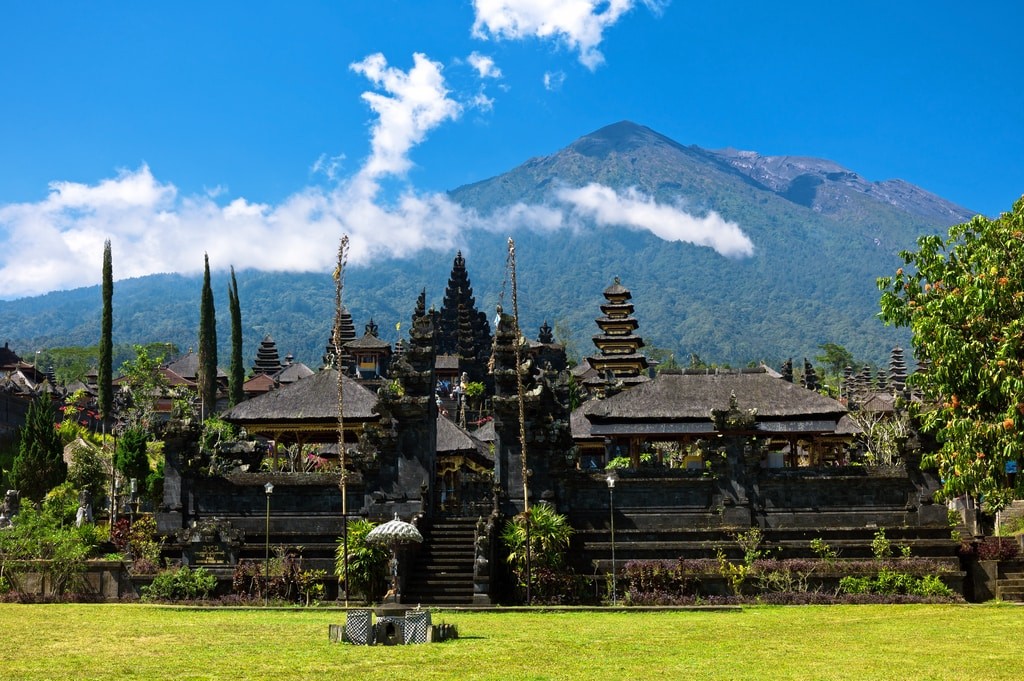 When the route goes down from the amazing Mount Agung, you will meet the holy Besakih Temple. Stop by to explore the biggest temple in Bali, Mother of Temple. It is the perfect time to spend an hour here while capturing some interesting photo spots and watching the Hindus do praying. In Bali, women on their periods are prohibited to visit the temple. So make sure you obey the restrictive rules here.
3. Jambul Hill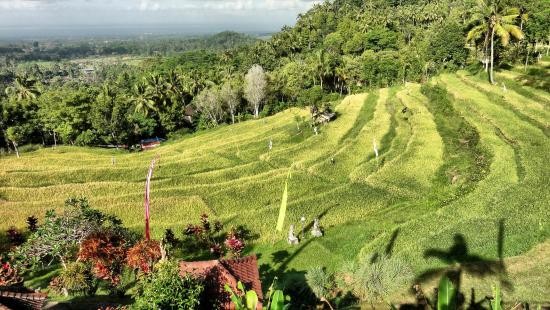 Near Besakih Temple, you can find Jambul Hill. Only 25 minutes driving. Along the way, you can easily see some good restaurants and marvelous nature landscapes. After enjoying the charming Jambul Hill, you can end the day by sitting and enjoying the fresh air at the foot of the hill. It is an interesting perspective by turning from the top of the mountain into the the foot of the hill because seeing nature from both side is equally impresive.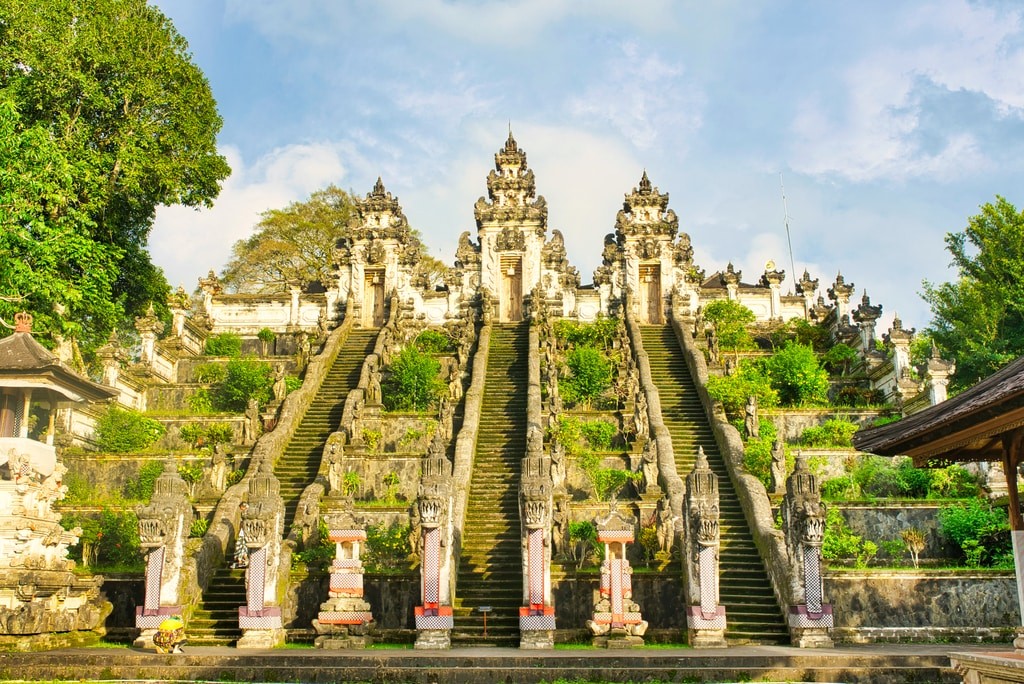 1. Lempuyang Luhur Temple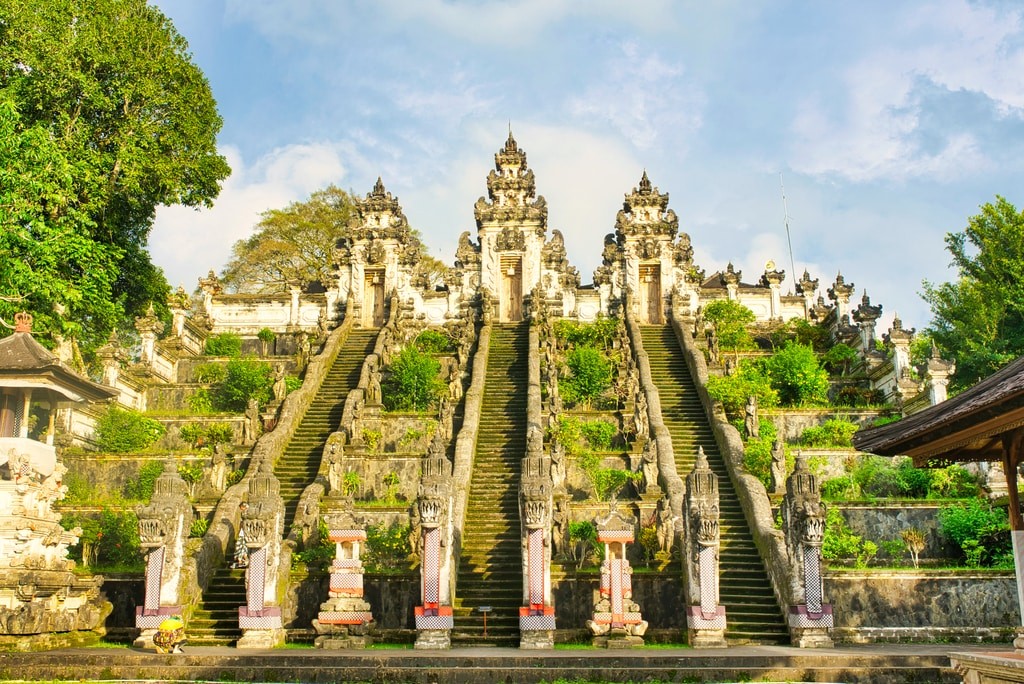 You can enjoy the last day of your vacation in Karangasem by visiting Lempuyang Luhur Temple on the top of Lempuyang Hill. Spend just one hour to take pictures and stroll around the temple. It is a must to take a picture at the famous temple gate with the background of Mount Agung. Moreover, this spot is very iconic and yet very fascinating especially if you can capture the magical sunrise that will beautify your lighting in the photo.
2. Soekasada Ujung Park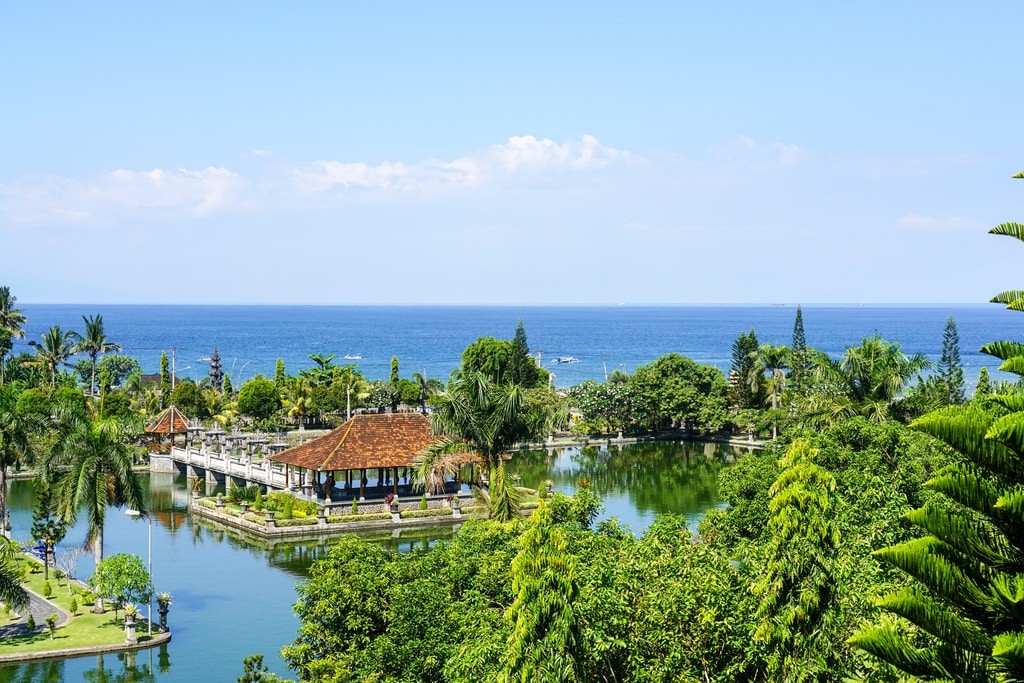 Get off from Lempuyang Luhur Temple, you can visit another spot for interesting photos. It's called Soekasada Ujung Park. This water palace with an architecture with blend of ancient Bali and Europe that becomes a relaxing place that you can visit. Explore Soekasada Park and you will get a graceful view all over the place that pampers your eyes. Then, you can go forward to Tenganan Pegringsingan Village while preparing your dinner.
3. Tenganan Pegeringsingan Village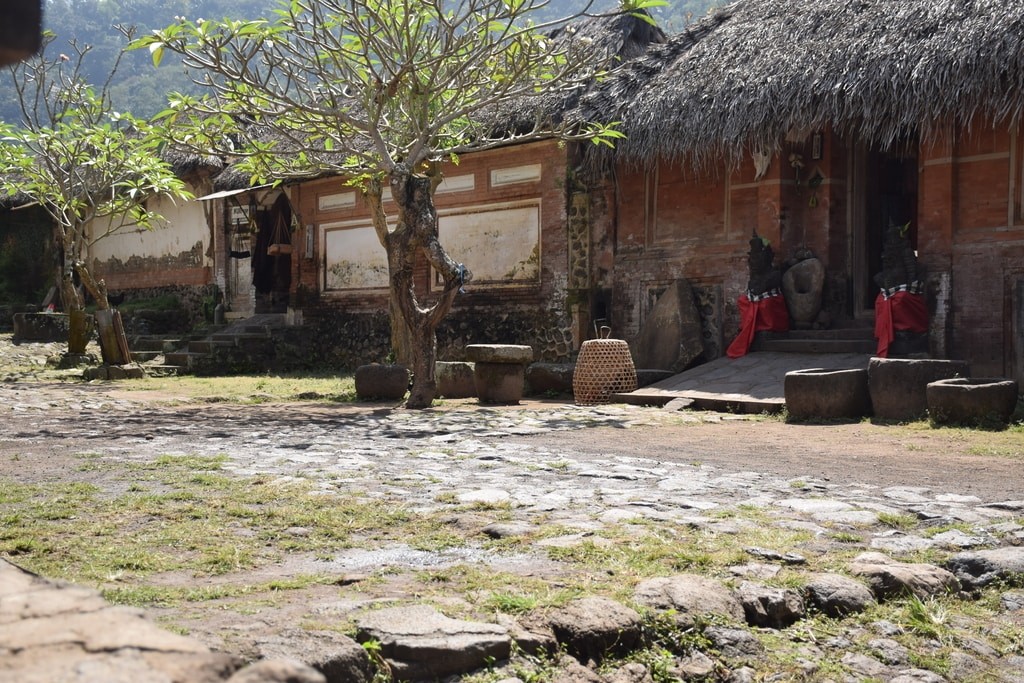 Visiting Pegringsingan Tenganan Village can be a relaxing way to end your holiday in Karangasem. Here, you can see and learn the daily life of the Bali Aga people (original Balinese). One of their daily activities is making the wonderful Balinese's textile. Many of these gringsing woven fabrics (a rare double ikat woven fabrics) are displayed and you can bring it as souvenirs. This fabric is very special because it is woven by local people and it takes several months to finish the fabric therefore the price is quite expensive.