Fully Discover Gianyar Regency Within 4 Days
Oftenly, you may hear Ubud as the best quality art producing area in Bali. A part from being an area that provides many wellness centers. But, do you know that Ubud is actually considered as one of the villages in the Gianyar Regency? And turns out there are still many similar amazing places that you can explore in Gianyar Regency beside Ubud especially if four days is all you have to experience the beauty of Gianyar. Check out some of the following recommended destinations to make it easier for you to explore this regency of art within only four days.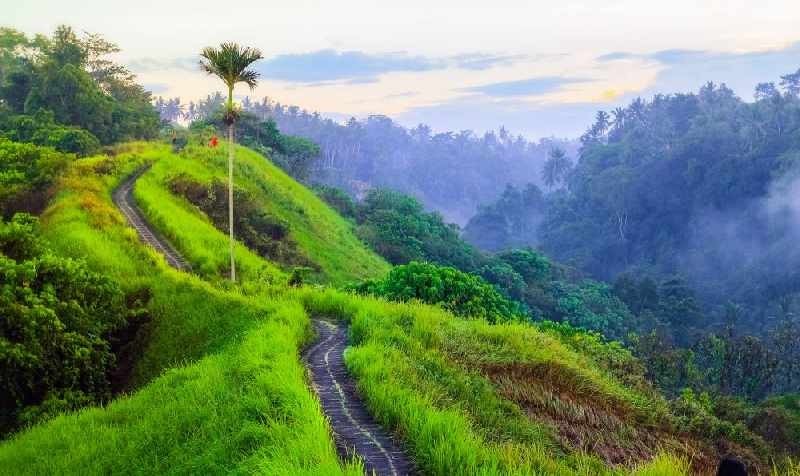 1. Campuhan Hill
Enjoying the magical sunrise in Ubud can be a pleasant beginning on your first day. Come to Campuhan Hill early in the morning and embrace the yellow and warm morning sun. Campuhan Hill path is completed with a paving block, so it is safe and comfortable to take a morning walk. A little exercise can also be done here. A healthy yet relaxing holiday is all you need here. The green valley view on the left and right of the hill lane is also there to be enjoyed. Don't forget to bring water, because the slightly uphill path will make you tired if you aren't used to do trekking.
2. Balinese Chicken Rice, the famous Nasi Kedewatan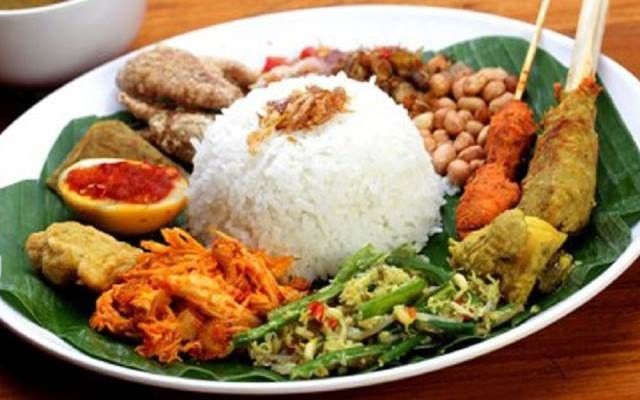 Even though there are many famous cafes and restaurants in Ubud, but tasting traditional Gianyar cuisine will certainly touch your heart. One of them is the famous Nasi Kedewatan, the name Kedewatan comes from the name of an area in Gianyar, Kedewatan. This culinary is perfect for you who like spicy dishes. It is Balinese chicken rice served with eggs, lawar, lilit satay, and sambal matah. Lawar as a side dish of rice is a mixture of vegetables, grated coconut, and shredded chicken. Whereas lilit satay comes from grilled chicken meat. Well, the uniqueness of this dish is chicken meat served as a side dish that comes from hens that never laid their eggs yet. So that it creates tender and delicious meat. You can find Kedewatan Rice food stalls around Saraswati Temple. A perfect menu to enjoy after traveling around Ubud.
3. Taman Saraswati Temple
Take the exquisite tour to Taman Saraswati Temple to end your first day. Located in the middle of Ubud, you will easily find this beautiful temple because it is strategically located, precisely on Kajeng street. Famous for its charming architecture, a water park contains pink lotus flowers also placed inside the shrine and definitely attract many visitors. As the name implies, the statue of Dewi Saraswati as a symbol of the Goddess of knowledge for Hindus is stood gracefully. The temple carvings are made by the Ubud's best carvers and built by the famous art maestro, I Gusti Nyoman Lempad. Aside from being a place of worship for Hindus, you can book your seat to watch the Kecak dance performance in this temple. Usually, the dance starts in the evening after the worship activities are finished. But, experience the worship atmosphere is an interesting thing to do as well, if you are interested please visit the temple starting at 08:00 until 18:00.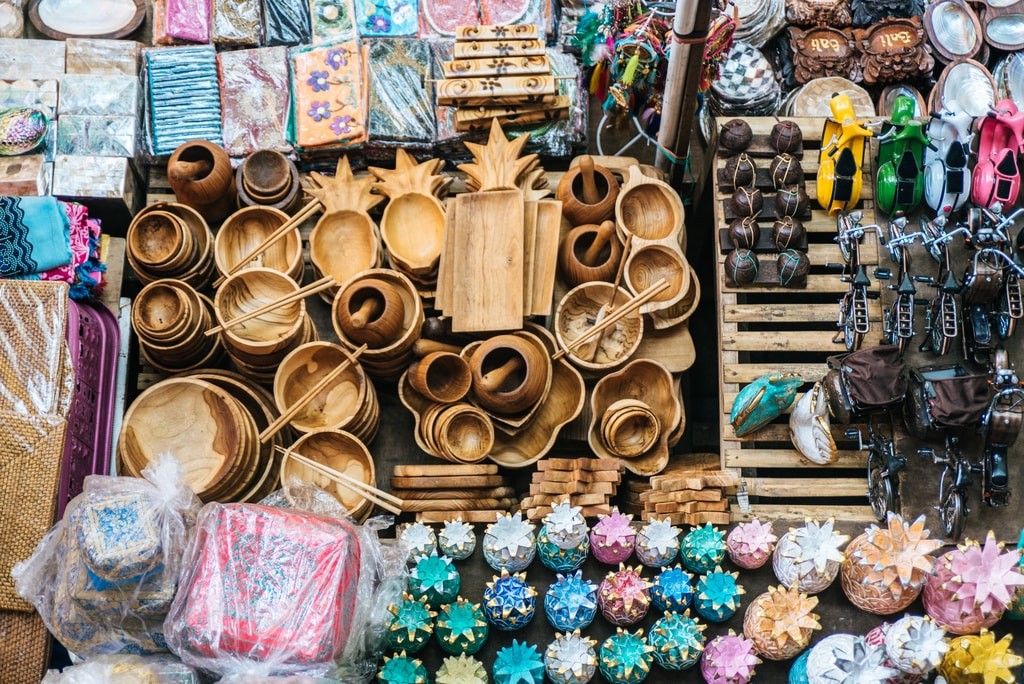 1. Guwang Art Market
Gianyar offers an art market that you can visit if you are looking for souvenirs and various Balinese typical items. Being in the area of Guwang Village, you can find all merchandise that is similar to Sukawati Art Market. This can be an alternative shopping place rather than visiting the crowded Sukawati Art Market. Guwang Art Market tends to be quieter and well organized. However, like an art market in general, feel free to bargain here. Choose items that you like, don't hesitate to bargain for more than half the price because if you are lucky, you will get a very cheap price. You can visit Guwang Art Market starting from 09:00 until 17:00. Don't worry about cleanliness and market facilities, clean toilets and very large parking lots are available here.
2. Tegenungan Waterfall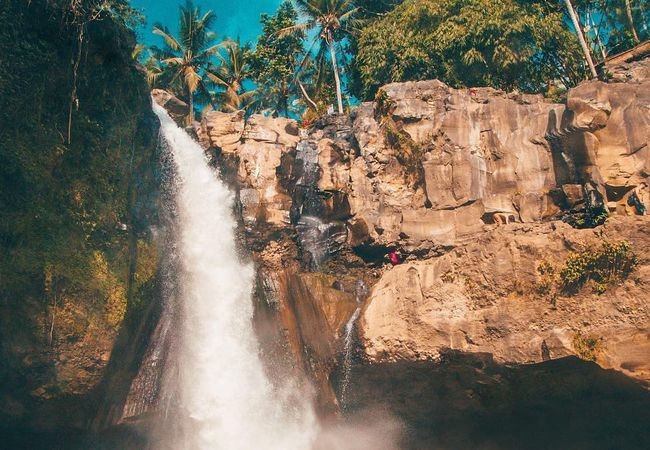 Gianyar also provides the visitor with some scenic natural attractions. One of them is a waterfall. Put Tegenungan Waterfall, located in Kemenuh Village, Sukawati Sub-district for your next trip to fresh up your sweaty day. According to its location, Tegenungan Waterfall is also named Kemenuhan Waterfall. You can easily find this waterfall because there are many directions to get there. From the parking area, the path to the waterfall is not too far away. All you need to do is climbing the stairs. But you still have to be careful, because there are slippery rocks around the waterfall. Wear comfortable footwear is a must. This waterfall has a height of four meters with fairly heavy water discharge. Water discharge will be increasingly heavy during the rainy season, around December - February every year. Don't forget to bring extra clothes if you are planning to play some water splash here.
3. Kanto Lampo Waterfall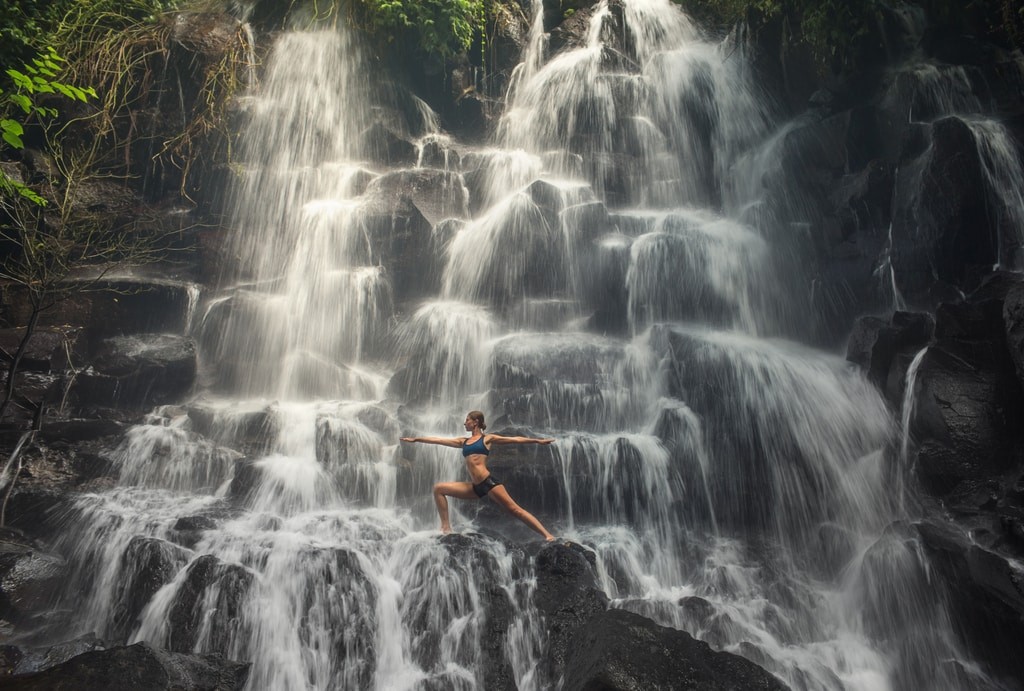 Another well-known waterfall in Gianyar is Kanto Lampo Waterfall. Located in Kangar Banjar Kelod, Beng Village, Gianyar Subdistrict, the name of this waterfall is not the same as the name of the area. If you never heard the name of it before, Kanto Lampo is a kind of tree that grows near the river. It has green fruits, the color will turn into yellow and then into the red if it's ripe. This tree was often found around Kanto Lampo waterfalls. Therefore, people surrounding the area named the waterfall according to the name of the plants. No need to worry about visiting this waterfall because the road has been cemented and there are permanent stairs. This natural waterfall is in the form of several sloping stone steps. So that the flow of water from above slowly goes down to the river beside the waterfall. Well, tourists love taking pictures on the steps of these stones. You can enjoy a splash of the refreshing water from the top of a cliff. Flowing from the head to the body, leaving the freshness essence to your entire holiday. Besides enjoying the freshness of the water, many visitors also come to collect holy water around Kanto Lampo. This water is believed to cure various diseases.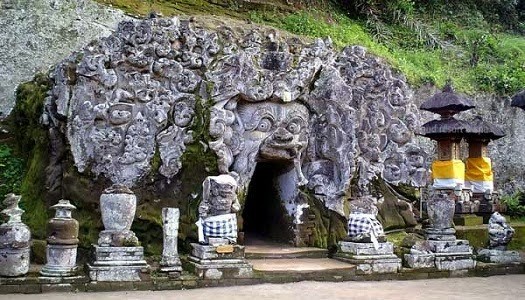 1. Goa Gajah (Elephant Cave)
Goa Gajah comes from the word Lwa Gajah. Lwa means river and Gajah means the place of worship of Buddist monks. Therefore, Goa Gajah means the hermitage of monks located on the riverside. The entrance of Goa Gajah cave can be passed through by only one person, at the entrance there are two statues and two carvings of cave guards. Inside the cave is T-shaped with a length and width of about 2x2 meters. On the left and right side of the cave, there is a place of asceticism of the Monks. Nowadays, sometimes visitors use it to lie down or just sitting around it. At the western end of the cave aisle, you can find the statue of Ganesha. Explore this Goa Gajah until you find a number of stairs that will direct you to the natural shower. Goa Gajah is indeed a unique tourist place that you can visit in Bali because this place preserves Buddhism historical value.
2. Tirta Empul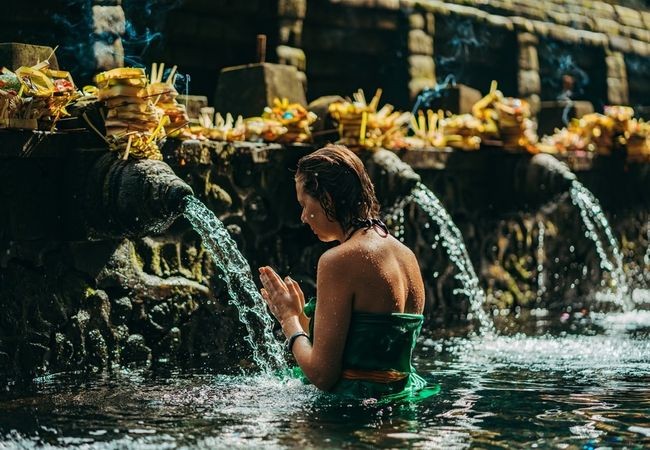 After visiting the Buddhist hermitage, now is the time for you to visit the Balinese Hindu temple. Tirta Empul Temple has a sacred spring for Hindus. This spring located in the middle of the temple is usually used as a bathing place for purification and the holy water is commonly collected by Hindus. The natural spring from the shower are coming from 16 fountains. Wearing polite clothes is highly recommended when you visit this sacred temple. But if you accidentally wear shorts, the local temple guide will provide a sarong for you. You can visit Tirta Empul Temple which is adjacent to Tampak Siring Palace starting at 07.00 - 18.00.
3. Elephant Safari Park
You can play safely with elephants at the Bali Elephant Safari park. Located at Taro Village, Tegallalang District, Gianyar Regency, here, you can feel the sensation of directly riding an elephant. In addition, you can try to feed and take pictures with them. Other entertainment, you can see the various attractions carried out by elephants here, for instance, elephant paintings show, playing football, and many other interesting attractions. Bali Elephant Safari Park covers an area of 3.5 hectares and is provided with international security standards. So just enjoy and have fun playing with the elephants here.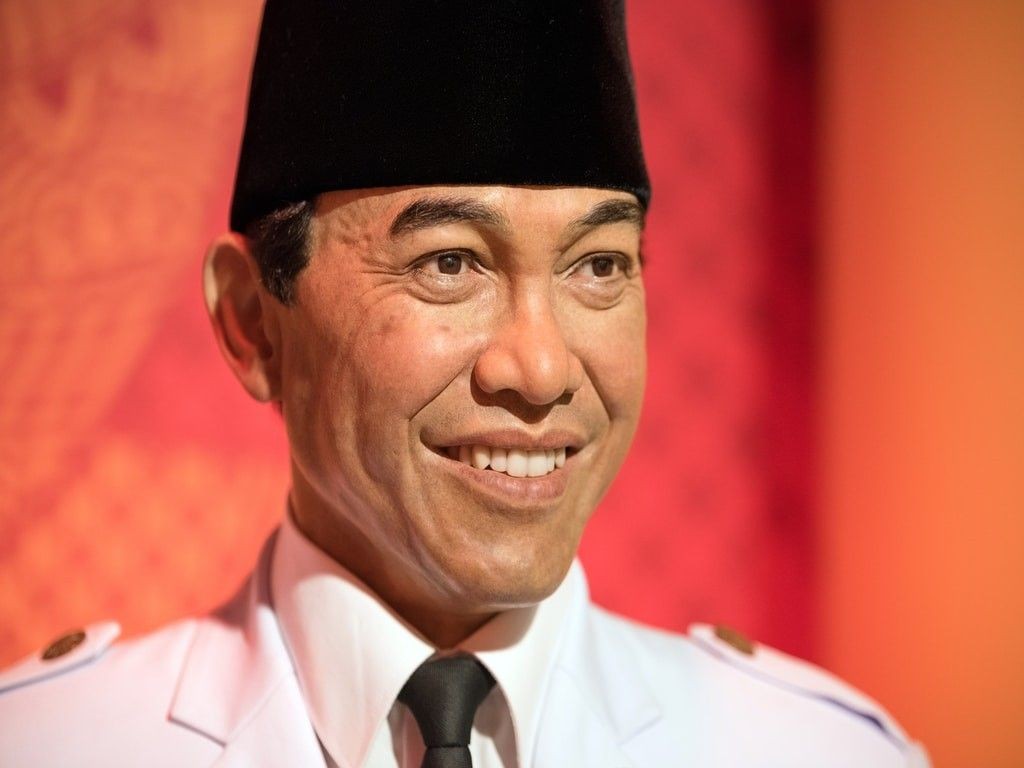 1. The Sukarno Center
The Sukarno Center is used as a place to store and display various collections and personal photographs of Soekarno. There are around 150 photos available in this two floors building. Some of Soekarno's personal belongings such as swagger sticks, a medal of honor, and several prizes obtained while serving as President of Indonesia are available in the museum. In addition, many photos of Soekarno's family, documentation of Indonesian independence, and several photos of world leaders are displayed as well. Please be respectful by not taking photos inside. The Sukarno Center is open from 09:00 at local time.

2. Gua Rang Reng Waterfall
Other must visited a waterfall in this regency is Gua Rang Reng Waterfall. This time you can go to two attractions in one place. This Waterfall is quite unique because in the upper reaches of the river there is a cave called Gua Rang Reng. To get inside the cave, you can walk through dry rocks to the border's cave. Stay alert to the slippery rocks. The length of the cave is about 3 meters and there is still sunlight penetrating the inside of the cave. Besides enjoying the cave, another exciting part is you can play the water in the waterfall as well. The load has a fairly gentle contour, so that water falls and directly spreads around the rocks. The river under the waterfall is also used by Hindus to do the melukat procession. It is a process of cleansing ourselves from negative things. Therefore, please dress politely when you come here. Visiting Gua Rang Reng Waterfall in the rainy season is not recommended because it is quite dangerous to stand on the rocks around the waterfall.
3. Gianyar Night Market
End your last day in Gianyar by visiting the Night Market. Here, you can find many tasty culinary such as suckling pork, mixed rice, lamb satay, chicken satay, grilled chicken, and various other menus to a variety of traditional herbs. Gianyar Night Market is dominated by food vendors, but you can also find a small variety of jewelry, toys, and ritual items commonly used for ceremonies such as incense and flowers. Gianyar Night Market opens from 17:00 until 23:00.
Apart from the places above, there are still many interesting places in Gianyar that you must visit. Spare more time to explore Gianyar from various angles in order to experience more the activities of local residents, traditions, and unique art.